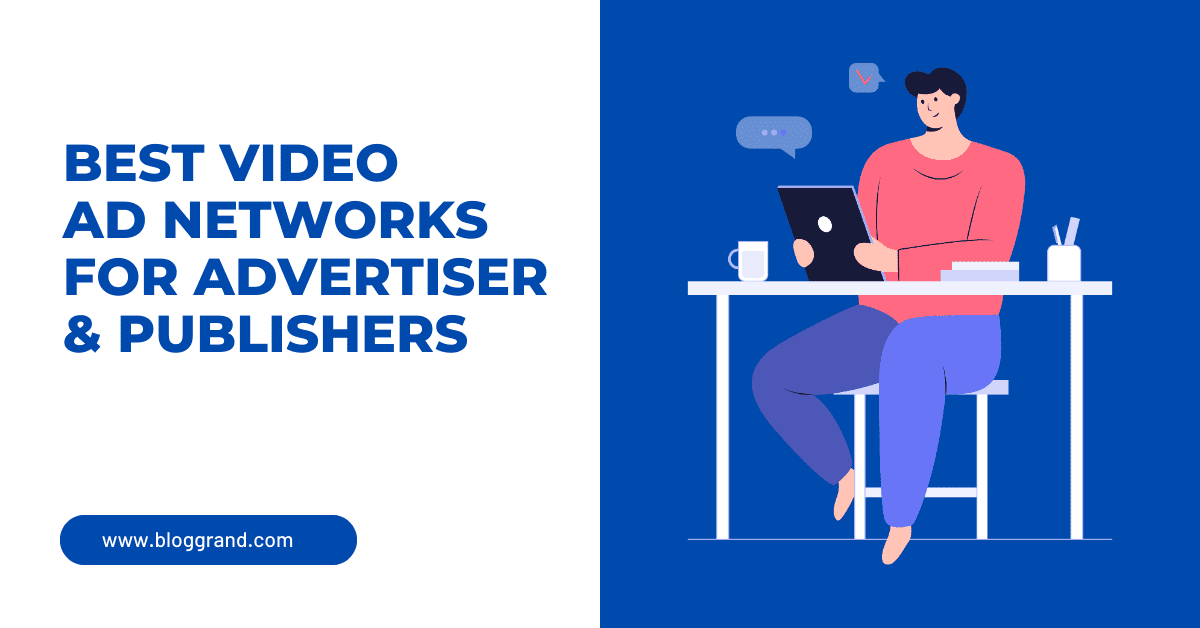 Video ad networks are becoming increasingly popular among publishers to expand their audience and connect with them through engaging narratives; YouTube's over 2.70 billion monthly visitors prove that video marketing will be around for a while.
The video advertising sector is expanding because videos perform better than static advertisements. Advertisers need premium video ad creators with tailored, brand-safe content; spending on short-form video advertisements is projected to increase 11.09% yearly (CAGR 2023-2027) to US$134.10 billion by 2027.
If a publisher wants to diversify their revenue streams, video advertisements may be a good option. Video advertisements are very captivating; They are employed even though annoying. Whether you enjoy video commercials or not, they have the potential to boost earnings with the right approach.
Ad networks that successfully pair advertisers with ready-to-use video creatives and publishers are essential. What is the best video ad network? Many factors make this judgment subjective, but the networks listed below often have positive user feedback.
10 Best Video Ad Networks for Publishers 2023
1) Facebook Audience Network
Publishers can use their own material thanks to the company's technology for in-stream video advertising. Facebook is perfect for mobile video ads because most users utilize mobile devices. You can select mid-roll or pre-roll advertisements because Facebook Audience Network does not support post-roll ads.
Surprisingly, Facebook Audience Network is less expensive for advertisements than Facebook video networks; Facebook Audience Network is a mobile-centric video advertising platform catering to the social media giant's massive user base. Images and videos can be advertised on mobile devices with Adsense.
Facebook Audience Network uses audience targeting on Facebook to limit the exposure of their advertising to specific audiences.
Facebook is a tempting addition thanks to its variety of video ad formats. The Facebook Audience Network is excellent for video ads, although CPMs vary by area and bid density. Your SSP or ad server needs to be configured to provide video advertising.
2) Undertone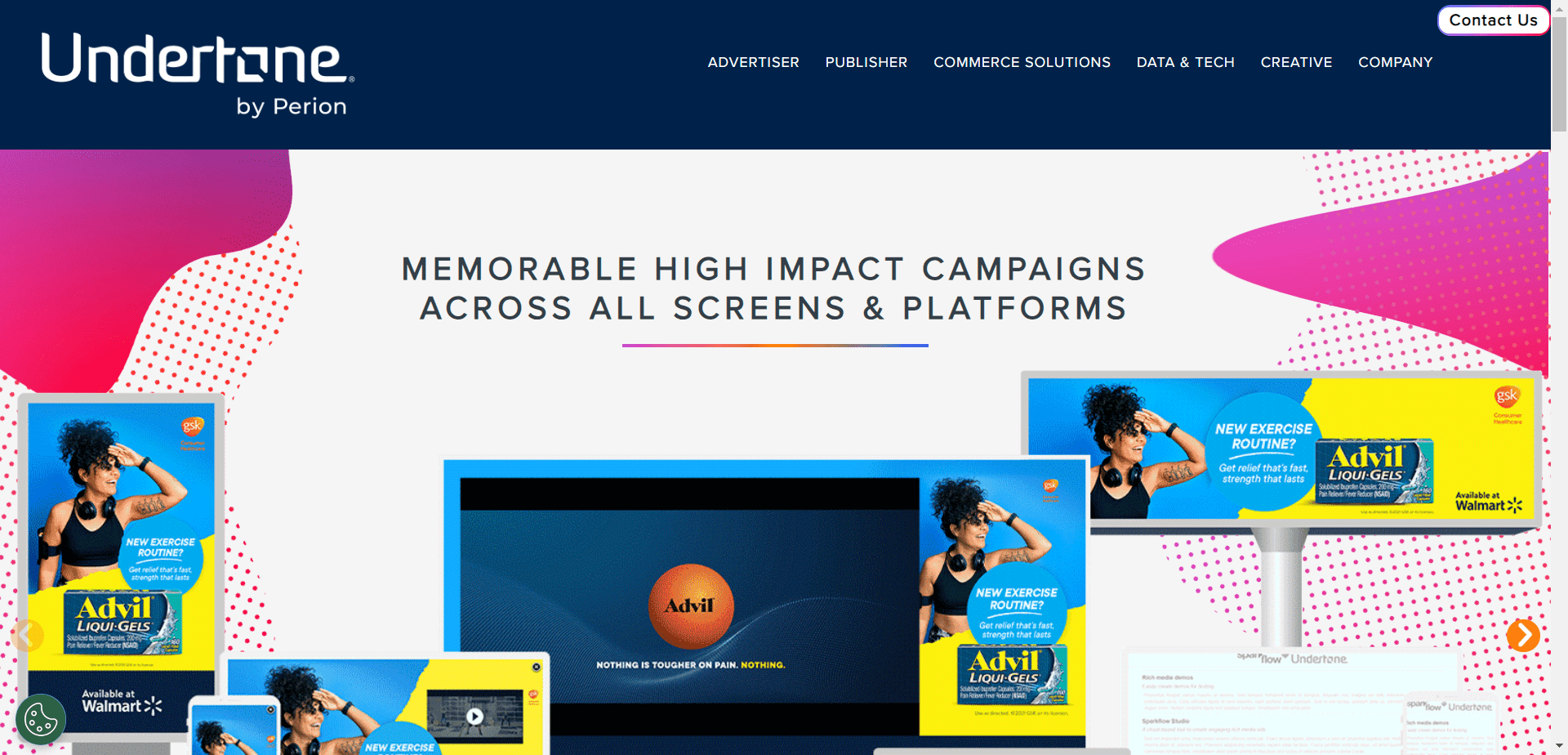 Undertone can assist publishers in marketing their video libraries when they have them. There aren't many distinct types of video adverts supported by this platform. Nevertheless, the greater CPMs indicate that it is still in demand.
Screens can be disseminated with interstitial, in-line, in-stream, social, in-banner, pre-roll, post-roll, Outstream, and IAB advertising.
It mainly supports full-screen takeover ads and offers a few options for customizing rich media and commercials. You may create an advertisement for your business that performs better than anticipated using video marketing techniques.
Ad inventory success is measured by video ad impressions, conversions, and clicks; the platform can monitor campaign results and retarget TV viewers.
RELATED – Best Mobile Ad Networks for Publishers
3) Nexen (Previously Unruly)
Access to 95% of the AdAge 100 firms, all major DSPs, and trading desks is available through Nexen (Previously Unruly)
Thanks to Nexen (Previously Unruly), which integrates several video ad units into content, publishers may make money without having video content.
But there are in-stream, out-stream, and mobile video formats, too; the control panel makes configuring the video's resolution, budget, and targeted audience simple.
This is a fantastic option for advertising because of the fantastic onboarding process. It adheres to the Coalition for Better Ads and IAB Tech Lab's LEAN Principles. For simplicity, it offers a separate account administration system.
You can also monitor ad unit performance in real-time on your video content; campaigns and issues will have the support of customer service and account managers. Ad units can be improved by using editing tools available to advertisers.
RELATED – Best Crypto Ad Networks
4) SelectMedia
Choose from SelectMedia's slider playlist, in-content, bottom sticky, and overlay formats.
The network offers reliable and simple yield optimization tools to increase revenue in addition to running Outstream video advertising. You can also micro-direct campaigns using this ad network.
The network supports desktop, in-app, out-stream, and in-stream video advertising and mobile video marketing.
The platform guarantees optimal efficiency regarding ad expenditure by advertisers and publisher revenue.
CPMs are low because SelectMedia offers video advertising for auction on public exchanges. First-party data is not permitted with this option, unlike others.
RELATED – Best Gaming Ad Networks for Publishers
5) Chocolate Platform
Chocolate Platform, one of the fastest-growing publishers' video ad networks, should be included in any discussion of this subject.
Because it primarily serves mobile developers and publishers, this platform is an excellent choice if you want to target mobile clients.
Monetizing mobile traffic is a breeze with the Chocolate Platform. Mobile-optimized video ad units play without sound to pique viewers' interest and can be clicked on. Native and non-intrusive advertisements on the Chocolate Platform are fantastic for advertisers and content creators.
However, it should be emphasized that only 10% of demand bids are for mobile web, indicating that it primarily serves mobile apps.
Due to these limitations, it might be best suited for publishers who focus on creating and distributing mobile apps.
6) Primis – Top Video Ad Network for Publisher
Among the best video search engines is Primis. By assisting viewers in finding excellent videos, Primis, the original video discovery tool, helps publishers in making money.
Hundreds of digital publishers use their Video Discovery technology to provide 300M unique users with an engaging video experience that promotes content they love and skips that they don't.
With 4.8B recommendations of 3.4M pieces of content each month across 30 verticals, Primis monetizes over 4.5 billion video impressions.
Primis adheres to the strictest guidelines for digital advertising. The network is protected from fraud.
This ad network, which describes itself as having a limitless library, allows publishers to select the channels, categories, and keywords that activate pertinent video advertising. To increase RPMs and video monetization, carefully selected ads are used.
RELATED – Best Affiliate Networks For Publishers
7) AdPlayer.Pro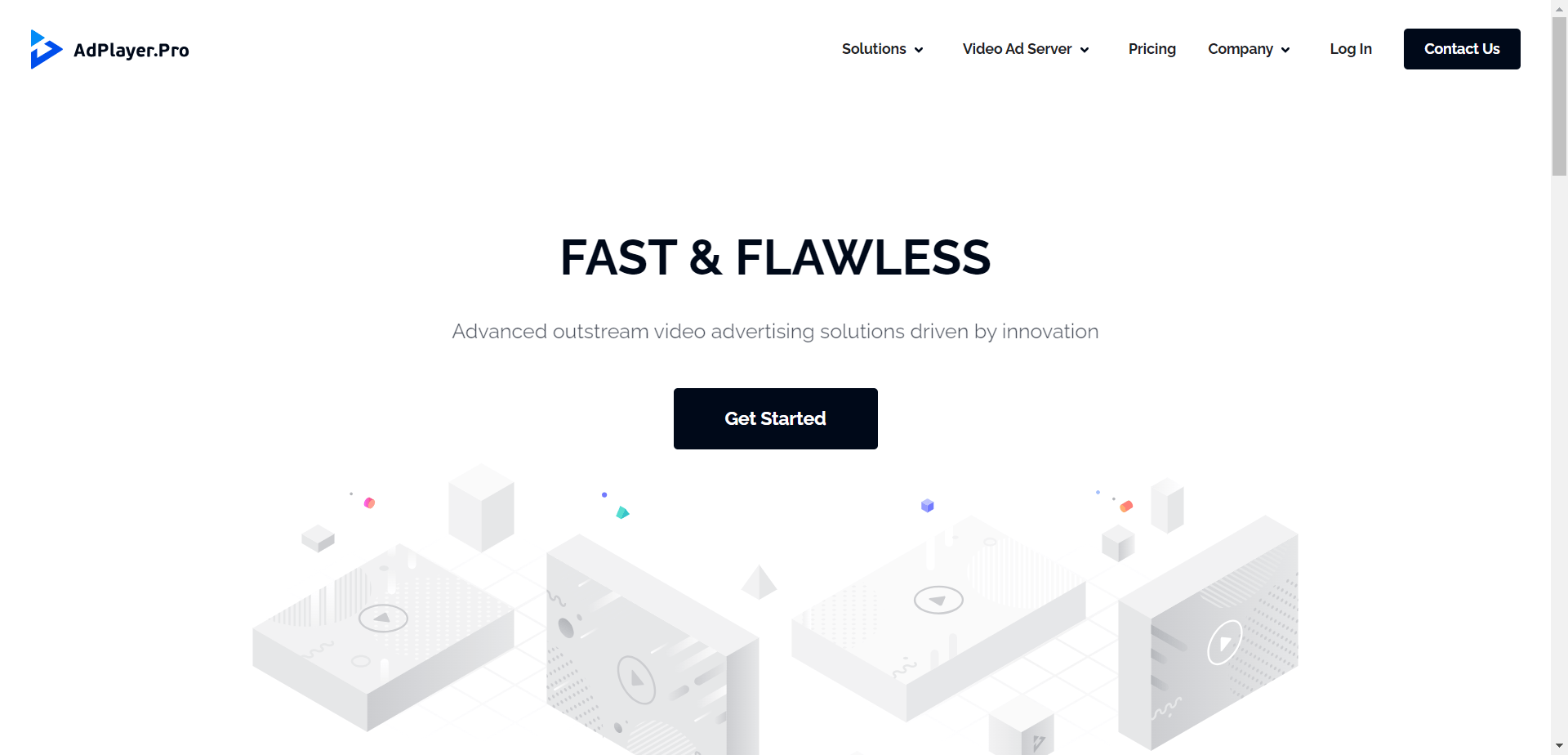 AdPlayer.Pro is an Outstream video advertising solution that enables publishers and content producers to monetize editorial content for ad income, regardless of whether they have on-site video inventory. AdPlayer.Pro, a video ad solution, makes it feasible for advertising to play in the background while other content is being seen. This platform enables publishers to display in-app and on-page video ads.
This network delivers extra ad revenue through video monetization techniques without affecting how your current ad stack operates.
Your adverts will only be delivered to the highest quality audience since the audience targeting of the video content provided to users on the platform offers a better user experience than the vast majority of ad server networks.
8) AdMedia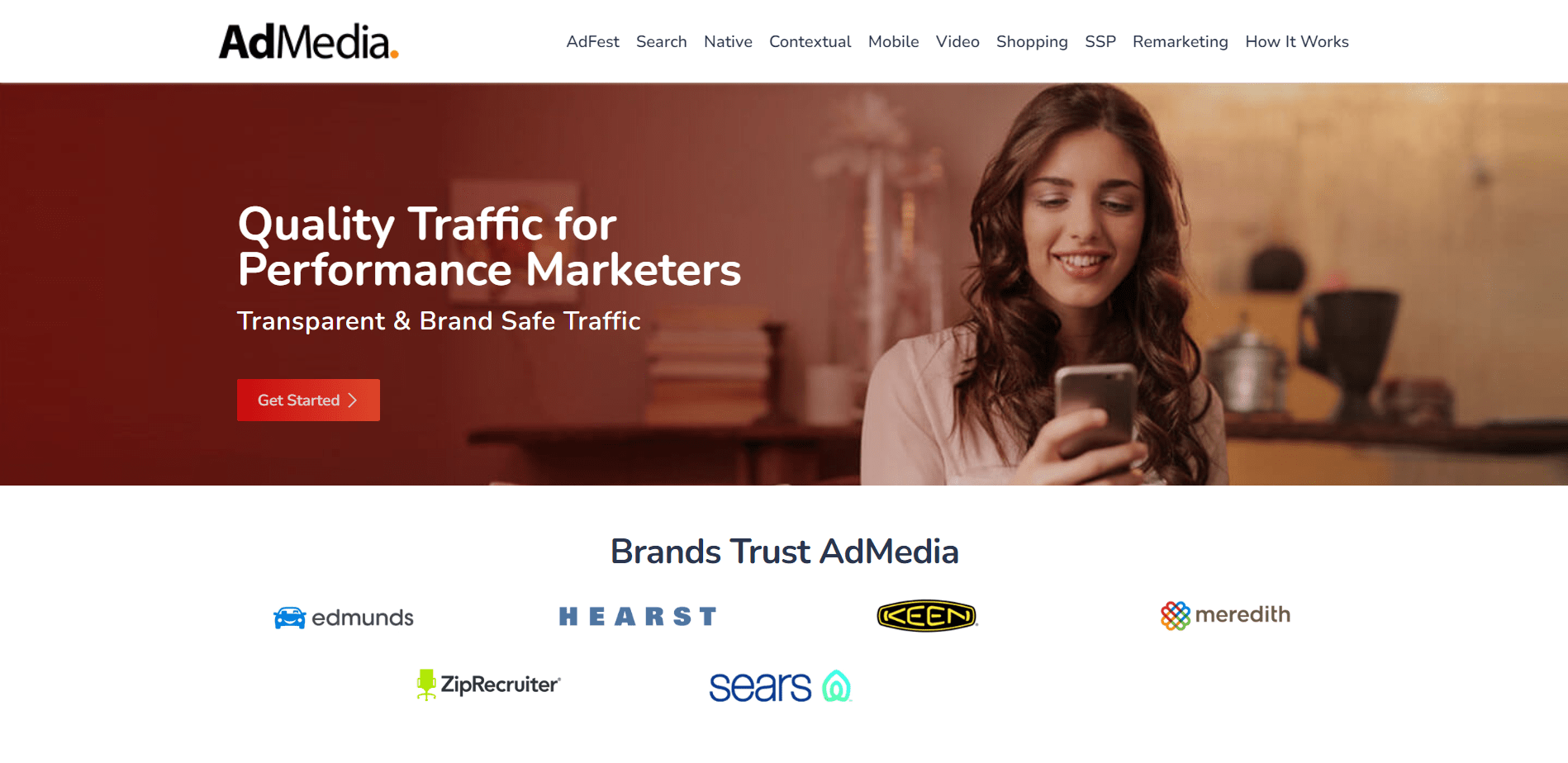 AdMedia is a unique platform that lets users make money from videos uploaded on other websites. It seems like its popularity is soaring steadily. Despite this, how this advertising scheme operates makes some people apprehensive about using it.
The vast majority of networks connect to video ad exchanges to purchase impressions. This method of displaying adverts is widely regarded as the finest one.
AdMedia, on the other hand, runs differently from Google AdSense and exclusively offers impressions to platform-based marketers. This operates in a manner akin to Google AdSense.
The platform uses contextual targeting; thus, there is a chance that relevancy issues could arise. However, you can choose video content from its partners, making it an appealing option for publishers without access to their own video adverts.
AdMedia is the industry standard for native, contextual, and search advertising solutions. Effectively expand your audience reach beyond just Google and Facebook.
9) OpenX
OpenX is a video ad network that allows for the highest possible return on inventory through VAST tags, header bidding, and OpenRTB auctions and private marketplaces with support for all major servers, players, and integrations.
OpenX, the most innovative independent supply-side platform, facilitates an open online by providing a level playing field for value exchange between publishers and advertising.
Netflix and other over-the-top (OTT) video services are supported for both in-stream and out-of-stream advertising. In-content and sticky ads perform exceptionally well on this network.
Due to its inability to syndicate videos, this marketing strategy is most effective for individuals with an extensive library of videos. It has over 50 demand-side partners despite its flaws. It also offers options for specialized targeting and campaign optimization.
10) Teads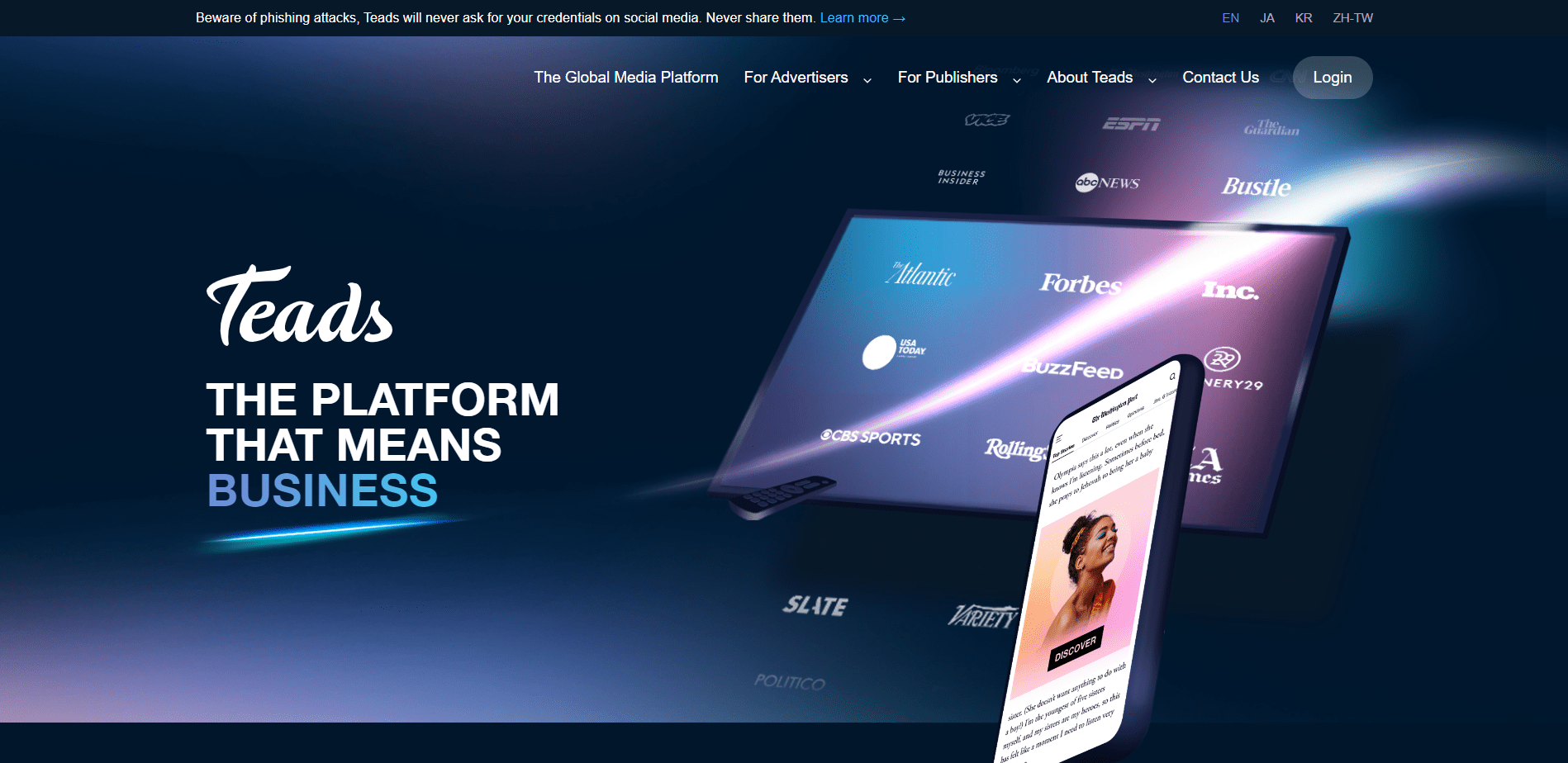 To 1.9 billion people each month across major publishers, Teads provides video ads. It's one of the few ad exchanges that distributes top-notch video advertising to viewers worldwide, like YouTube.
Teads' video ad platform focuses on producing editorial content that is expertly produced and increases viewability.
How does this international video ad network accomplish it? Utilizing branding, contextual targeting, and mobile-friendly creatives.
Because brands no longer want to pay extra for mobile advertising, Teads delivers video and display ads and approaches your ad campaigns from a mobile-first perspective.
To influence their ad inventory, Teads scans 100 million articles to learn what 1.9 billion customers are reading each month, claiming a 30% boost in reach on target compared to Nielsen standards. For your campaign, it can supply thousands of videos, but it works best for publishers who also own video content.
Also, Read:
Conclusion – Which is the Best Video Ad Network for Publishers?
Although Google AdSense is among the most popular video advertising networks, many more options are available. To choose the best video ad network, you need to know what characteristics are most important to you before you start looking.
These may include integrating with other video ad networks, header bidding for mobile publishers, different payment methods, and/or novel ad forms. The best video ad networks for your needs can be found quickly and easily with the help of our compiled list.
FAQ
❓What are video ad networks?
Publishers can connect with thousands of buyers using video ad networks to deal with video ad impressions. The top video ad networks also give publishers access to the tools they need to manage, analyze, and improve their video ad campaigns.
❓Why video ad networks are so popular?
Publishers emphasizing video can pick from various programmatic video ad networks for websites on desktops, mobile devices, and apps. Despite the market's potential, publishers and advertisers may become disorientated by the sheer quantity of ad networks and video ad exchanges without knowing where to look.
Video advertisements outperform static ones, so they're becoming more popular. Advertisers look for video ad makers with high-quality, brand-safe material.
Relevant video advertising must also target the appropriate users at the right time and on the right screen.
❓Which is better, Instream or Outstream video ads?
Instream video ads play within a video. Videos can start, midway, or end with these adverts. They can be played over video and are non-linear. After five seconds, viewers can skip the ad in these six-second to one-minute videos.
Outstream videos are embedded adverts on websites. These advertisements may appear when users scroll over certain apps and blog entries. These commercials will start playing automatically if the video player is visible. If consumers keep scrolling, ads stop.
Out-stream video advertisements are advantageous to publishers. They are effective and adaptable for any website because no video content or ad-compatible video player is required. They also make websites easier to use because they are less intrusive than in-stream video advertisements.