To increase and diversify their revenue, publishers use affiliate and eCommerce monetization. Given its strategic importance, deciding which social media and advertising platforms to use can be overwhelming.
Paid advertisements may increase brand awareness & online sales quickly and sustainably.
Which eCommerce Ad Platform suits your marketing plan or strategy?
To assist you in selecting the best e-commerce advertising platform for your products, this article will review the top 10 Best e-commerce Ad platforms and outline their Pros and Cons.
Top 10 Best eCommerce Ad Platforms in 2023
1) Google Ads
Google Ads is one of the most significant ad networks available and is frequently considered an example of excellence in digital marketing.
Google Ads (formerly Google Adwords) is a paid advertising service provided by Google that allows you to place advertisements directly within the search engine results pages (SERPs) of Google.
The GDN (Google Display Network) makes Google an excellent platform for search and display ads because it lets you promote on highly trafficked websites; Google is a great place to advertise, whether your goal is to brand or to attract new customers.
PROS
Online advertising is cheaper for small and medium publications with limited resources and budgets.
The average Google Ads ROAS is 2:1, and the Google Search Network is 800% – massive potential for your online store.
Google is the largest search engine, processing 100 billion searches every month. The search engine's massive reach benefits your eCommerce shop.
Easy integration: Create multichannel campaigns using this technique and digital marketing software.
CONS
Customer service is limited; employ an organization that does or knows what you're doing.
Google has more substantial PPC ad content restrictions than other search advertising platforms.
RELATED – Best Gaming Ad Networks
2) Facebook Ads Manager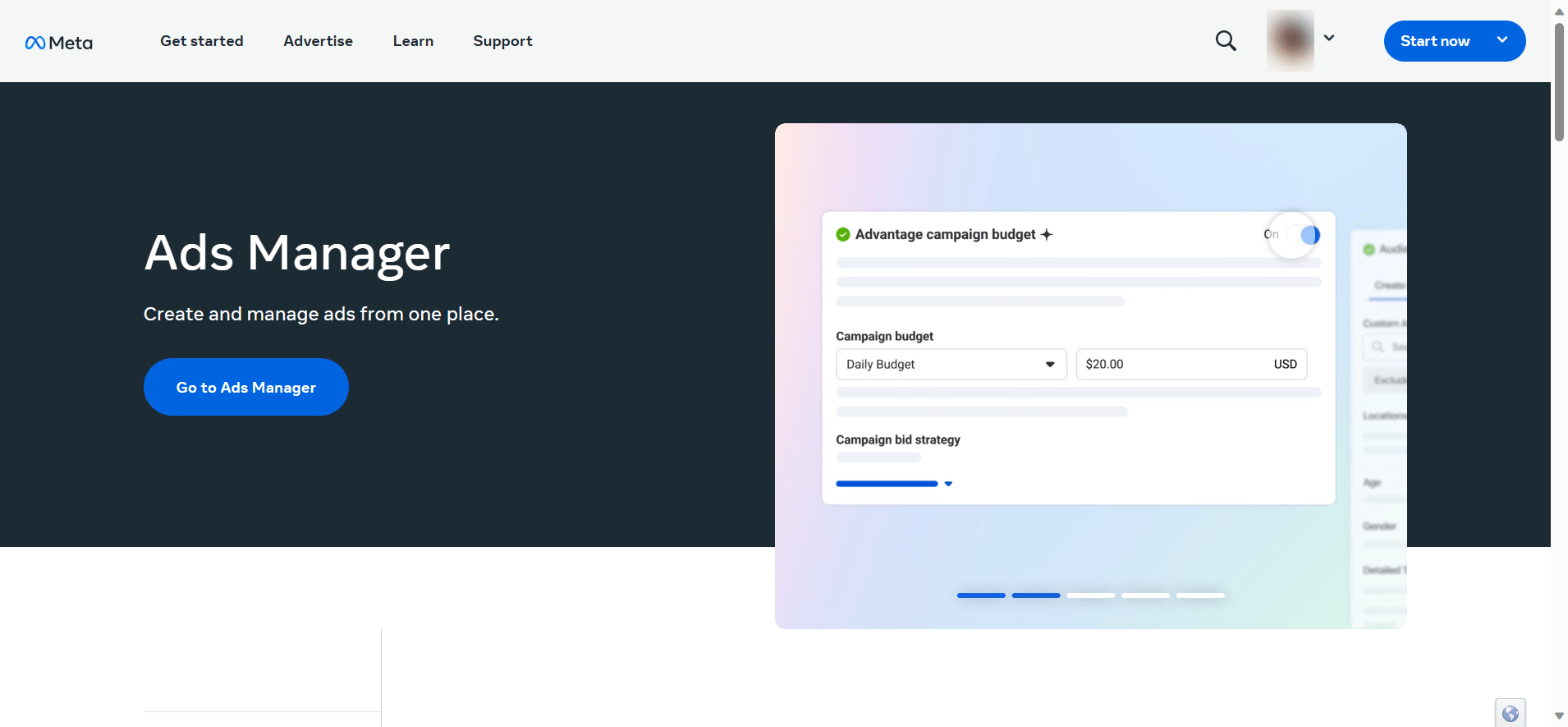 Ads on social media platforms like Facebook and Instagram are crucial for businesses to succeed in 2023, and Facebook Ads Manager is one of the most widely used tools. Advertisers can choose from various ad formats and placements, from static banners to interactive carousels.
Facebook and Instagram advertising are in every marketer's toolkit, but standing out from the crowd, grabbing consumers' attention, and boosting conversions can be challenging when competing with many other ads.
By narrowing in on the most relevant users based on their demographics, habits, interests, and more, the potent audience tool within Facebook Ads Manager can aid in this attempt.
PROS
Adaptability in terms of cost, timing, and method of bidding
Because of its low price, it is within reach of new and developing brands.
Multiple ad sizes and locations
Extensive client base and potent audience targeting
CONS
Beginners may find its UI bewildering.
The platform's conversion data has been less trustworthy since iOS 14.5.
3) Microsoft Advertising
Microsoft Search Network has 13.9 billion monthly PC Searches and 686 million unique PC users.
Microsoft has made significant inroads into the market share once held only by Google, although Google is still the dominant player.
According to Microsoft, they hold a 17.6 percent share of the worldwide desktop PC search engine market. The Microsoft Network processes 14.5 billion monthly PC queries from 687 million unique PC searchers.
Therefore, you should include Microsoft Ads in your overall advertising strategy to attract customers interested in buying. Microsoft Shopping, similar to Google Shopping Ads, is another option.
PROS
Using Microsoft for advertising also implies using AOL, Yahoo, & other partnership sites, so you'll reach users you wouldn't find by advertising on Google.
Microsoft has fewer advertisers; therefore, your digital marketing campaign will cost less. According to Search Engine People, Microsoft Ads have a 70% lower CPC than Google Ads.
CONS
Microsoft frequently releases new features after Google and has incomplete reporting.
Microsoft has a lower audience reach and search volume than Google Ads, which is unavoidable.
RELATED – Best Crypto Ad Networks
4) Media.net
If your company is looking to operate independently from the Google ecosystem, Media.net, which provides brands with exclusive access to the Yahoo and Microsoft Bing search and display networks, is an option worth exploring.
Using Media.net, a contextual advertiser with an extensive portfolio of ad hosts that includes reputable websites and newspapers, is a great way to tap into high-value traffic if your business can provide high-quality content.
Search adverts, native, video, display, and Mobile are all part of Media.net's arsenal. In addition, the organization has connections to major publishing houses, which makes it attractive to companies who put resources into creating high-quality content.
However, this does show that Media.net maintains high standards and that many factors could lead to a company's advertising being denied.
PROS
Ad formats of all kinds are supported.
A sizable, well-priced marketplace where marketers may locate publishers who can inspire customers.
access to the networks of Yahoo! and Bing
CONS
Companies without Tier 1 country-quality content risk having their advertising frozen due to competition.
RELATED – Mirelia Networks Review
5) Instagram Ads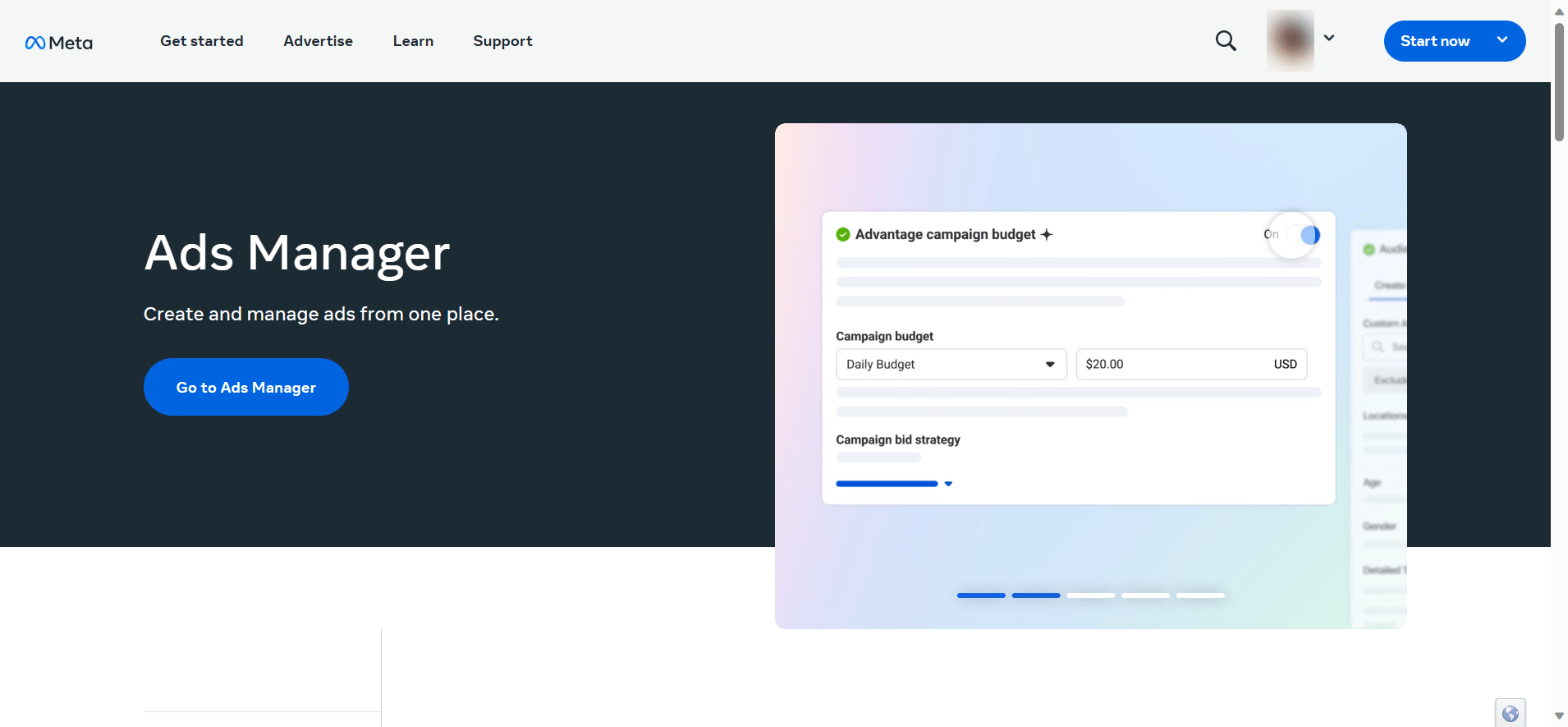 Instagram Ads Similar to Facebook Ads, Instagram Ads are a visual advertising network that publishers may leverage; Instagram is brand-focused:
In over 80% of cases, Instagram users will look into a product or service before purchasing it.
Advertisers can reach their intended audience more effectively with visual mediums such as image ads, reels, and Instagram stories. Your Instagram ad can quickly drive traffic to a dedicated product or landing page.
PROS
More than 50% of Instagram users log in daily, making it the perfect platform to advertise your business and reach your target demographic.
Customized Instagram advertising with innovative sponsored ads can increase revenue.
Collection advertising (mobile only) can help you make more money by allowing customers to shop without leaving Instagram.
Experiment with various ad types to see which ones get the most attention and generate the most sales.
Because Instagram is a Facebook-owned company, advertisers may enjoy precise targeting options.
CONS
To stand out on Instagram, you need high-quality visual assets. Instagram is a visual platform.
Like Facebook, effective marketing takes effort and maybe even help from an expert.
6) Taboola
Taboola is a popular native advertising platform used by e-commerce companies. To explain, native advertising occurs when a company integrates advertisements into the natural flow of the page.
Advertorials and other forms of relevant, informative material are typical examples of these creative forms of advertising. The most important aspect is that they don't look like advertisements.
With Taboola's native advertising capabilities, managing and analyzing campaigns in many mediums is a breeze. Marketers can use its extensive reach to show their ads in a wide variety of settings, which raises the profile of their products and services.
Its ability to entice potential new customers and boost traffic at the top of the conversion funnel when users first interact with the business has been well received by its end users.
PROS
Broad performance data may be analyzed, and reports on campaigns can be generated with relative ease.
An intuitive interface makes it less of a hassle to create and release advertisements.
Receptive customer service agents
CONS
Inability to analyze individual native adverts for data
Taboola's rigorous rules for advertorial content approval can hinder the process.
RELATED – Mondiad Review
7) YouTube Ads
YouTube is a great tool to raise awareness of your brand as part of a conversion funnel and improve traffic to your online store.
You can do both things on YouTube, which has more than 2 billion users every month. If you don't plan to promote your eCommerce business on YouTube, you're missing out on a huge opportunity to gain new customers.
PROS
YouTube users go for education and enjoyment, making it a potent area to target them with video ads.
YouTube has Over 1 billion hours of watch time daily, covering various topics and attracting a large and varied audience.
CONS
The ability to bypass video ads at any time, depending on the type, can be bothersome.
YouTube videos or ads must be of good quality to attract viewers, which can be costly for smaller creators or producers.
8) AdRoll
AdRoll provides e-commerce businesses of all sizes with the means to create and manage campaigns and access multichannel analytics, accurate attribution modeling, and numerous integrations.
AdRoll's automation makes launching and tracking campaigns simple without resorting to retargeting.
It is the only unified platform for managing, tracking, and optimizing cross-channel ad campaigns across display, social, native, and contextual formats. Talk about making more informed choices in less time.
The ability to tailor AdRoll to one's brand is a big draw. Building campaigns that appeal to customers' wants and interests is essential in a world where personalization is the most significant factor in ad effect.
The combination of AdRoll's budgeting tool and its personalization options allows for maximum return on investment.
If you missed that, AdRoll is a Shopify and Shopify Plus partner. Connecting your marketing efforts with Shopify and other e-commerce platforms is a breeze with our out-of-the-box solutions; no coding or backend work is required.
PROS
A variety of pre-made themes create attractive commercials without any effort.
With dynamic ads, businesses can quickly tailor their digital marketing campaigns to each individual customer based on their browsing habits and purchase history.
Compatible with all major e-commerce platforms and marketing tools
CONS
It's unclear how to go between editing campaigns and seeing campaign data.
UI is complicated if you want to divide reporting for specific audiences.
RELATED – EZmob Review
9) Amazon Ads
By placing ads on Amazon, businesses can reach potential buyers on a site designed for making purchases.
You can increase the visibility of your products in Amazon's search results by bidding on specific keywords and placements. This helps spread the word about what you're selling to more people actively seeking it.
PROS
Amazon advertising doesn't require a website, making it easy for publishers to advertise.
Marketers may capitalize on the trust of Amazon's ready-to-buy customers.
Manual Targeting Campaigns, Automatic Targeting Campaigns, Sponsored Products, & more are all available; select the one that most fits your needs.
The simple ad setup and interface allow publishers to choose products to advertise and start exposing them to buyers in minutes.
CONS
In addition to advertising costs, Amazon takes a cut of every sale made through its affiliate program.
Purchase cancellation rates, confirmation emails, Shipping schedules, & more are strictly regulated by Amazon.
10) Pinterest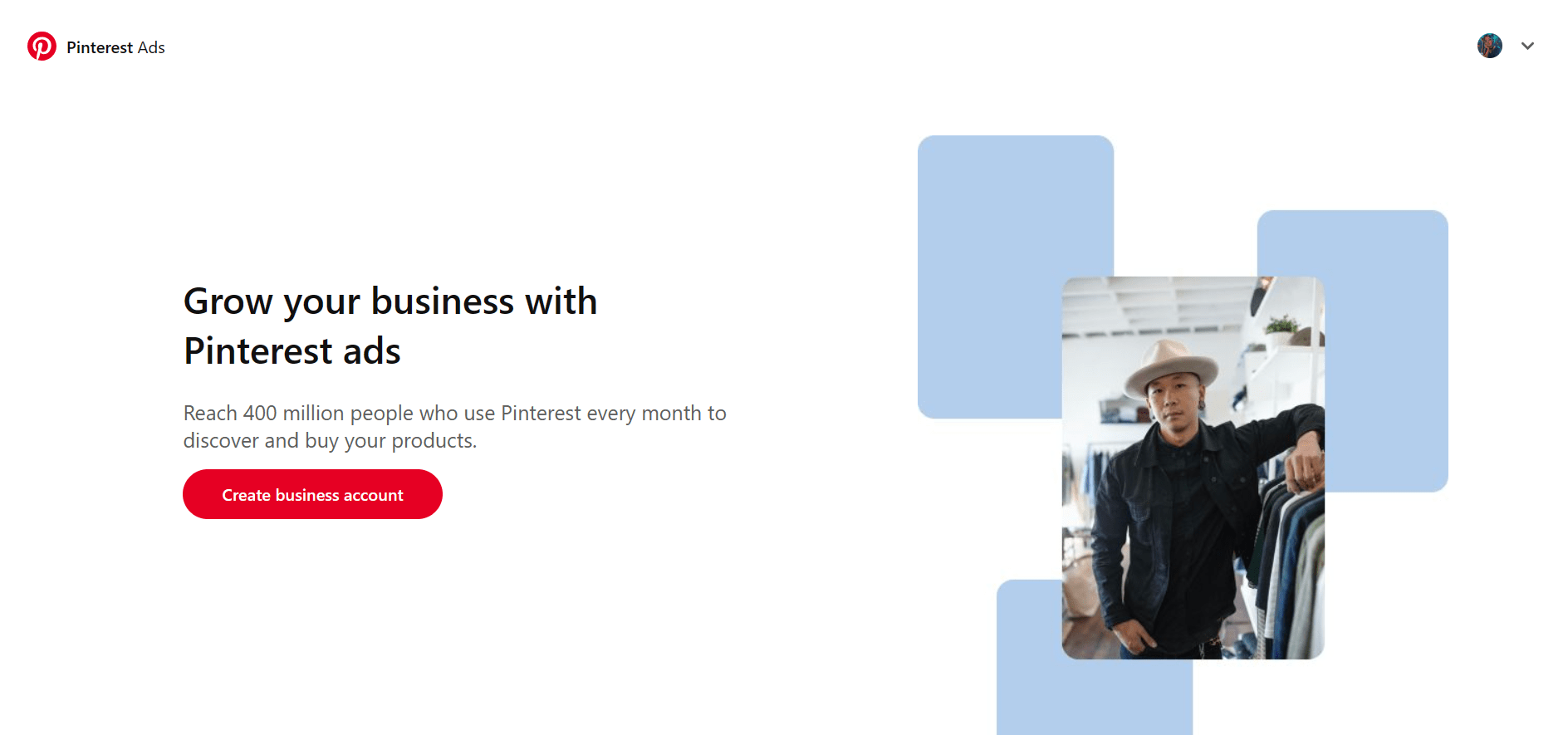 Pinterest is a visual social media site that has the potential to significantly boost online store revenue.
Businesses can communicate with Pinterest users directly through sponsored advertisements, which are pins that appear in the organic search results and advertise their products.
Over 445 million monthly active users on Pinterest, and over 91% of weekly Pinners use the platform to inform their shopping decisions; 76.2 percent of users on Pinterest are female, 17.2 percent of users Pinterest are male, and the other users fall into a third category whose gender is unclear.
PROS
Promoted pins are designed to fit in with other pins on Pinterest boards, reducing the likelihood of users being distracted by advertisements.
Marketers can choose from various advertising options on Pinterest depending on where their prospects are in the sales funnel.
CONS
It's more complicated to use than Google or Amazon's advertising platform.
Narrow range of audience to target.
To Sum Up
Lastly, many different e-commerce advertising platforms are available for businesses. The best eCommerce Ad Platform for you will depend on your business goals, target market, and available resources.
Instead of relying on one channel, employing several to advertise your company is important. It's essential to diversify and use other platforms to avoid issues if your preferred platform ever faces difficulties.
FAQs
What platform has the most successful ads?
As the most popular search engine in the world, Google provides advertisers with one of the best channels for getting their messages seen by a large and relevant audience.
When can I expect my e-commerce PPC campaign results?
When set up effectively, PPC advertising can generate revenue immediately, unlike SEO or SMM, which can take an extended period.