Ad networks that use modern programmatic CPM technology are expanding rapidly. Until recently, ad networks like Google AdSense dominated the market.
Traditional market leaders are under pressure from newer, more agile companies offering technological solutions, including targeted methods, Real data, and smartphone ad functionality.
Rare real-time bidding for media companies was first employed by publisher ad networks. CPM marketing strategies are increasingly available from smaller companies collaborating with advertisers and industry leaders.
So, Without further ado, let's start with the list of Best High CPM Ad Networks for publishers.
What Is CPM?
CPM is an abbreviation for cost per mille, often known as impressions. An advertisement's effectiveness can be evaluated based on how much it costs to publish and display the ad one thousand times on a website.
Using the CPM approach, brands can make money off of ad impressions. Because it places more importance on Impressions than clicks, mobile publishers primarily utilize it to determine prices for mobile adverts.
Benefits of CPM Ads
1) Advertiser Brand Recognition
While it's clear that CPM programs are beneficial for publishers, some may still claim that ad agencies shouldn't implement such a system because impressions aren't as valuable as clicks, installs, or sales. To verify this, we may look at the CPM program through the eyes of the advertising agencies.
CPM ads are excellent for attracting new customers and raising brand recognition. To attract customers, new businesses must prove themselves reliable and trustworthy. A customer who has never heard of a company is not likely to make a purchase because of an online ad.
Investing early on in brand building rather than conversions is a sensible strategy. There are times when cost-per-thousand (CPM) advertising rates are ideal for businesses.
CPM is also helpful when developing a profile of your ideal customer. Teenagers and the elderly can be reached through targeted advertising on niche websites. Rather than spending money on research, you might change your strategy after analyzing and comparing activity on both sites.
CTR, or click-through rate, is one of the most visible indicators of marketing success. It's the number of people who saw your ad and then clicked on it.
2) Profitable for publishers
CPM advertising is the only viable revenue stream for publishers. It's simpler than getting readers to interact with ads; the results are typically determined by the ads rather than the publisher.
As said up top, the drawback is crucial to think about. Because CPM prices are low, a website needs substantial daily visitors to profit from advertising.
Top 10 Best High CPM Ad Networks for Publishers
1) Google Adsense
Google AdSense allows publishers to choose between CPM and CPC (cost-per-click) advertising models. AdSense has a pool of high-paying advertisements, but its approval process is rigorous.
Publishers receive 68% of Google's AdSense revenue for content advertisements. Google gives publishers 51% of AdSense for search income.
The primary issue is the difficulty obtaining the necessary clearance for AdSense accounts. Still, it's a top-tier CPM advertising network. The platform gives publishers several choices for managing campaigns, getting paid, and more.
PROS
It's free, and Google creates ads. This saves time and money.
You can also style and display your advertising.
Since advertising is passive revenue, you don't need to work hard to see results.
Advertise on several sites with one account.
CONS
AdSense only pays after $100, which is a drawback.
Visitors may find adverts unprofessional or unpleasant.
2) AppNexus (A Xandr Company)
If you're a publisher looking to monetize your content, one of the most powerful tools at your disposal is the advertising network AppNexus.
To meet the demands of publishers, this ad network has developed a custom suit. It helps them implement plans for growing their viewership and predicting how to attract new viewers.
The company claims to employ 400 technologists across all departments, from R&D to customer service, while the platform claims to process 11 billion impressions daily.
(Google AdSense, in contrast, does not provide a phone number for contact with the help desk.) Appnexus is a multichannel advertising network that serves various publications, much like the first two organizations mentioned.
PROS
Campaign management details abound.
Automated systems with manual optimization and reporting.
Activity control was increased through flexible systems.
CONS
We weren't expecting the platform's complexity and knowledge requirements.
There is no video inventory yet.
3) Criteo
More than 17,000 different retailers and brands advertise on the platform Criteo maintains for eCommerce publishers. The platform allows you to set a floor price to guarantee you get the CPM rate you want.
If the buyer isn't willing to spend more than the targeted CPM, they won't be able to purchase the ad inventory; thus, there will be no drop in revenue. Competitive cost-per-mille (CPM) pricing.
Quick approval times, a large selection of ad formats (including native ads, IAB standards, and your creations), and no restrictions on content.
Online store publishers might consider using Criteo. In addition to AdSense and any other ad networks you might be using, we advise you to try them if accepted.
PROS
Easy implementation
Improve marketing and budget management
This program helps users get along with clients to boost sales.
User-unfriendly platform with occasional issues.
CONS
Video features are limited.
Solving Support issues takes time.
4) Adcash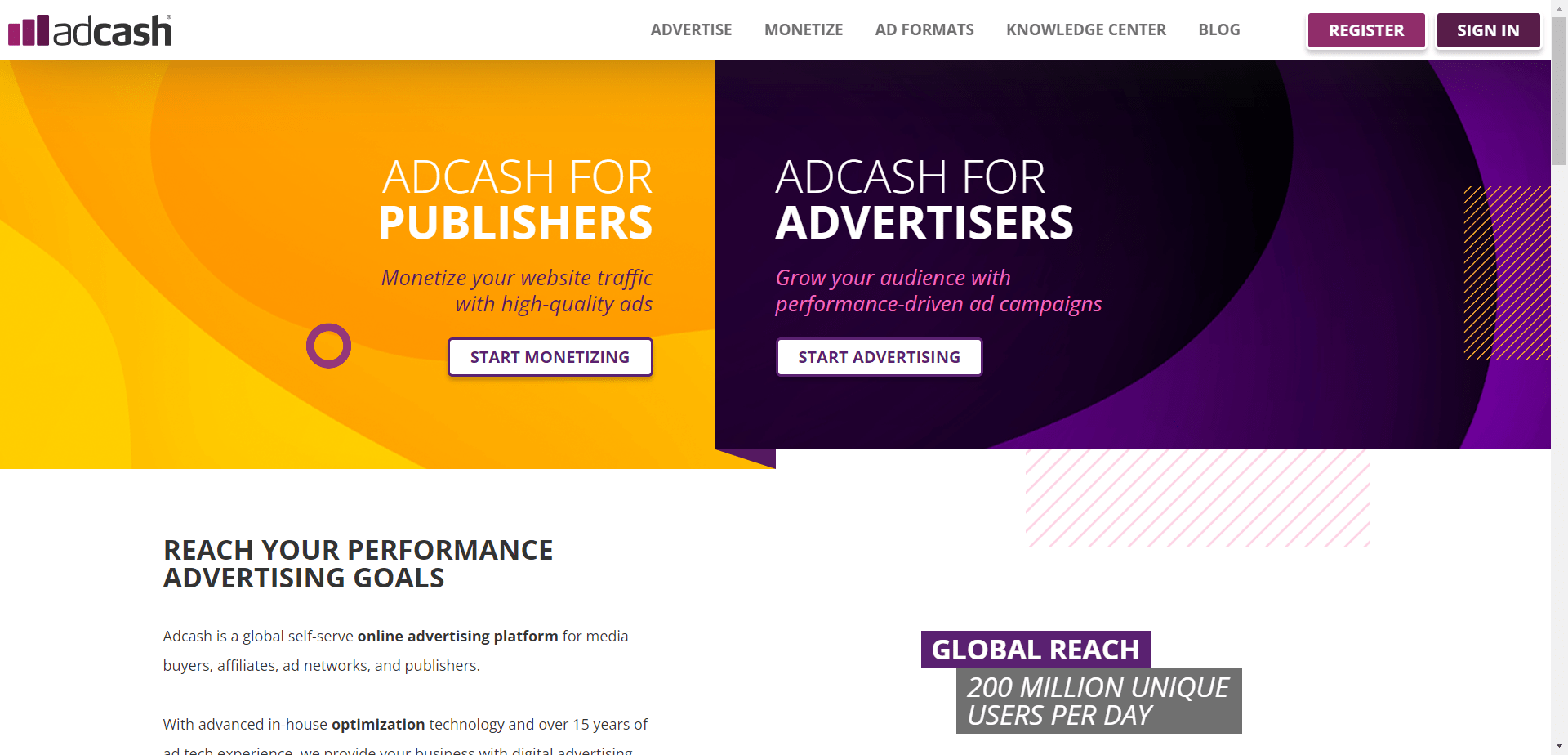 Over 200 million people visit the Adcash website daily, contributing to the company's over $1 billion monthly advertising income. They assert that publishers may profit from online traffic without effort because inventories are constantly exhausted.
Even while the platform takes great pride in its dynamic CPM monetization and user experience, you can participate in the manual procedure. Additionally, Adcash has an intelligent network that enables customized targeting and may accept advertising from mobile devices.
There are many different payment options available, and there is no requirement for a particular volume of traffic to receive permission.
PROS
Available anti-adblock solutions
Multiple payment options
Free transaction processing
Available anti-adblock solutions
Queries are answered quickly.
CONS
Lower CPMs than market offerings
5) BuySellAds
When you use BuySellAds, you may start making money when you're ready to run adverts. You don't have to meet any prerequisite criteria to join the ad network as a partner. They enable publishers to sell ad impressions on websites like yours using their platform.
The ad network offers support to help publishers build direct business partnerships with advertisers.
For instance, a publisher in the healthcare sector can decide to base revenues on the number of ad impressions and select any advertiser with a focus on health.
Additionally, the business enables publishers to gain money from traffic diverted by adverts.
PROS
Small publishers can get sponsors.
Monthly pageviews 100,000.
Requested payments are processed in 2-3 business days. No delay.
PayPal's minimum payment is $20.
High-quality, targeted advertisements.
CONS
Their revenue share is 25%, more significant than the market average of 20%.
No haggling on prices.
6) Revcontent
A network for content recommendations called Revcontent was created in 2013. High-quality websites that receive at least 50,000 visits each month are accepted by Revcontent. They provide publishers with ad widgets (custom API native and non-native) to include with the content.
Excellent customer service staff and committed account managers. It offers premium CPM rates for all countries and can monetize your mobile websites. Recommendations for high-quality content.
The cost per thousand impressions (CPM) on the Revcontent network is typically $0.44 but can go as high as $3.
PROS
The minimum payment is $50.
Accurate, real-time reporting dashboard.
Quality content suggestions.
Monetize mobile sites, too.
It offers high CPM rates worldwide.
Customer service and account managers are excellent.
CONS
Due to quality difficulties, many applications are denied, making joining difficult.
High minimum traffic. However, you can apply with 1,000–10,000 monthly pageviews.
7) PropellerAds
The CPM rates offered by Propeller Ads are among the highest in the industry. By trying their service, you may start making money from the people visiting your website or using your app in a few minutes. Adding your domain ownership and verifying it is a simple process that may get you up and running quickly.
OnClick PopUnder Ads, Web Ads, Banner Ads, and Layer Ads are just some of the many ad formats that work with Propeller Ads.
PropellerAds is an effective alternative to other CPM advertising networks. A Net30 payment policy and a minimum $100 requirement are ideal. In addition, Propeller offers real-time reporting.
PROS
Wire transfer, Payoneer, PayPal, WebMoney, and Skrill are the payment methods
80% of revenue goes to publishers.
Reporting is Real Time
Joining Process is quick and easy.
CONS
Readers may dislike pop-under or full-screen advertising. Poor user experience and significant bounce rates.
8) HilltopAds
Long-tail and mid-market publishers use HilltopAds because of the 12 billion monthly impressions it gives to their network. Thanks to its intuitive UI and built-in ad server, you can start making money from your content immediately.
As an added bonus, you may use its in-house ad server and real-time optimization to increase your eCPM; it supports instant payouts via PayPal, Wire, ePayments, and Bitcoin and offers round-the-clock support.
PROS
Real-time optimization, internal ad server.
Net7 PayPal, Wire, ePayments, Bitcoin payout.
24/7 Support
Beginner-friendly.
CONS
Fewer Ad formats
Relatively new to digital ads.
9) Media.net
Media.net is the name of one of the most prominent global advertising networks. With offices in Los Angeles, Zurich,  New York, Mumbai, Bangalore, and Dubai,  they run the world's second-largest contextual advertising program on the Yahoo! Bing Network Contextual Ad network.
Media.net's clientele includes some of the biggest names in the business, including Kiplinger. Forbes, Yahoo, MSN
To be considered, you must submit work that is uniquely yours. In addition, daily updates to the content are required. Any infringement upon the intellectual property rights of a third party is strictly forbidden.
PROS
Advertising budgets are among the largest on Media.net.
D2S ads, pioneered by Media.net, use CPC.
Contextual advertisements serve ads with minimum user data, protecting publisher revenue.
Yahoo!-Bing Google AdSense became Media.net. It works with Yahoo! and Bing even though they no longer own it.
The company requests significant traffic from prominent nations like the US, Canada, the UK, etc.
CONS
Only USD can be paid on Media.net
10) Adsterra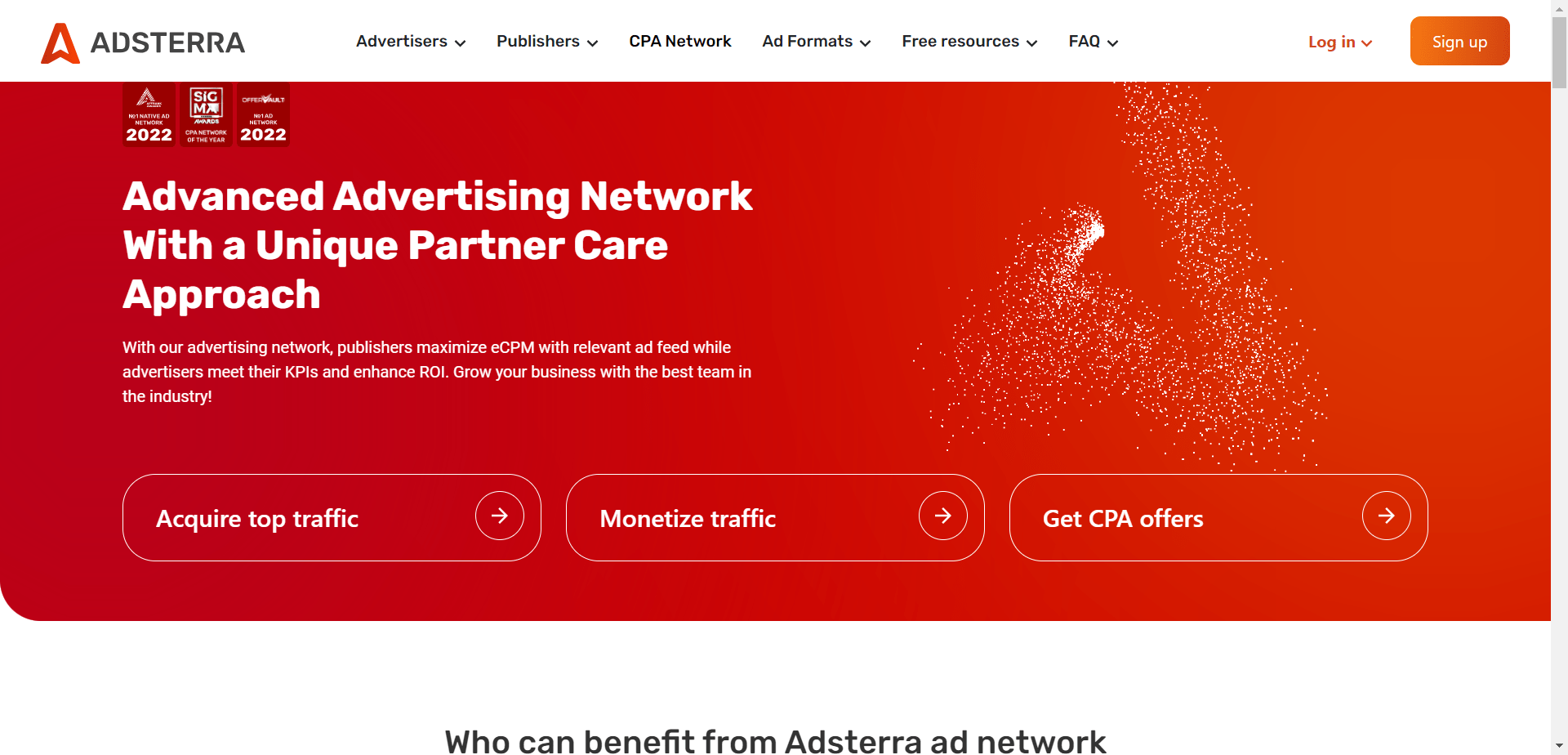 Adsterra is a multinational company with headquarters in Scotland. It does this by teaming up with trustworthy advertisers and providing them with a higher CPM.
It provides various ad formats, including popunders, in-text links, pre-roll videos, push alerts, and interstitials. The firm also claims to provide 100 percent fill rates for publishers.
PROS
All campaign models—CPI/CPL/CPA/CPC/CPM

Multiple 

payment 

methods, 

including 

PayPal.

Choice 

of 

ad 

formats.

Net15 Payment.
CONS
Adsense pop-under advertising is unsafe.
FAQs: Best High CPM Ad Network for Publishers
❓Is a CPM Ad Network right for you?
CPM is great for campaigns to increase brand awareness or spread a specific message. A prominent ad on a high-traffic website promotes a company's brand identification or message regardless of whether or not people click on the ad; hence, the CTR is less important in this case.
Website owners prefer CPM content since they are compensated for displaying advertisements. Due to the low cost per impression, CPM advertising is only worthwhile for high-traffic websites. On the other hand, advertising on social media platforms is more expensive.
❓Why Use CPM?
CPM advertising has a lot of potential for publishers. Since users aren't required to actively engage with the ad, this can increase earnings. Online advertisements provide a revenue stream for publishers.
This is far easier than getting people to click or interact with adverts. However, CPM rates are modest compared to other metrics, so a site needs substantial traffic to be profitable.
Mobile app and game developers can estimate ad revenue using cost per mile (CPM). Ad network metrics like CPM or eCPM, average served impressions, and daily active users can help developers gauge potential earnings from in-app advertising. Successful mobile app publishers should be familiar with these metrics.
New bloggers have an excellent chance of being accepted into well-established CPM ad networks. Furthermore, CPM advertising networks don't need targeted or qualified traffic. CPM makes it simple to plan budgets.
❓How to Calculate CPM?
CPM is calculated by dividing the ad campaign cost by impressions and multiplying by 1000. CPM = Total Campaign Cost / Total Impressions times 1000.
❓How Does CPM Work?
Among digital advertising models, CPM is by far the most common. Ad interaction is measured by the number of impressions. Ad agencies pay websites by the thousand Impressions. In CPM models, the advertiser is charged for each impression, even if just a one-page visit resulted from the placement of the ad.
Conclusion
There is no one correct answer or magic bullet in advertising technology. Suppose you are a publisher looking for an ad tech company that will provide you with high-quality CPM ads and tailored CPM advertising programs.
In that case, you should look into the CPM advertising networks mentioned in this list. Check the list out if you need help finding a company like that.
Each of these networks offers a respectable CPM rate and user experience; nevertheless, you should always consider what will help you achieve your goals most effectively and how CPM relates to that before making a final decision.
Related Read: