Let's get started with my Comprehensive list of Best Mobile Ad Networks 2023.
There are several mobile ad networks for running a mobile ad campaign, but they must choose one specialized to their niche.
Publishers and app developers can create passive money by selling ad space to mobile marketers and advertisers through a mobile ad network.
This article outlines the top mobile ad networks for publishers and critical elements to consider before choosing a platform.
How Do Mobile Ad Networks Work?
A mobile advertising network connects publishers' SSPs and advertisers' DSPs.
An integrated mobile advertising network connects advertisers with app developers and publishers selling mobile ad inventory.
As a publisher, you want a network that makes money without hurting your brand with irrelevant ads. Choose one with multiple ad formats.
Why advertise on mobile apps?
The newest AppsFlyer projection predicts that global app install ad spending will reach $94.9 billion in 2025, up 20% from 2023.
Due to the economic slowdown and predicted recovery, ad spending will swing from 15% between 2021 and 2023 to 20% between 2023 and 2025.
Targeting better
In-app ads are more natural because they're contextual. Interruption? Advertising is found in browsers.
Many apps have interactive advertising that advertisers can display at essential periods during the in-app experience to help current users transfer.
Beyond that, app advertisers target a specific audience. This is mainly because apps may pull direct demographic and geo-location data.
Increased Click-through rates
Naturally, advertisers want to know why in-app advertising isn't just hype.
Web advertising has a lower click-through rate than in-app advertising.
Another study found that in-app ads outperform banner ads by 11.4 times, proving their superiority.
App users are spending more time.
Facebook and Twitter ruled mobile a few years ago, but the market has changed. Not just social media is stealing mobile users? Time, but many apps across sectors.
Due to this, mobile consumers have increasingly switched from using their browsers to a large assortment of mobile apps.
RELATED: Top 10 eCommerce Ad Platforms
Mobile Ad Business Models
Cost-per-view
This strategy is excellent for video advertisements. This strategy charges advertisers per video mobile ad watch.
Install cost (CPI)
The CPI approach charges marketers just for mobile app downloads from ad clicks. Mobile app marketers' most essential measure is cost-per-install price, which reveals how much they pay to acquire new users.
Cost-per-mile
CPM is the ideal publisher development strategy because publishers get paid for each ad in an app or site. Publishers can predict money with stable traffic. This strategy costs advertisers per 1,000 ad impressions (a mile).
Cost-per-action
A mobile ad network advertiser pays for a user action in an app using a CPA, a more advanced type of CPI. Publishers can monetize their inventory by accepting CPA payments for in-app purchases, subscriptions, sign-ups, etc.
Cost-per-click
Mobile advertisers pay per-click with the CPC approach. This strategy risks serving many free ad impressions and losing income.
RELATED: Mirelia Networks Review: High Paying Network?
10 Best mobile ad networks
1) Instagram, Facebook (Meta)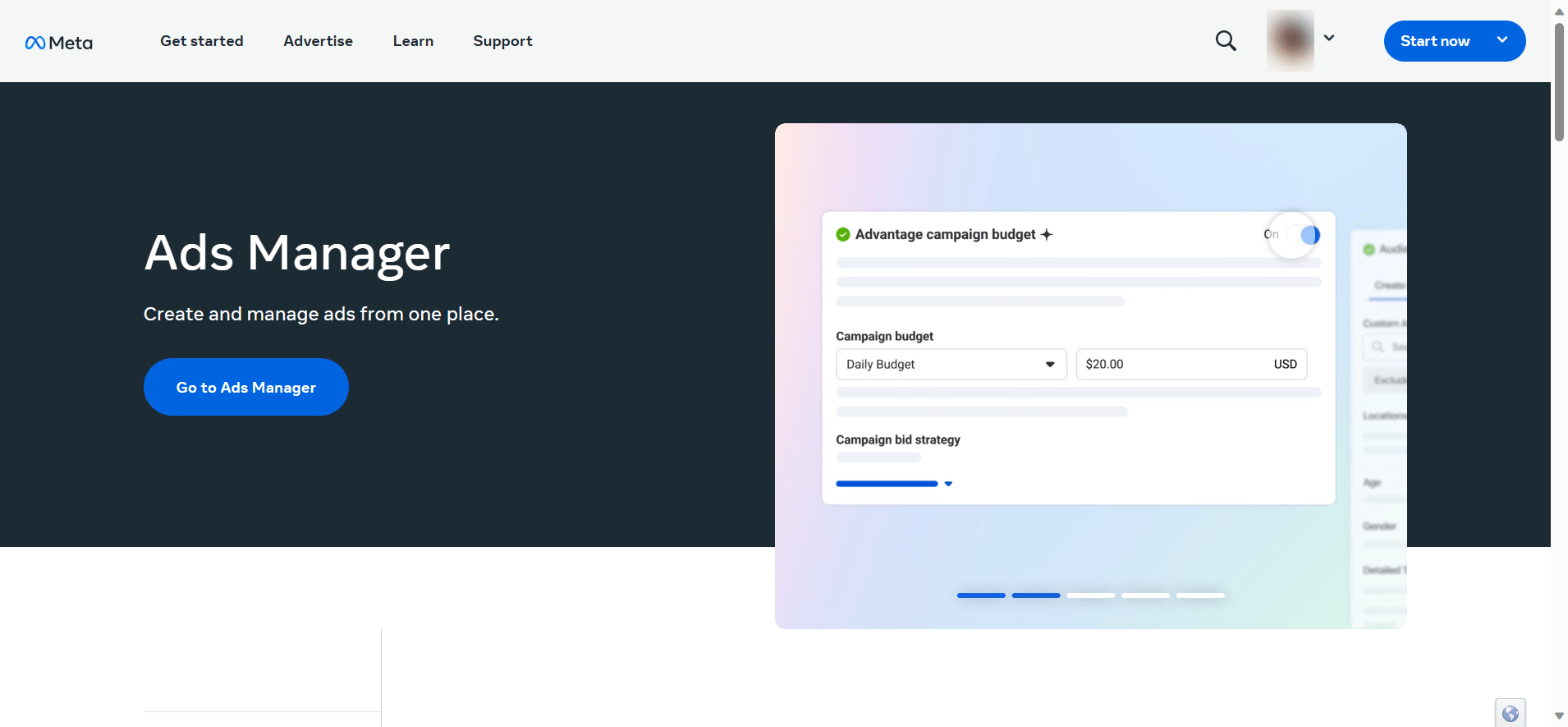 Facebook and the photo-sharing app Instagram are two of the most widely used apps on mobile devices today. Thousands of people use these social media sites, making them ideal places to promote your mobile apps.
Each platform welcomes ads from companies of all sizes and budgets. Additionally, demographics can be used to hone in on a specific audience, such as Likes and interests, Education, Gender, Location, Job, Relationship status, and Age can also reduce the target audience.
Instagram and Facebook utilize dynamic advertisements, signups, full-screen ads that load rapidly (immediate experience), mobile-only ads with five products (collection), short video ads (slideshow), carousel, video poll, video, and picture.
Mobile ad campaigns are easy to set up in a few steps. Define your goals, demographics, ad type, budget, location, and schedule, then create your advertisement.
Instagram and Facebook offer many mobile & app advertising along with monetization opportunities, as stated above
2) Smaato
Mobile ad platform Smaato is excellent for marketers & publishers. There are 10k publications and 90k advertisers to assist you in selling or buy ad space.
Use  SPX (Smaato Publisher Platform) to create super auctions with real-time bidding (RTB). This helps you identify mobile app advertisers willing to spend the most.
These real-time bidding auctions show where impressions are most in demand, allowing you to maximize earnings per impression and earn larger eCPMs.
Interactive, banner, interstitial, Video, & incentivized advertising are allowed by Smaato.
Dynamic Demand (Smaato Publisher Platform) optimizes demand sources automatically. You can also mediate SDK-enabled advertisement networks.
3) InMobi
The InMobi mobile advertising network serves publishers and advertisers. It has rich media and playable advertising. In addition, InMobi offers publishers diversified, high-quality ad demand from hundreds of DSPs.
In addition to ad analytics and optimization tools, InMobi offers UnifID, a new online identity solution that addresses mobile ad identifier restrictions. Publishers may improve audience targeting, reporting, and user ID management using this service.
With CPI and CPC ad campaigns, InMobi is compatible with iOS, Android, and mobile web. Interstitial banners, rich media, video, and native are the available ad formats.
Decide who your target market is based on features like device, channel, country, operator, operating system, time, or carrier. Consequently, you only ever advertise to the most suitable matches.
You can advertise on InMobi in Kenya, India, Europe, Japan, South Africa, the UK, and the US to target users outside your home country.
4) Unity
Unity is the best option for mobile game developers looking to incorporate advertising into their games. This service is tailored to the unique needs of monetizing mobile games using video advertisements.
Unity advertising may run on Android or iOS devices and can work with any game engine, such as Corona, Adobe Air, or Marmalade. You may enable in-app purchases so users can buy from you without leaving the app.
In terms of advertising, they provide CPM and CPI options. Ads can be banner, video, or interstitial; all three are supported. Unity advertising can be configured to operate with plugins from MoPub, SkyRocket, & other mediation services.
Reach the correct people every time by narrowing your audience down by their connection type, location, or OS. You may expect to reach your audience, as there are more than 35 million gamers from 128 different countries.
Keeping tabs on how well your ad campaigns are functioning hourly or daily is essential for optimal app monetization, and the straightforward dashboard makes this possible.
5) Amazon Publisher Services

Amazon Publisher Services (APS) lets publishers and app developers monetize mobile app traffic with various ad formats.
Besides Amazon ad demand, the platform integrates with additional demand sources. In-app header bidding and analytics capabilities are also included in APS.
Although APS has tremendous features and tools, joining the platform is difficult. Amazon's Transparent Ad Marketplace requires a lot of traffic, while Unified Ad Marketplace is invite-only.
Amazon Publisher Services are limited to the US. Starting with APS is easy for large publishers. You're ready if you have demand partners and multi-header bidding set up. Start by filling out the Contact Form. Amazon will contact you for details after submission.
APS is appropriate for mid-to-large publishers. Since APS provides a central platform for service management, publishers and demand partners do not need to adjust their relationship.
6) Yahoo Developer Network
Yahoo App Publishing offers an easy-to-use, flexible ad-serving platform, a component of the Yahoo Developer Network, to publishers creating mobile and gaming apps for Android and iOS. Yahoo App Publishing is proud of how simple it is to set up and use the platform.
A simple SDK may be used to quickly combine both frameworks and Flurry analytics can offer the essential administration and reporting tools. Publishers can create fundamental forms of advertising, including video ads, native ads, & rewarded ads.
7) Epom Apps
Next-generation app monetization provider Epom optimizes ad performance using AI. Publishers can use programmatic and direct arrangements for all app mobile ads.
To get high-quality demand at great CPMs, Epom lets publishers integrate multiple ad networks. The platform also has excellent ad fill rates and connections with top ad vendors like AdMob, MoPub, AppLovin, and others.
Key features include extensive mobile SDK, excellent developer and publisher support, high ad fill rates, AI-powered ad optimization, and programmatic and direct agreements.
8) Moburst
Moburst is one of the most extensive mobile ad networks because 46% of the top 15 apps with over 1 billion downloads use it exclusively.
Using cutting-edge technology, Moburst drives user acquisition and app store optimization (ASO) for Samsung, Google, Uber, Reddit, and YouTube.
Creative offerings include video and native in-app ads for gaming applications and more and ASO for iOS and Android.
9) Smarty Ads
This mobile ad network provides all the tools you need to monetize your mobile apps & sites.
Smarty Ads DSP provides OpenRTB protocols for ad agencies, premium ad network campaigns, & DSPs (demand-side platforms).
The White Label Solution lets you customize your adverts and take complete control. SmartyAds SSP monetizes content with various brands in one place.
Quantum analytics provide real-time campaign insights. It supports Billing systems, Ad Networks, Ad Servers, SSPs, & DMPs.
They offer CPM or CPI format for Ad campaigns with all major ad formats like rich media, video, native, in-app, and more.
10) AppLovin
AppLovin, a mobile monetization platform, integrates 100+ advertising partners like Google AdMob, Unity, and the Trade Desk. The platform enables rich media advertisements and other formats.
AppLovin supports Android, iOS, Unity, Cordova, and FireOS, the most popular platforms. It also includes brand safety tools to identify and report harmful material and adverts. Finally, AppLovin delivers complete ad performance transparency.
Brand safety tools, detailed analytics and reporting, real-time QA testing, 100+ ad partner integrations, and all popular mobile ad formats supported.
Mobile Ad Network Selection: Key Factor Considerations
Choosing one for your app or site might be challenging with many mobile ad platforms. Choose one with reasonable rates, audience targeting, high eCPMs, and beautiful visuals in numerous formats.
Mobile Ad Formats
Some traditional advertising can be done in-app. Check the company's ads before choosing an ad network. Our guide on mobile ad sizes can help you determine the correct format and size specifications for your app or website.
Media Rich Ads
Video, audio, and other advanced capabilities in rich media commercials promote audience engagement. Rich media ads are 60-second videos that promote products and services. In-steam and out-stream video adverts are standard in media apps. Video commercials are the most engaging mobile ad format.
Banner Ads
Banner advertising is static or moving images in-app interfaces. They mainly promoted third-party products, digital or physical commodities, or app capability upgrades.
Interstitial Ads
Full-screen interstitial advertising obscures the host application's UI. In mobile game apps, they usually display ads between app panels and stages.
Native Ads
Native advertisements are textual or video adverts that match the app interface's form and function.
To Sum Up
Find a mobile ad network with insight reports, high eCPMs, & different formats. To increase app monetization, becoming an advertiser and publisher is crucial.
You can make money selling app ads. But you may also buy ad positions and space from different publications to promote your app and increase user acquisition.
The finest mobile ad network is impossible to choose because they have various advantages. Publishers must decide based on their company's needs.