Publishers and ad networks use ad servers to control and organize their advertisements. In this article, I have covered the list of 10 Best Ad Servers for Publishers in 2023.
With an expanding audience, you find more ways to monetize your blog outside AdSense. Find an ad server to begin. AdSense and similar ad networks have been the starting point for many smaller publishing houses.
An ad server and complete ad space management are necessities for any successful advertising strategy.
Publishers can reap various benefits from ad servers, including reduced workload and more efficiency. They let you show off several different ad units, raise the stakes for advertisers, improve your ability to zero in on a specific demographic, and provide you with in-depth analytics.
However, ad servers can make integrating and coordinating these operations easier.
What is an Ad Server?
Ad servers, in the simplest terms, are what are responsible for actually delivering advertisements to websites. It is an integral part of the advertising technology stack for making digital ads.
An ad server stores this information for consumers to see adverts and then transmits it to one or more websites. Aside from monitoring impressions and clicks, ad servers also compile aggregate statistics. Ad servers can also show users targeted advertisements based on various criteria.
You can use a hosted ad server platform, run and managed by an ad server company, or a self-hosted ad server platform, which you install and maintain on your own server.
10 Best Ad Servers in 2023
1) Google Ad Manager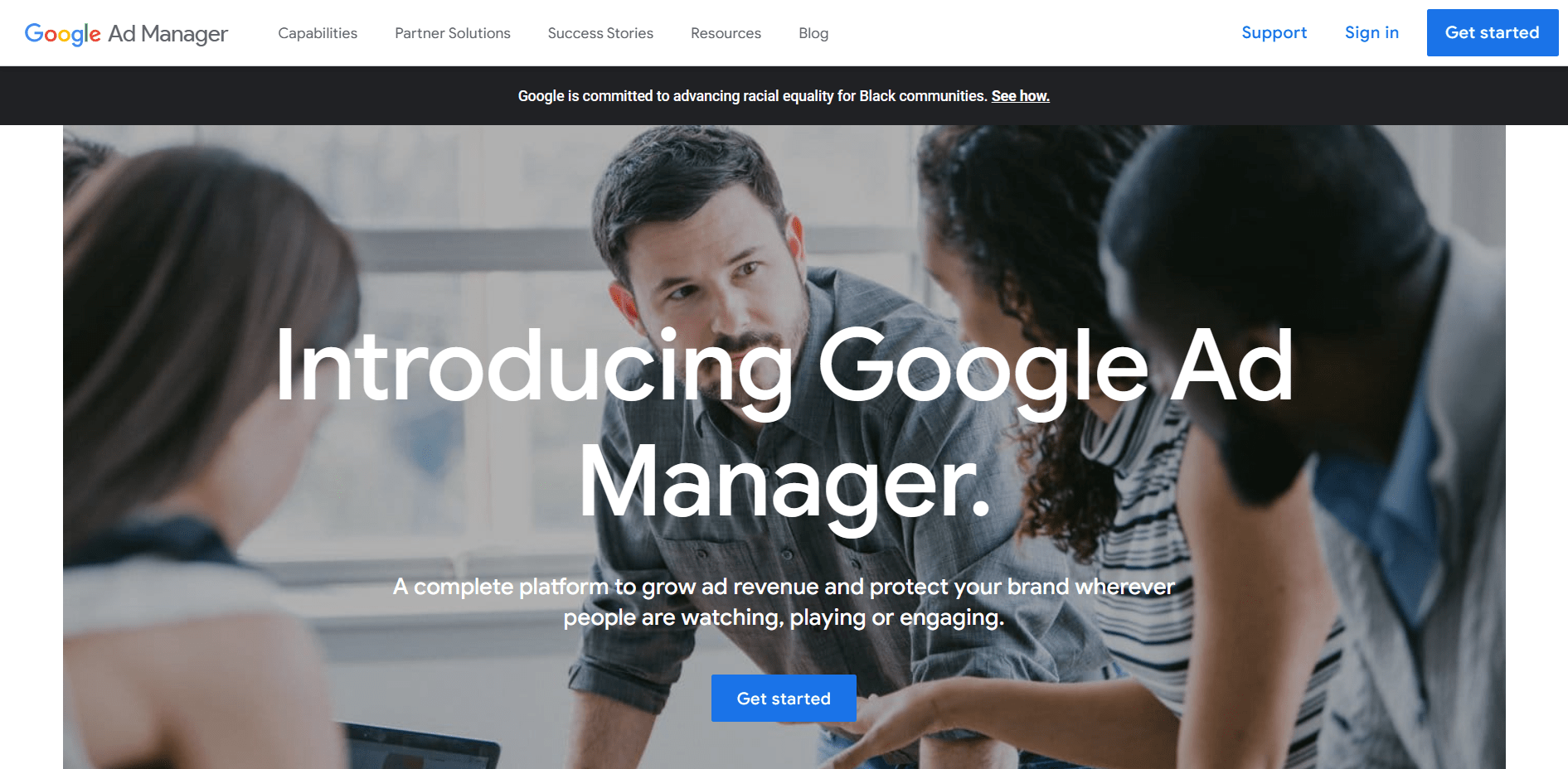 DoubleClick for Publishers (DFP) was formerly known as DART for publishers before Google acquired the company in 2008. It was rebranded as Google Ad Manager not too long ago.
Due to its vast feature set, which includes an attractive user interface, transparent reporting and administration tools, and a wide array of monetization potential, Google Ad Manager is the advertising platform of choice for many premium publishers. The reliability of the Google network underpins all of these advantages.
In addition, Ad Manager lets its customers pick between two distinct server editions; one is a small company edition available at no cost to publishers, just getting their feet wet in the online publishing world.
2) OpenX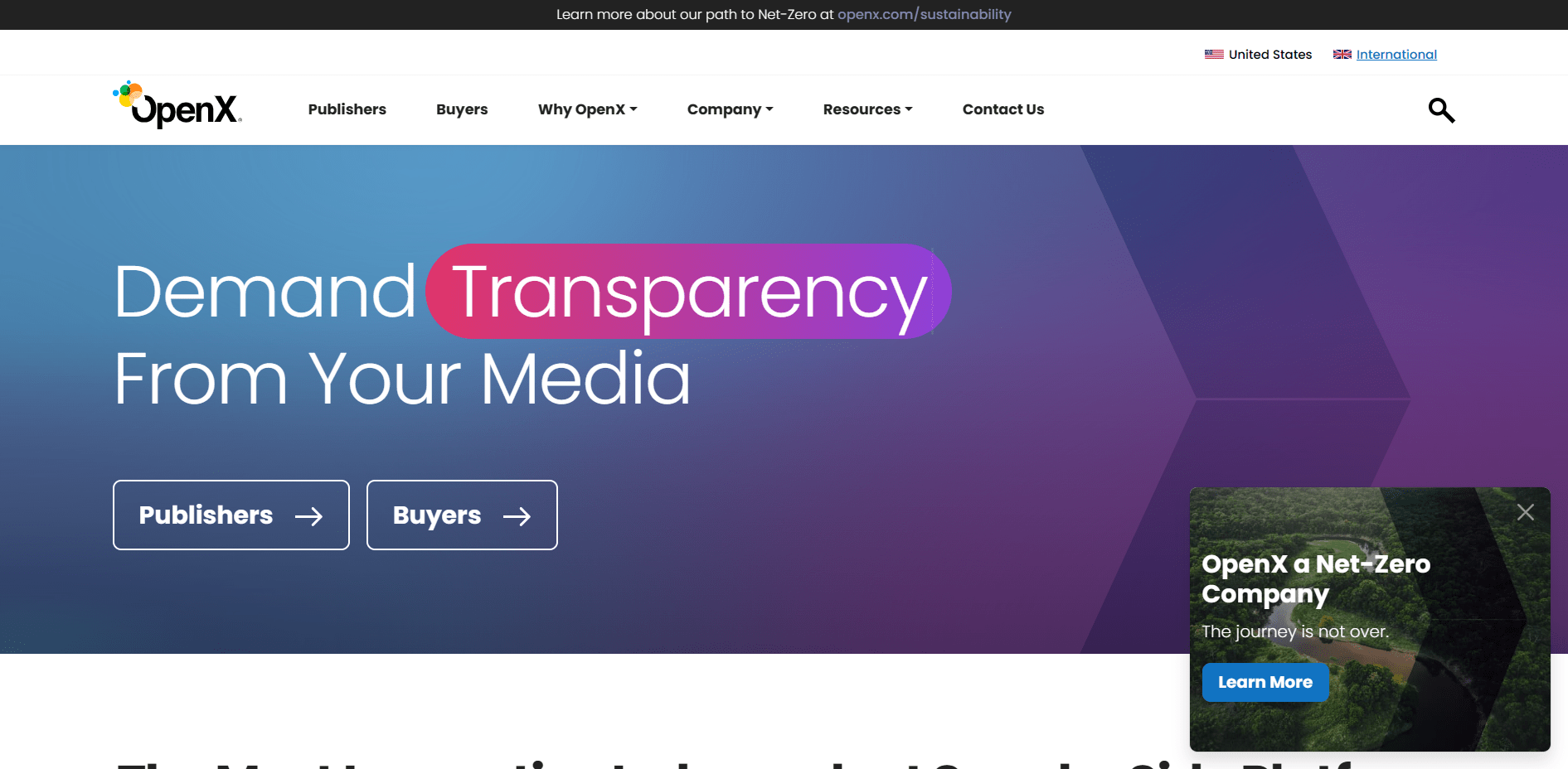 OpenX, a technology-focused company that has been around since 2008, is widely regarded as one of the market's most dependable and reputable rivals.
OpenX operates an SSP, a proprietary ad exchange, and its hosted ad server. In addition, it provides a tool for publishers called OpenAudience, which is used for audience management.
OpenX is an excellent forum for more extensive publishing. The fact that major publications like The New York Times, Hearst, and The Daily Mail use it despite its higher price tag is a testament to the product's excellence.
3) Kevel (previously Adzerk)
Kevel users can manage sponsored listings, internal promotions, native ad slots, and more.
In just a few short weeks, you can have your own fully customizable server-side ad server up and running with the help of the Kevel API suite.
Kevel allows you to control native advertising, in-house promotions, sponsored listings, and more.
Their monthly plans start at $3000, and they have clients including Ticketmaster, Yelp, Strava, and Mozilla.
Publishers needing a tailored ad server solution find this a fantastic option; however, server customization will require some programming expertise.
4) Revive Adserver
Revive Adserver is an ad-serving script that is both free and open-source. Advertisers still use it as one of their top open-source ad server choices despite its extensive history, which includes many name changes and ongoing concerns with bugs.
The fact that it is entirely free, its various targeting options, the detailed reporting it provides (including click-through rates, conversion rates, revenue, and eCPM), and so on all contribute to its popularity.
This free ad server lets you monetize your ad inventory. Revive provides many valuable features, like in-depth reporting, due to its open-source nature. It's free, but implementing it requires IT skills.
5) Broadstreet Ad Server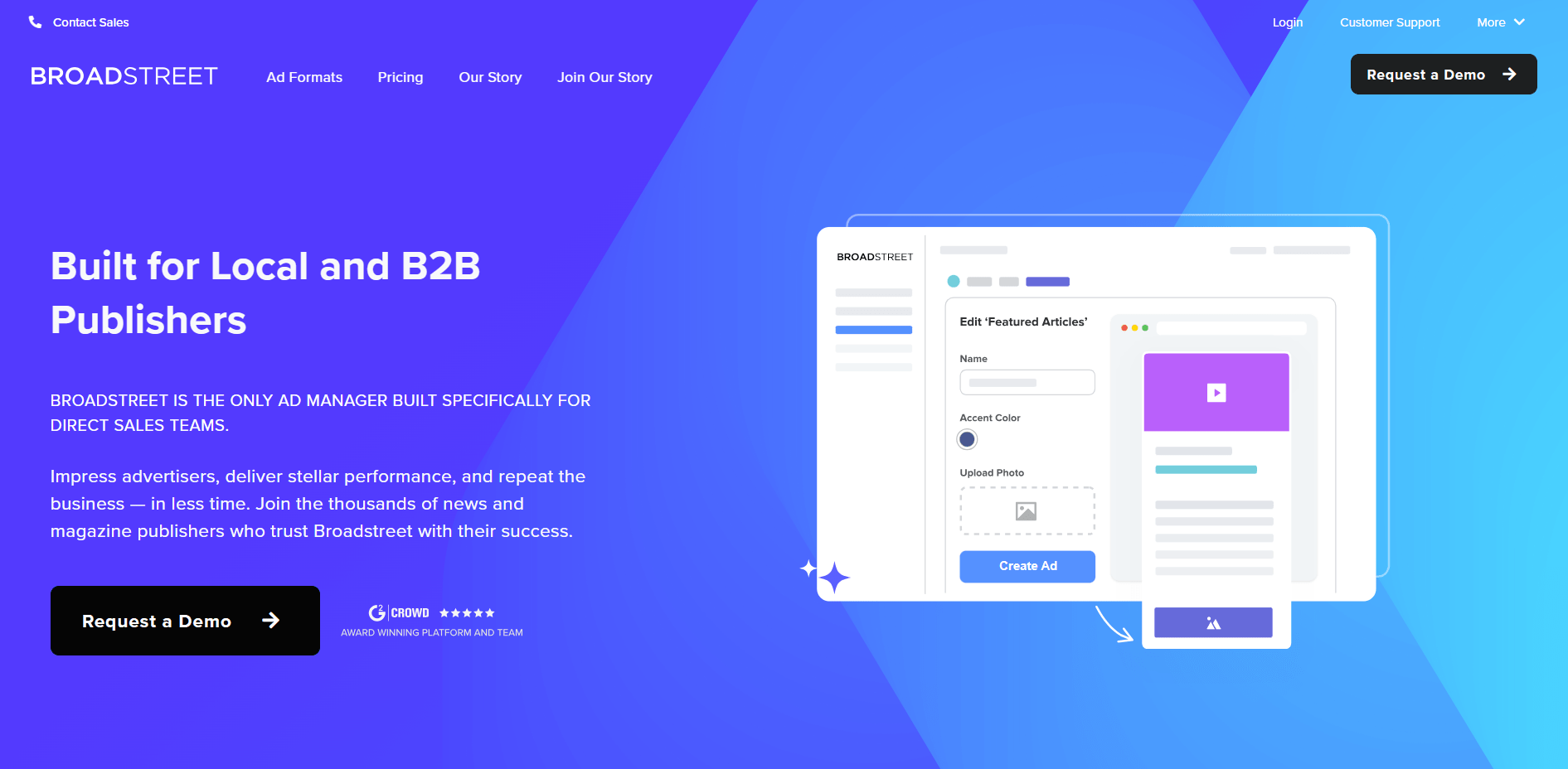 Initially, Broadstreet's ad server catered to the needs of regional news and magazine websites for ad serving. Broadstreet's ad server is designed with simplicity and non-technical users in mind; hence, it features a clean interface.
Furthermore, they provide knowledgeable and active technical support. Since it is reasonably priced, works with WordPress, and provides email newsletters, Broadstreet is an excellent ad-serving platform for SMEs.
The Broadstreet ad server has a simple interface for non-technical users. They offer fast, skilled technical help.
6) AdButler
The ad tech company AdButler has been around for almost 20 years. It also offers a self-service marketplace, programmatic SSP, and full-stack platform for all ad types.
AdButler's flexible pricing starts at $109 and depends on ad demands. Premium live assistance, smart targeting, and solution customization are other benefits. AdButler is competitive since it works for all publishers.
7) Equativ (formerly Smart)
Equativ, the company that acquired Smart's ad server, can execute cross-channel, cross-device, programmatic, and direct campaigns.
This ad server constantly innovates to provide publishers cutting-edge tools for maximizing revenue. Premium demand partners, a vertically integrated ad server, SSP, and DSP; well recognized as an advanced industry leader.
Publishers can benefit from Smart Ad Server's powerful algorithms, such as the unified auction. Real-time forecasting, smart & cookie-less targeting, unified reporting, etc., are only a few of its other features. It directly accesses significant demand sources like Smart's DSPs (LiquidM and DynAdmic).
8) Magnite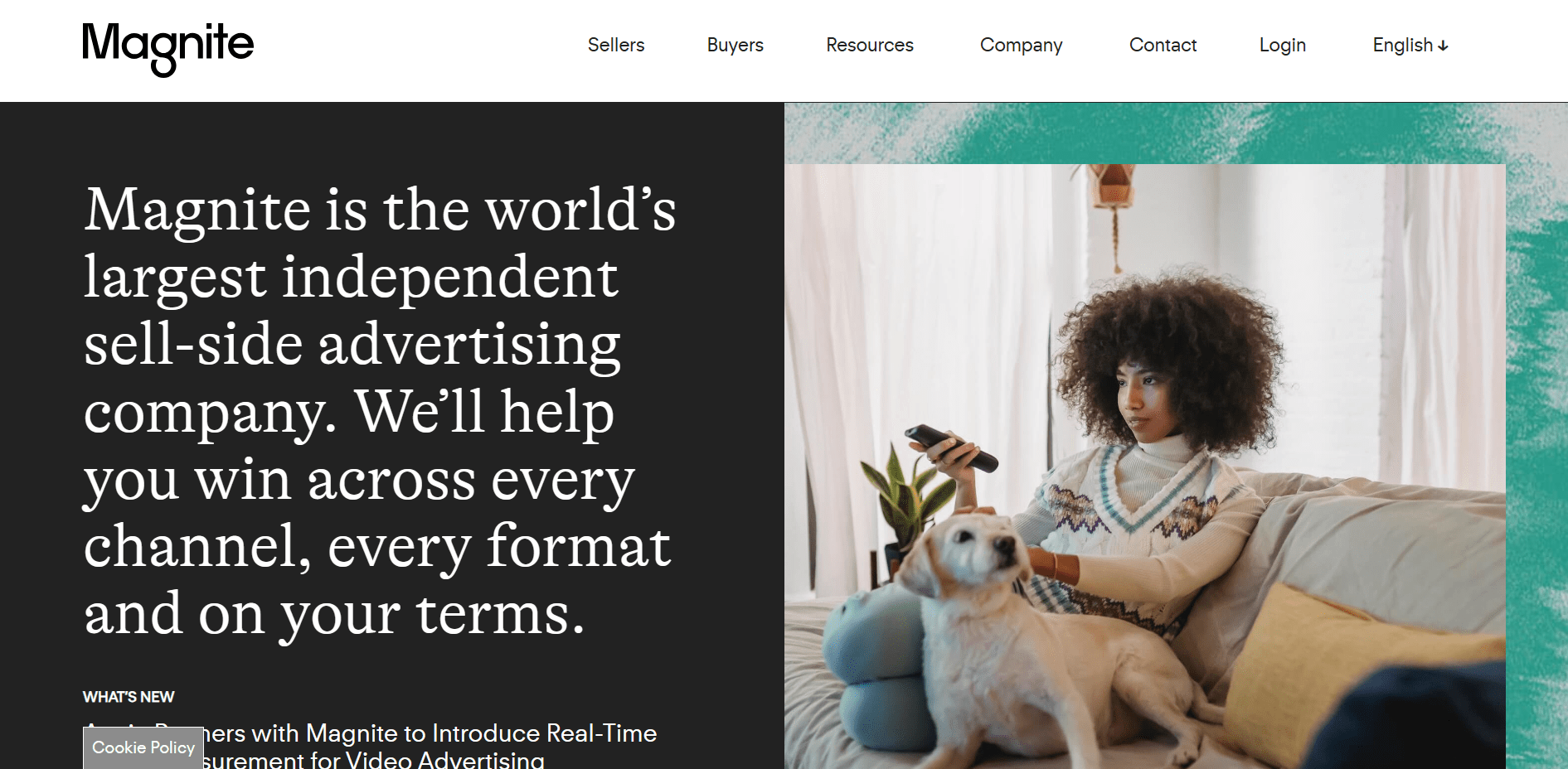 Since its inception in 2007, ad serving has been dominated by Magnite (Rubicon Project before 2020). Magnite is the industry standard when it comes to sell-side advertising. Company services include video, cable television, digital out-of-home (DOOH), mobile, and audio.
Magnite's self-service ad server facilitates communication between publishers and premium advertisers. Programmatic assured transactions, a private marketplace, and an open auction are all available to Magnite's sell-side partners.
Magnite's sophisticated audience management toolkit is a boon to publishers, allowing them to collect, analyze, and interact with their audience data.
9) Amazon Ad Server (formerly Sizmek)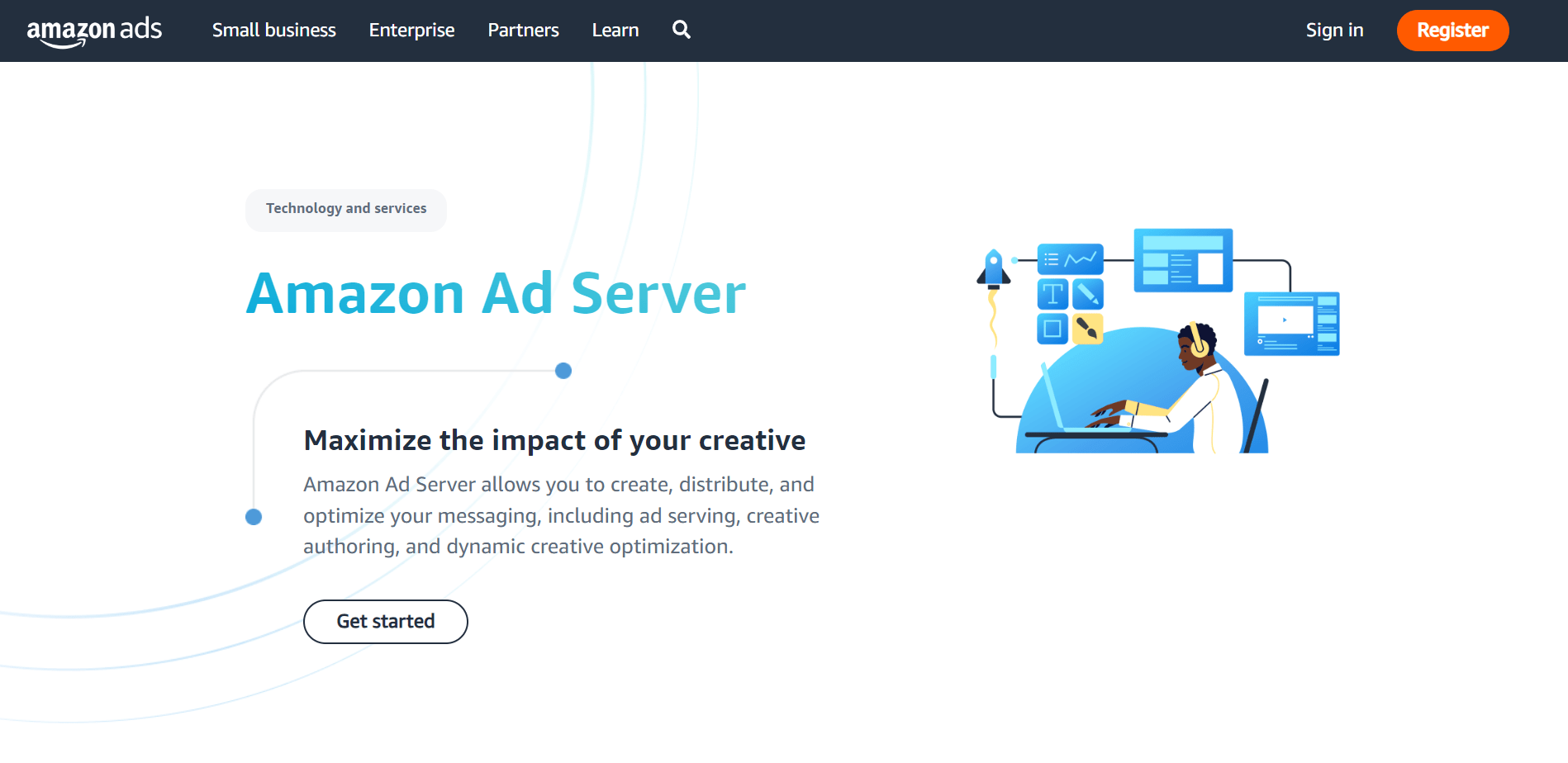 Amazon Ad Server (Sizmek) is the largest independent ad server in the world, serving ads for businesses. Sizmek has dominated the online video advertising and multi-channel online targeted advertising markets for the past 15 years.
Sizmek provides many options for user expression, facilitates teamwork amongst several users, and provides around-the-clock technical support.
10) Epom Ad Server
Epom, a well-known ad server, provides a full-featured system for managing advertisements. The business offers a customizable, branded white-label ad server. Publisher-specific dashboard customization; real-time ad performance tracking; automated campaign optimization
Epom markets itself as a multi-channel advertising system. Even though it was intended for ad networks, publishers will reap the rewards. Epom offers a white-label ad server that may be branded independently and communicates with other systems.
The base package is $250 monthly and includes 24/7 live chat support, an extensive library of ad types, pinpoint targeting, integration with over 60 DSPs, and automated optimizations.
Why is Ad Server Important?
Using an ad server enables you to manage all your digital marketing activities in one place; here, I have listed why you should choose an Ad server.
1) In-House Ads
Picking the correct ad server can give a publisher greater creative control over the advertising processing. This allows the publisher to advertise items more closely aligned with their brand.
2) Contextual Targeting
Contextual targeting aligns ad supply and demand based solely on a webpage's content.
Ad servers help optimize ad placement on web pages by using automated systems to ensure that the ads served line up with the publisher's content.
3) Ad campaign transparency
Ad campaigns aid publishers in reaching their intended audience and provide transparent metrics for return on investment (ROI), ad format, impressions & clicks.
4) Speeds up the bidding process
Ad servers improve the user experience of the ad exchange by allowing for greater customization and precision when serving ads and tracking the efficacy of those ads. By utilizing the following procedures, ad servers facilitate the expansion of ad management throughout the bidding process.
FAQs
What is an ad-serving platform?
Ad servers are the technological backbone that powers advertising optimization, management, and distribution for publishers and advertisers across various revenue streams.
What is the difference between Ad Serving and ad tracking?
Ad Serving entails storing the creative on an ad server and giving the publisher access to its tags. In Ad Tracking, publishers host the ads and receive data on how many people saw and clicked on the ads.
Which ad server is best for showing video advertisements?
Video advertisements provide a more complete visual experience for the audience. One should, then, look for a content delivery network (CDN) to make high-definition designs when selecting a video ad server.
Also, Read:
Conclusion
Several criteria must be considered when selecting an ad-serving platform for use in the digital ecosystem. Knowing your brand's market position, your company's financial resources, and the features it requires from its ad platforms will help you determine which ad server is best for your organization.
The market position of your brand, the available budget, and the features desired by your organization will all play a role in determining the best ad server for your business.