There has been no slowdown in the growth of the multibillion-dollar affiliate marketing sector over the previous decade.
The affiliate marketing industry is projected to grow from $14.3 billion to $15.7 billion by 2024.
Joining an affiliate network can help digital publishers, bloggers, and writers generate passive revenue through monetizing their sites. However, picking the best one can be challenging, given the abundance of affiliate networks available.
This article will provide a comprehensive overview of the affiliate marketing sector, including the various affiliate networks and the best affiliate programs publishers may join to generate affiliate commissions.
The Best Affiliate Networks to Sign Up for in the Year 2023
Here are some of the most reputable affiliate networks you should consider joining in 2023, even though you can sign up for hundreds of affiliate programs.
1) Amazon Associates
A well-known affiliate program, Amazon Associates has been active since 1996. Affiliate marketers and their audiences may use Amazon's massive selection of physical and digital products, from books to baby gear to beauty aids, through Amazon Associates, Amazon's affiliate marketing program.
Amazon Associates stands for itself as a trustworthy affiliate network due to its user-friendly layout and speedy sign-up process.
It's not just the things you recommend that can earn you a fee through Amazon Associates; any product your readers buy within 24 hours can make you money.
Best for: Affiliate marketers, especially beginners.
Key Features
Amazon Associates pays about 5% commission. This varies by product type.
Direct deposit, Amazon gift vouchers, and mail-in checks are Amazon payment alternatives.
Amazon Associates pays advertisers 60 days after the month they receive the commission.
RELATED – Best Gaming Ad Networks for Publishers
2) Awin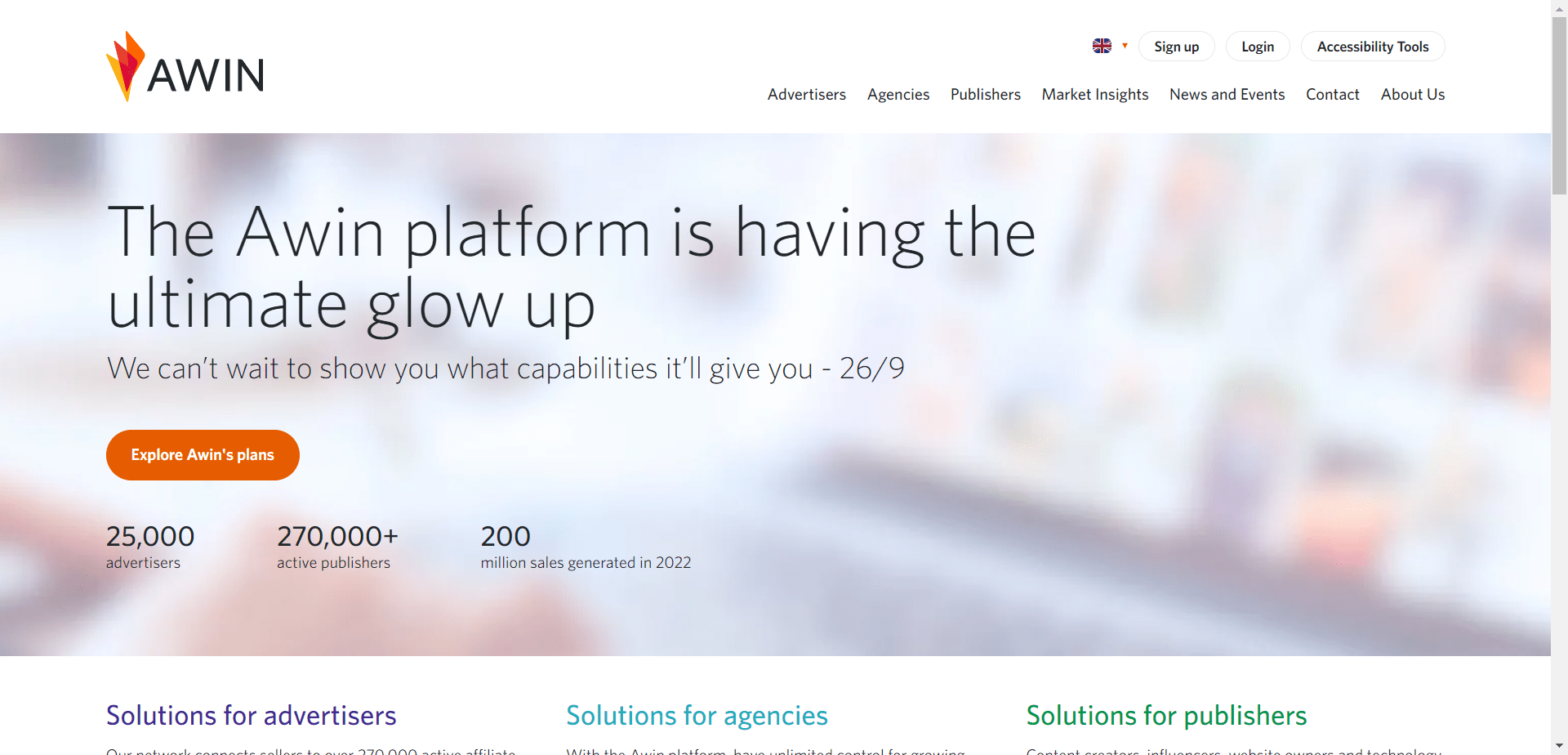 Awin is one of the most extensive and trusted affiliate programs due to its over 15,000 advertisers and 210,000 active publishers. The companies that may be accessed through Awin include StubHub, Hyatt, AliExpress, and Under Armour, among others.
However, each course has a distinct application process; some programs even have associated fees.
Best for: For beginners and pros in affiliate marketing
Key Features
The average commission is 5%; however, merchants vary.
Options for payment include ACH, international wire transfer, and BACS.
Fortnightly payouts on the 1st and 15th of each month
RELATED – Best eCommerce Ad Platforms

3) ClickBank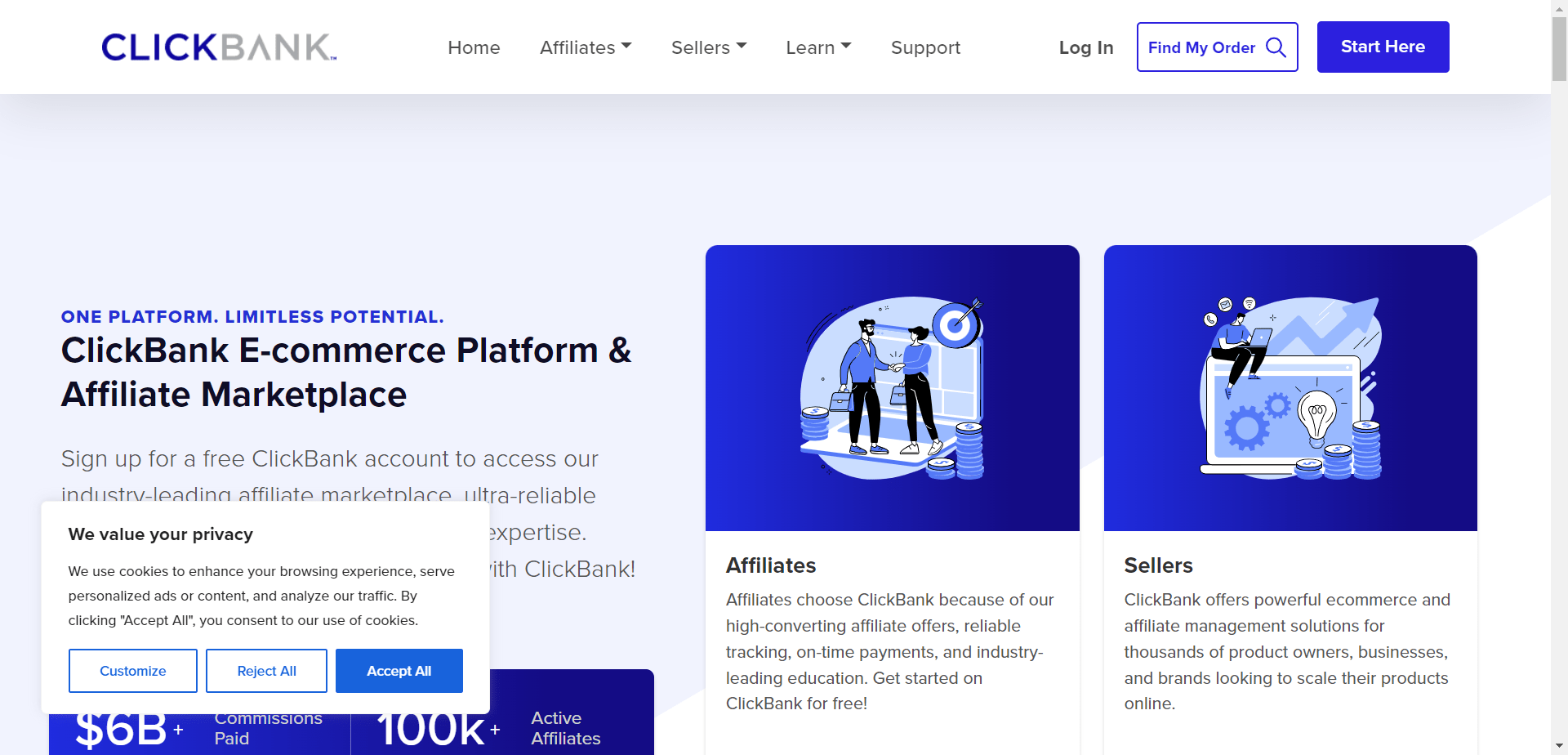 ClickBank, a global affiliate network established in 1998, differentiates itself by specializing in e-books, software, and other forms of Internet marketing. It is, alongside Amazon Associates, one of the earliest affiliate marketing networks operating today.
ClickBank is an excellent option for affiliate marketers relying on email because it features more than 6 million digital products entrepreneurs develop worldwide. Although ClickBank's commission rates are among the best in the affiliate marketing industry, publishers should exercise caution when promoting its products.
Best for: affiliate marketers that wish to sell only digital products online.
Key Features
Commissions can go as high as 90%, while the average is far lower
Direct deposit, wire transfer, and check are the methods of payment
Affiliates can choose weekly or monthly payouts from ClickBank.
RELATED – Best Crypto Ad Networks
4) FlexOffers
FlexOffers is a leading affiliate marketing platform that has been around since 2008. Despite their young, flexOffers has over 12,000 retailers in over 25 categories and 27 countries.
FlexOffers is excellent for newcomers to affiliate marketing because each publisher is assigned a personal affiliate manager to answer questions and guide them through the program.
Their prompt payout schedule is another perk, with top earners getting their income in as little as seven days.
Best for: New affiliate networkers seeking a variety of products and services.
Key Features
Merchant-specific commission rate
Non-US partners can pay by check, direct deposit, or PayPal.
The payout schedule is 30 days or 7 days for top earnings.
RELATED – Best Mobile Ad Networks
5) eBay Partner Network
While the eBay Partner Network has only been around since 2008, the strength of the eBay brand makes it a preferred choice for affiliate marketers.
With eBay's 1.7 billion listings, publishers can advertise an almost infinite variety of tangible things to their audience through eBay's affiliate marketing network.
Best for: Ideal for physical goods publishers seeking a reliable affiliate network
Key Features
Product category determines commission rate.
You can get paid by PayPal or a bank transfer.
Publishers earning $10 or more receive monthly EPN payouts.
RELATED – Mirelia Ad Network Review
6) C.J. Affiliate
CJ Affiliate, founded in 1998 as Commission Junction, is a successful affiliate network. CJ Affiliate, a vast, well-established organization, allows affiliate partners access to over 3,000 merchants, helping them earn over $1.8 billion annually.
Real-time reporting features allow affiliates to track the activity on their affiliate dashboard with CJ Affiliate.
Best for: for established bloggers that look for features.
Key Features
Merchant affiliate commission rates vary.
Direct Deposit, Check, and Payoneer are all acceptable payment methods for overseas partners.
C.J. Affiliate assures monthly rewards within 20 days with a minimum payout of $50 (Direct Deposit) or $100 (Check).
7) Avangate Affiliate Network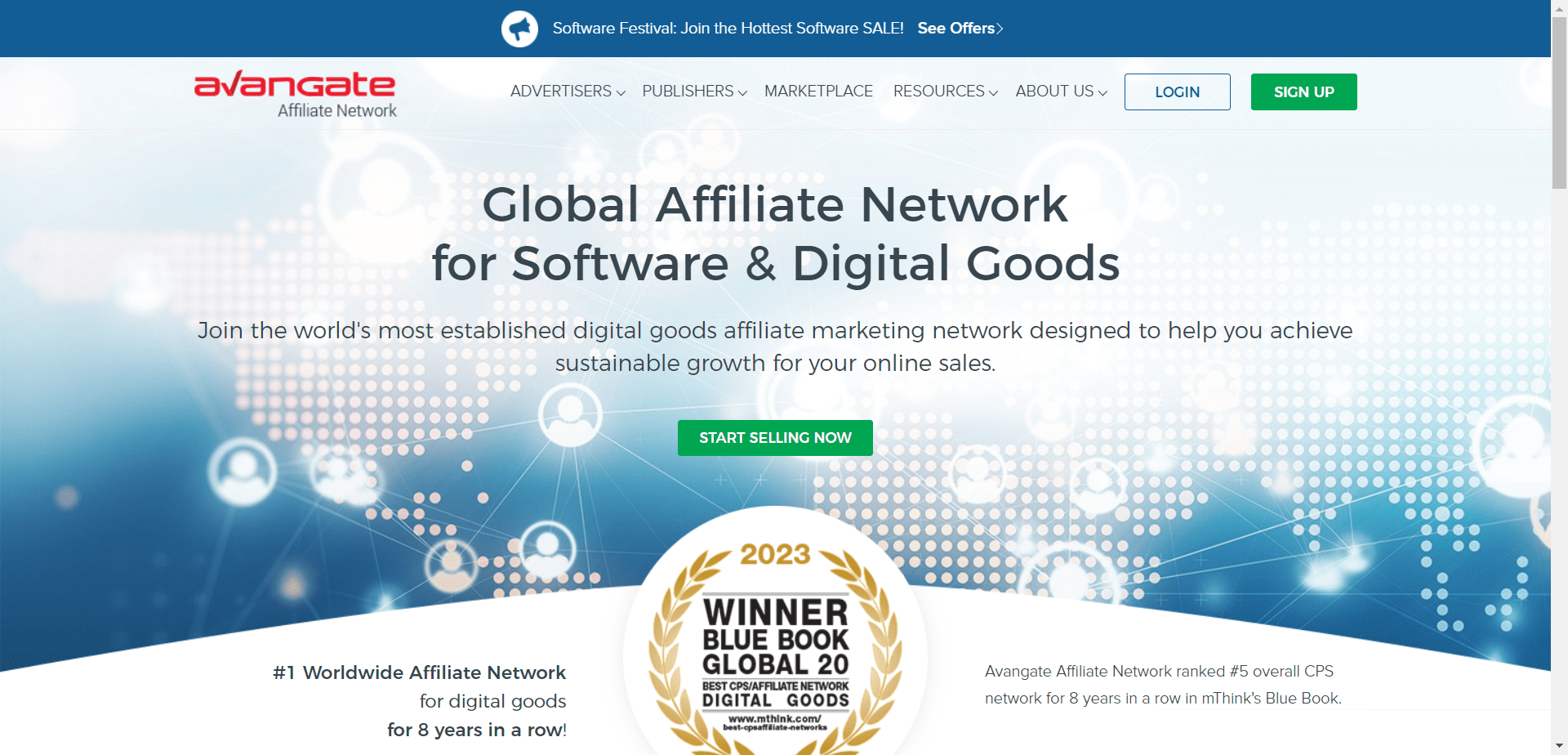 The Avangate Affiliate Network is an industry-leading platform that facilitates connections between publishers and online retailers of digital products, such as Malwarebytes and various other software firms.
They have a good reputation and have been ranked as the number one worldwide affiliate network by Blue Book Global for the previous six years. Even though they have a discount program to assist in boosting sales and a long cookie life, their reporting options are highly restricted.
Best For: Publishers focusing on technology, SaaS, and related fields.
Key Features
Merchant commissions range from 25% to over 50%.
You can pay via PayPal, a bank transfer, or a regular check.
Affiliate commissions are paid 20 days after the month ends by Avangate.
8) Commission Factory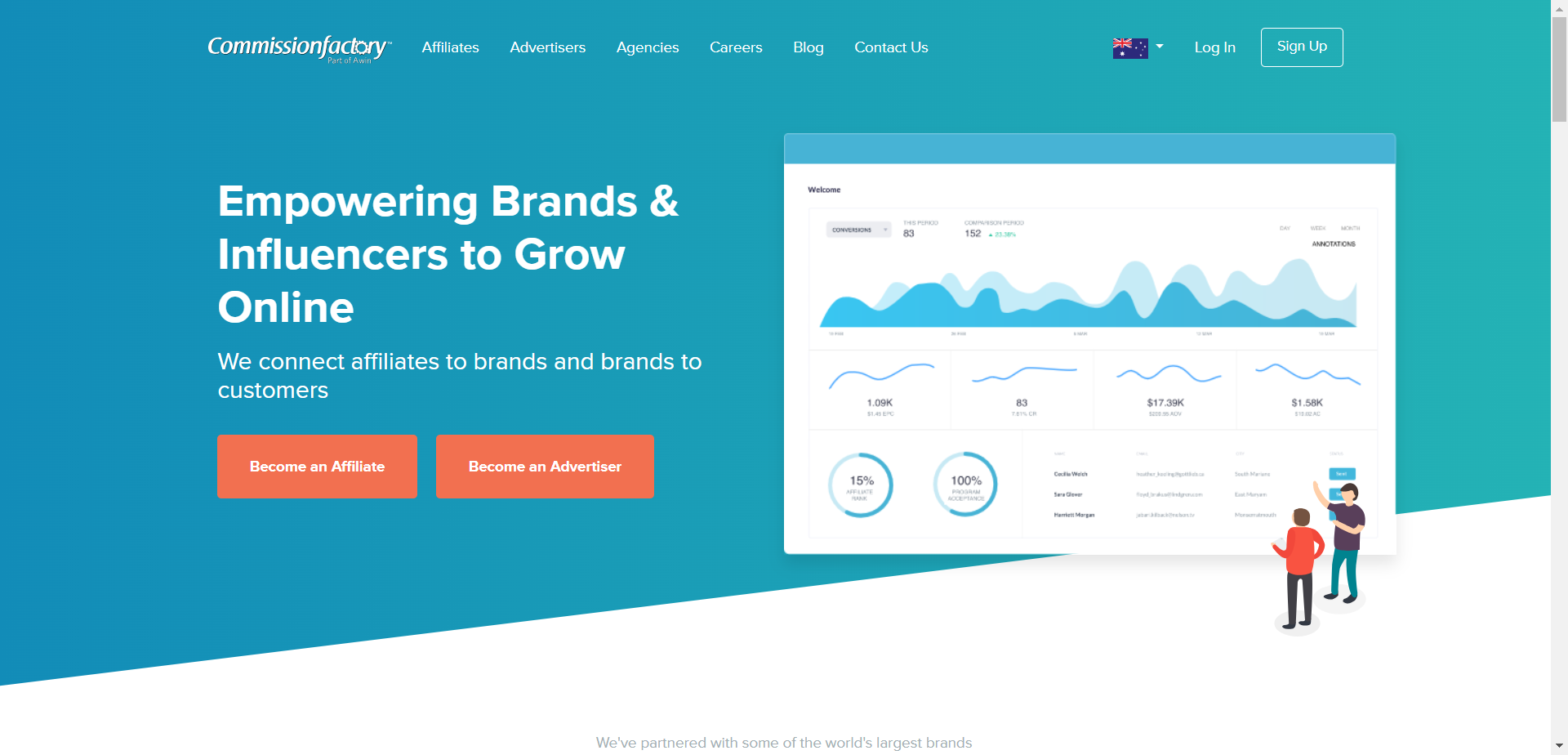 One of the best affiliate marketing networks, Commission Factory has partnered with over 800 different advertisers. Affiliate program that is both easy to use and packed with valuable features.
It's easy to sign up for, implement, and monitor. Publishers can update their data in real-time by logging in and viewing the dashboard.
Revenue, clicks, and earnings can all be tracked daily, weekly, or monthly. The publisher is paid weekly in the method of their choice, and any questions or problems can be directed to the company's helpful staff.
Commission Factory is the best affiliate network for publishers concerned about cookie deprecation because it does not require cookies or clicks.
Best for: publishers specializing in the hospitality, fashion, and retail industries.
Key Features
The average commission rate is 8-10% of the sale price.
PayPal, prepaid Mastercard, and checks are all acceptable methods of payment.
Affiliate commissions are paid weekly through Commission Factory.
9) ShareASale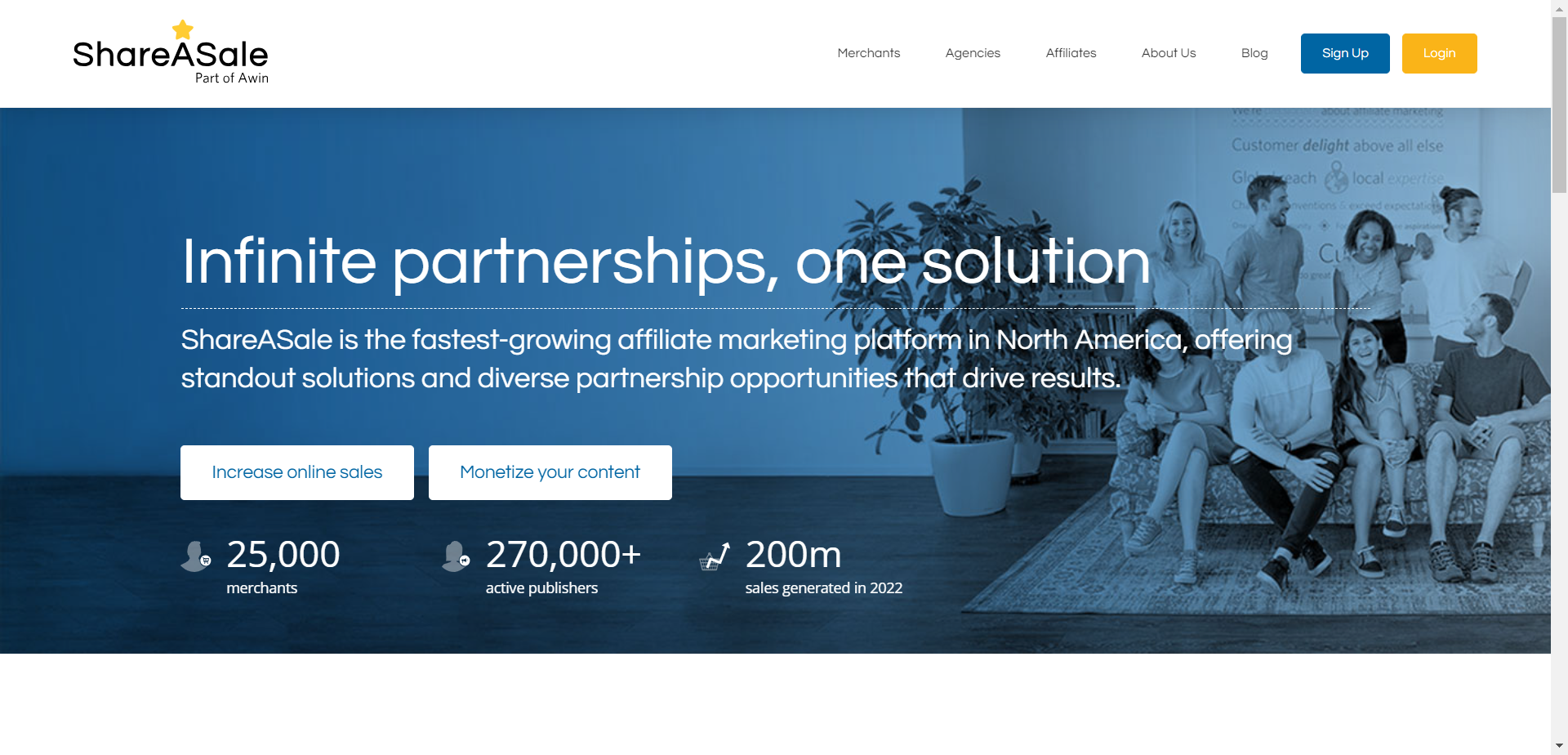 ShareASale, which has its headquarters in Chicago and was established in 2000, is an affiliate marketing network that boasts over a thousand well-known merchants and influencers, including Reebok and Etsy. The sole option for publishers interested in promoting the aforementioned products is ShareASale.
Over 1.2 million affiliate publishers are part of their network, and more than 3900 merchant programs are available on their website.
Best for: Affiliate marketers seeking diverse marketing alternatives.
Key Features
Depending on the merchant, the commission rate varies.
ShareASale allows for payment by both direct deposit & check.
Affiliates can receive commission after $50.
10) JVZoo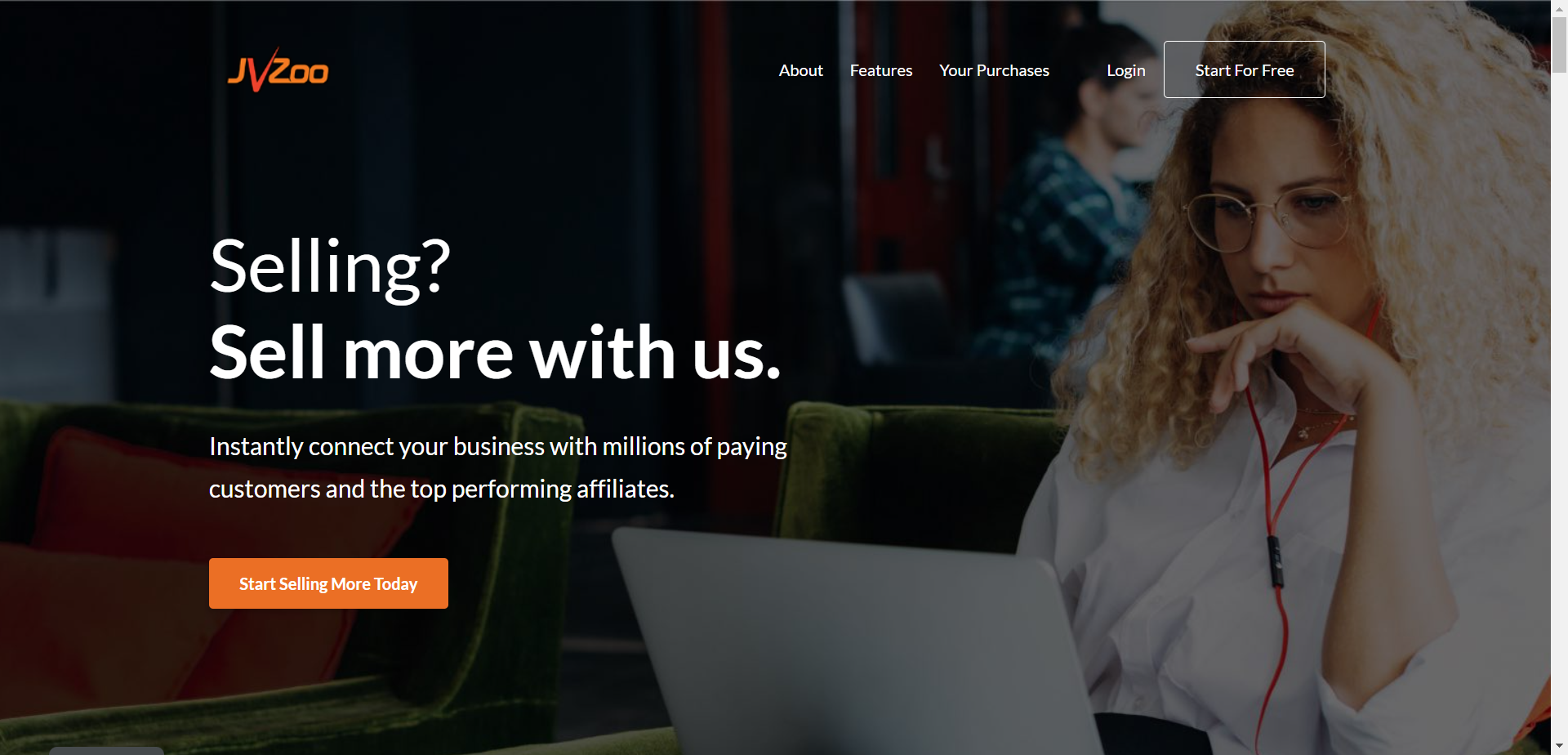 With over 800,000 affiliates, Jvzoo is one of the most popular affiliate networks. Most businesses selling on JVZoo provide marketing, technology, or AI-related services, as these are the areas in which JVZoo excels.
JVZoo delivers automatic payments and a straightforward dashboard for its users.
Key Features
Best for: Affiliates with expertise in digital marketing I.T. & A.I.
Retailer-Specific Commission Structure
You can pay using JVZooPay, PayPal, or check.
Publisher-Specific Payment Schedule
How to Choose an Affiliate Network?
Publishers should consider several factors when choosing an ad affiliate platform.
Publishers considering affiliate networks should consider the following:
1) Cookie
How long a cookie stays in a user's browser determines how long a software remembers that user and how much credit to offer them. Timeframes can fluctuate widely depending on the medium.
2) Commission Rate
Marketers should check their commissions before joining an affiliate network, which varies widely. Marketers may also want to examine how the affiliate network processes payments, such as PayPal, direct transfer, and payout frequency.
3) Customer Base
First, publishers should assess their customers and follow them. By examining them, publishers can choose a platform with the greatest online tools and marketing analytic platforms for their audience.
4) User Interface
Some affiliate platforms have more straightforward UI. Bloggers and influencers should pick a technological network.
5) Additional Costs
Affiliate networks may charge for training, setup, or support.
6) Choice of Product/Service
This is perhaps the most essential factor in evaluating affiliate networks. Bloggers use the affiliate network to connect them with companies and actual things their audience will like.
7) Approval Needs
What are the affiliate program approval requirements? Some networks require well-established, high-traffic sites.
FAQs
What Is Affiliate Marketing?
Affiliate marketing is when one individual (the affiliate) promotes the goods or services of another (the merchant) in exchange for a financial reward (the affiliate's commission). Affiliates are people who look for products they would buy themselves and then advertise those products in exchange for a cut of the profits. Affiliate links provide easy and accurate sales tracking from one website to another.
How Do Affiliate Programs Work?
Advertisement affiliate programs are promoted by affiliate networks. After signing up and getting approved, publishers or website owners may select which services and products to enable using their unique links. Affiliate programs often offer a small percentage of sales as a commission.
What Is an Affiliate Network?
Affiliate networks bring together online publications and businesses to facilitate the promotion of goods and services.
Using a central hub, affiliate networks connect publishers with affiliate marketing programs, providing them with valuable tools and resources, including tracking and reporting mechanisms and educational materials.
Through affiliate networks, bloggers, influencers, and publishers may monetize their blogs and get passive income by working with hundreds of companies and products.
The advantages of joining an affiliate network include:
As affiliates make more sales, their compensation rates improve.
Connects publishers with businesses and merchants whose website visitors will find helpful.
Networks of publishing affiliates manage all payments.
Utilizing reporting and analytics tools to monitor affiliate progress
On various platforms, referral schemes are offered.
Conclusion
Whether you are a seasoned website developer or a recently established blogger, joining an affiliate network is one of the easiest and most effective ways to monetize your site and create real passive money.
It's essential to compare affiliate networks and conduct in-depth industry research to identify the best platform for your requirements.
When selecting an affiliate network, every publisher should prioritize the availability of products relevant to their audience, customer support, ease of use, and payment methods.