Instagram has always been a platform in which you can share photos and, more recently, reels and videos to express your views and creations.
With the increasing level of popularity, it has become even more challenging to draw more attention and traffic to your content. On Instagram, just like with webpages, you have to make your content accessible to the public users.
While the majority of the time your followers will see the content you post, the advertisers want the material to be seen by more audiences. Using hashtags is undoubtedly the simplest way to achieve that.
However, it can be quite challenging to discover relevant hashtags for your content. A few of them are usually obvious, like a branded tag that appears on each of your content pieces or a label for your products that is somewhat general but we always intend to add tags that would draw more attention specific to your content.
The correct hashtags increase traffic and the total value of the content posted. We require hashtag analysis for that.
Although there are a number of countless ways to do hashtag research, utilizing a hashtag generator is one of the easiest. Let's see how these tools function. Let us explore the Top 10 Instagram hashtag generators.
Top 10 Best Instagram Hashtags Generators
Let's explore numerous hashtag generators that are readily available keeping the above in mind. Each one has distinct properties, spanning from fundamental to advanced. Additionally, there is a range of price that begins at zero dollars. Lastly, some generators are independent tools, whereas others are a component of larger tools or a collection of similar tools. In either situation, you will save quite a huge amount of time on your research.
1) Hashtagify
The hashtag and keyword planner Hashtagify is designed exclusively for advertisers. You can use it to evaluate your performance and keep a track of the hashtags other competitors are using. It makes a superb analytical and intelligence tool because of this feature.
The part that generates Instagram hashtags is subscription – only. However, we were able to ascertain how you can locate tags based on both an evaluation of your account and keywords.
Pricing: Starts from $29 per month with a free trial
2) All Hashtag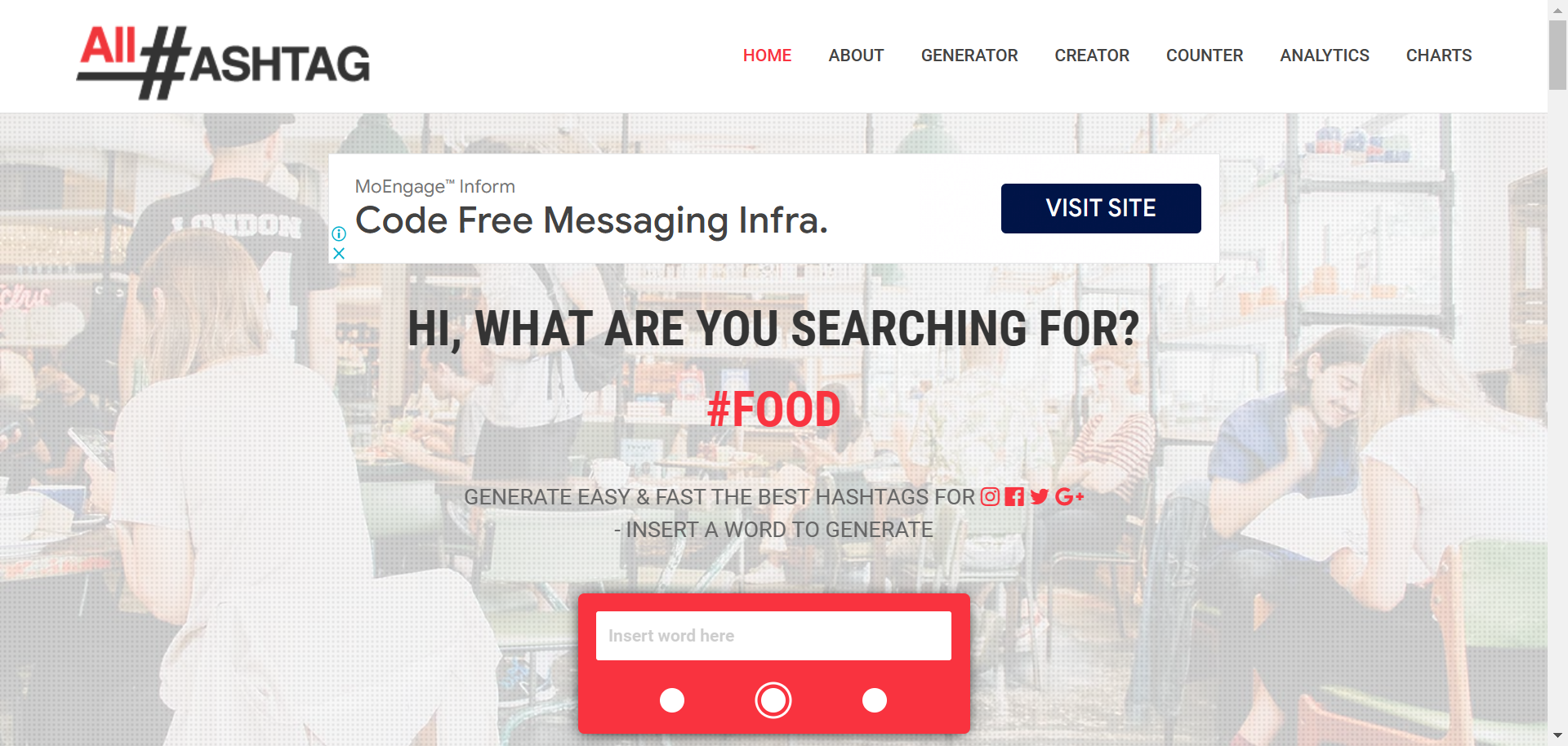 In contrast to other Instagram hashtag generators, All Hashtag further analyzes hashtags to figure out which ones are the most effective. Additionally, they feature a hashtag generator, which is helpful if you are launching a new advertising campaign on Instagram.
All Hashtags is a very simple tool to use even with all the advanced features. You only need to type one word, select the social media network you want to use (because it accepts a few others), and then select "create." The maximum hashtags you can use on Instagram is 30. If necessary, use the other tools or a hashtag filter in order to determine which ones are most likely to be effective.
Pricing: This tool is available free of cost.
3) Tags Finder
Using the tool Tags Finder, you may search Instagram hashtags depending on your search terms. Enter the relevant keywords into the tool, then choose one of the possible hashtag options. The best hashtags for your keyword are under the "Related" hashtags. Hashtags that are under the "Similar" include the entered keyword. The "combined" results provide you with both the types of hashtags.
With Tags Finder, you can obtain regional hashtags in addition to these three types of hashtag results. When it comes to the small, local businesses and location – specific things, it distinguishes it from various other Instagram hashtag generators.
Pricing: This tool is available free of cost.
4) Sistrix
Sistrix is a versatile SEO tool that offers free Instagram hashtag recommendations. You must begin with the first hashtag, unlike all the other Instagram hashtag generators. You will then get more recommendations for the tags that are similar to your hashtag. Up to 25 results can be obtained on a daily basis until you need to register.
Sistrix is a solution if you require more SEO services, having said that. Since it offers Google search and Amazon, this is particularly true if you're seeking non-social media alternatives. This tool is also Excellent for online stores.
Pricing: This hashtag tool is available free of cost. Membership for Google optimization is available (starting $125 per month).
5) Kicksta
Kicksta is a hashtag tool powered by AI that assists in growing your Instagram following. They carry out this process using the "like method" plus hashtag research. Attracting others to visit your profile and "like" your content in simple words. As a result, more people will notice your content as they follow people who are engaged in it. You will eventually attract real, active followers as opposed to inactive, fake followers.
Kicksta forbids you from experimenting with their tool, in contrast to other Instagram hashtag generators we have encountered so far. Rather, they are generating leads for their premium features utilizing the "free" tool. Additionally, it appears that for this tool to function, a beginning hashtag is required.
Pricing: Free with email; paid subscription starting from $49 per month
6) Bigbangram
A variety of free tools for digital marketing are offered by the digital marketing company Bigbangram. Simply find the hashtag generator website and enter a word or phrase that best describes your image. Even an iOS and Android application is available. When Bigbangram delivers the hashtag results, it will let you know which of them will be most likely to help you to rank high in the search.
Additionally, they will let you know which hashtags will help your content to reach more and more people. You are now prepared to post after choosing the best keywords and hashtags that make your content reach more audiences.
Pricing: This tool is free of cost, while general services pricing requires contacting the company.
7) RiteTag
Ritekit offers a tool called Ritetag. It is accessible via mobile applications, a Chrome plugin, and online. You can obtain hashtags for email as well as for any social media platform that supports them. Search using images stored on your phone or images found anywhere else on the internet.
The fact that the choices are based on current results sets this apart from other Instagram hashtag generators. This implies that Ritetag will be aware if a particular tag in your field becomes popular. If you provide a photo or word that suits the tag, they'll recommend that you use it.
This tool's flaw is that it has certain restrictions. Ritetag can't be used effectively for photographs that are kept on your hard drive, for example. However, you might be able to analyze images stored in cloud storage using the browser extension. Having said that, the application works with various social media and web publishing applications.
Pricing: NA
8) Hashatit
This is one of the very few Instagram hashtag generators that offers the option to sign up without asking for any money. On the basis of an initial hashtag entered into their search tool, you can acquire basic hashtag results. Now, much like in a database, you may sort hashtags on your search page.
The only drawback is that an initial tag or keyword is required. However, this is an excellent method for obtaining new hashtags if you use the same ones too frequently. Consider it to be a kind of glossary for hashtags! Join a user forum online to receive more accurate findings.
Pricing: This tool is available free of cost.
9) Flick
Flick is an application that controls Instagram analytics and hashtags. Additionally, it is among the few Instagram hashtag generators on this listing that supports multiple languages. You receive more out of Flick than just a hashtag list.
Instead, you receive information depending on your own data about which ones are working the best. This enables you to gradually modify your approach. However, Flick does not allow you to try out the tool without logging in.
Pricing: Starts from £7 per month.
10) Tailwind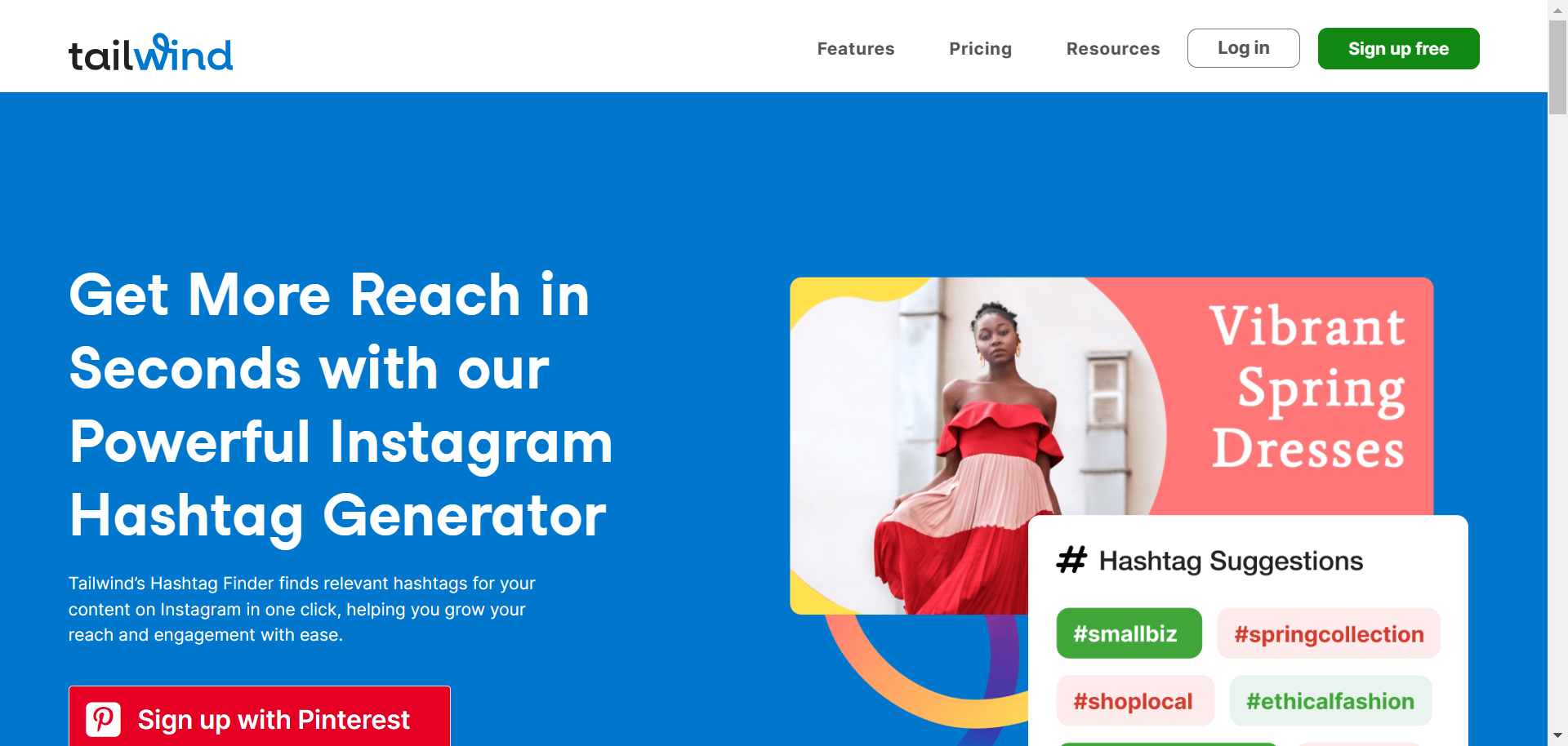 Tailwind is a flexible planner and scheduler for Instagram and Pinterest. They have an Instagram hashtag generator also as part of it. You must register for the service in order to use it.
The hashtag generator will then analyze your Instagram post to identify the most relevant hashtags. Just publish the article and include the given hashtags in the first comment. Your post will look well – presented and will rank higher.
Pricing: Free and well as paid plans are available. Paid starts from $10 per month.
Quick Links:
Conclusion – Which is the best Hashtag Generator?
No doubt, Instagram has grown considerably just from the beginning. It is now much more than just a social network; it is a huge online marketplace. Consequently, getting photographs recognized on the network has become a bit more difficult in recent times. Fortunately, with the help of these Instagram hashtag generators, you have a pretty good chance of expanding your fan base and raising awareness for your content.
While all of the tools listed in this post are pretty good and are worth a try, we would recommend you try Hashtagify as it is the most popular and most used hashtag generator in the market, trusted by over millions of Instagrammers in the circuit!