A few years ago, most of the people considering joining LinkedIn only if they were looking for work or recruiting. Considering that this was the main activity that took place on LinkedIn. People advertised themselves, but there wasn't much of a venue to share ideas on the network. However, LinkedIn's function has grown with time. These days, LinkedIn serves as a venue for both business discussions and being seen and heard. Today, almost all professionals, including recruiters and job seekers, congregate here.
However, if you've used the site, you'll know that it tries to get you to upgrade to LinkedIn Premium regularly. So, is LinkedIn Premium worth it?
About LinkedIn Premium
The platform's paid subscription option, LinkedIn Premium, gives users access to extra tools that may make it simpler to complete certain of their on-platform objectives. They include features specifically for business owners and job searchers, such as free InMail credits (like unlimited search).
These features essentially make it easier for businesses to identify potential employees or contractors and allow job seekers to reach out to them in novel ways. Compared to Facebook and Twitter, LinkedIn has a significantly lower number of adverts while providing a higher advantage to its members. The precise services that LinkedIn Premium offers on occasion, however they now have a number of premium options available.
Top features of LinkedIn Premium

InMail Messages
Being able to message anyone without connecting with them is convenient. This mode of communication is more effective than a conventional email because they originate from within LinkedIn, demonstrating your authenticity. Additionally, your intended audience is aware that you spent a fee to get in touch with them. Spam isn't cost-effective, and utilizing fictitious profiles is not acceptable.
Profile Views
You don't know if the people you are contacting on LinkedIn are active users or whether they got your message. Knowing who looked at your profile is a great method to know if someone looked you up or not. You may also see who has been viewing your profile, giving you the opportunity to proactively contact them.
LinkedIn Learning
With more than 15,000 courses conducted by professionals, you may learn something new or improve your skills. Regardless of your work function, R&D is essential for professionals to stay current with both their existing knowledge and their acquisition of new skills. LinkedIn Learning can help. As a result, it is a reasonably priced source of professional learning. If you're thinking about changing careers, LinkedIn Learning is a terrific resource to look at alternative options and can help you decide whether LinkedIn Premium is worthwhile.
Open Profile option
Any LinkedIn user can access your whole profile and get in touch with you using this option without using InMail credits. This increases your reach so that those who are not connected to you don't have to exert extra effort to send you an InMail. Consultants, for example, might find this to be extremely helpful. You never know when a prospective customer might wish to ask questions about your services.
How Much Does LinkedIn Premium Cost?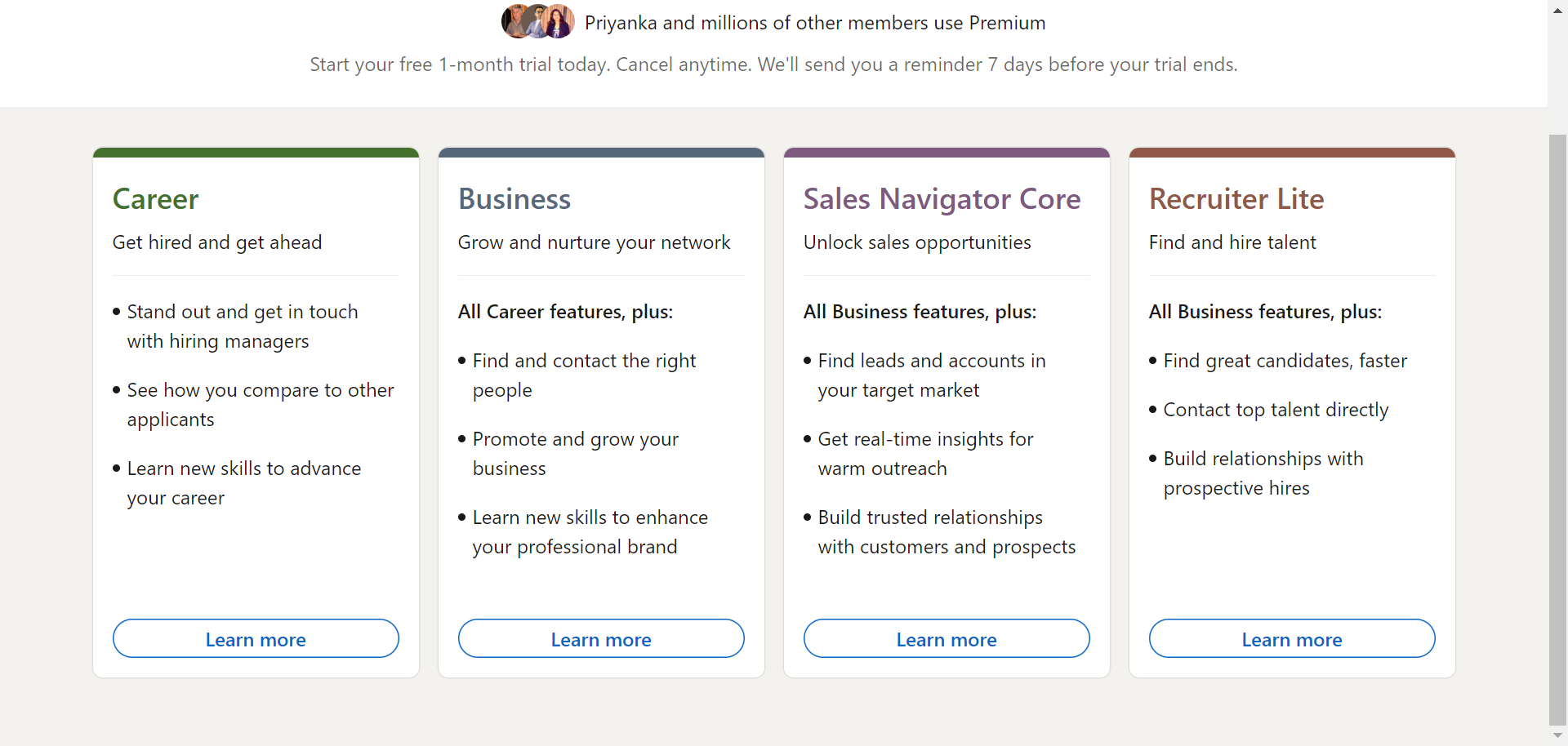 If you don't pay, LinkedIn is not very social. Consider this. It's a social media platform that ought to make it possible for individuals to interact. The question is whether they actually want people to connect with one another or if they're just attempting to keep as many people separate as possible.
LinkedIn Premium is currently available in four different tiers. The most affordable of them all is the "Premium Career" plan, which is suitable for job seekers, is currently priced at $29.99 per month. Next up, if you are into business development, we have the "Premium Business" plan, which costs $47.99 per month when billed annually. The "Sales Navigator" plan is for people who are into sales costs $64.99 per month when billed annually, while the "Recruiter Lite" plan will cost you $99.95 per month when billed annually.
LinkedIn Free Vs LinkedIn premium
Let's look at the benefits of LinkedIn Premium before determining whether it is worthwhile for you to purchase. Understanding the differences between ordinary and premium accounts is necessary for this. The free account is typically sufficient if you're like the majority of people and primarily use LinkedIn for casual networking and developing your personal brand. After all, you can socialize and engage in conversations for nothing.
Nevertheless, a premium account offers you additional perks based on the plan you choose. You will get to access over 15,000 LinkedIn Learning Courses, share 15 InMail Messages every month, and get complete access to the "Who Viewed Your Profile" information for the previous 90 days with the regular Premium Business ($59.99 per month) plan. You only get three InMail with Premium Career Plan ($29.99), and you can't browse people indefinitely. Naturally, a career is most valuable while you are actively looking for work.
The tailored plans are the next option. A standalone user interface for salespeople, 20 InMail, lead recommendations, advanced filters for searching leads, custom lead and account lists, real-time update alerts on job changes, and most recent firm growth statistics are all included in the Sales Navigator plan priced at $79.99 per month. These assist you in selecting the top prospects. Similar to this, Recruiter Lite Plan ($134.99 per month) provides 30 InMail, a hiring tools, separate user interface, and tips to locate talent.
Also, Read:
Final Thoughts!
LinkedIn is a terrific place to be if you're looking to establish a business, discover new clients, or even hire staff. Furthermore, this is a crucial medium for personal branding, especially if you are an employee or are considering launching your own social media marketing company.
In other words, the features offered by LinkedIn Premium can be really helpful to users. I have so many friends and colleagues who have paid for LinkedIn Premium when searching for job, and it has indeed given them some really good and valuable insights on the various options and competition, thus helping them craft their own profiles.
So, yes, if you use it the right way, then LinkedIn Premium is perhaps the best solution to connect with the best professionals and companies in your niche to either collaborate and kick start your own career, or to get hired in some good organization!
Do check out LinkedIn on YouTube, Facebook, Twitter, Instagram.