If you want to start a podcast, you must register with a podcast hosting service in order to store your .mp3 files and build your podcast feed. A media host is required when starting a podcast, just as it is when starting a website or blog.
Hosting for podcasts differs from hosting for websites since it provides particular capabilities designed to enhance the subscriber experience. Using podcast hosting services streamlines the distribution of your podcast. This is why picking a trustworthy platform is essential for exposing your podcast to a wider audience.
To make your search simpler and faster, we've hand-picked a few of the most dependable podcast hosting providers and listed them in this article. Which hosting services best meet your needs can be found by reading this article through to the finish.
But before that, let us understand a bit about Podcast Hosting and Find out which are the Best Podcast Hosting 2023.
What is Podcast Hosting?
Because it provides tools and features tailored specifically to podcasts, podcast hosting often differs from standard web hosting. Certain capabilities are provided by podcast hosting to store and transport your media files.
A podcast host serves as both a place for you to store your episodes and a place for listening platforms to download new episodes that have been uploaded. While you can use a website instead for hosting, doing so needs more work and is more difficult to set up. It is advisable to select a dedicated podcast host with useful analytics tools and monetization features.
Top 10 Podcast Hosting 2023
One of the most important first stages is choosing the best podcast hosting for your podcast. Selecting a dependable podcast hosting platform is essential for your podcast because it will speed up audience growth and make managing your audio files simpler.
1) Libsyn 
A dependable podcast hosting service, Libsyn has served the requirements of hundreds of users, including some of the most powerful people on the planet. The primary goal of Libsyn is to offer a user-friendly platform that highlights your brand and advertises your podcast through a variety of channels with extremely practical features.
With its capability, you can effortlessly monetize your podcast and publish it from any location. Additionally, Libsyn permits interfaces with a variety of WordPress plugins and offers you the freedom to utilize its own plugin, Libsyn Publisher Hub. Libsyn is a good option if you require a dependable, simple-to-use solution with a reasonable pricing structure. Even you have the choice to integrate affiliate marketing.
2) Captivate 
Captivate is a fantastic podcast hosting platform that enables you to publish an unlimited number of podcasts and monetize them to develop your brand. Furthermore, Captivate is a simple-to-use hosting service, making it simpler for newbies to get going right away.
The platform provides a ton of helpful features, like batch uploading, smart UI elements like the default schedule time, WordPress integration with their unique plugin, and many more.
The creators recently introduced a fantastic-looking and simple-to-generate PDF sponsorship kit for podcasts that allow you to showcase current episodes and displays important download statistics. You can manage your podcast from the dashboard with ease, check your findings, and make plans to keep ahead of schedule. The fact that Captivate has no upload cap is another benefit of choosing it.
3) SoundCloud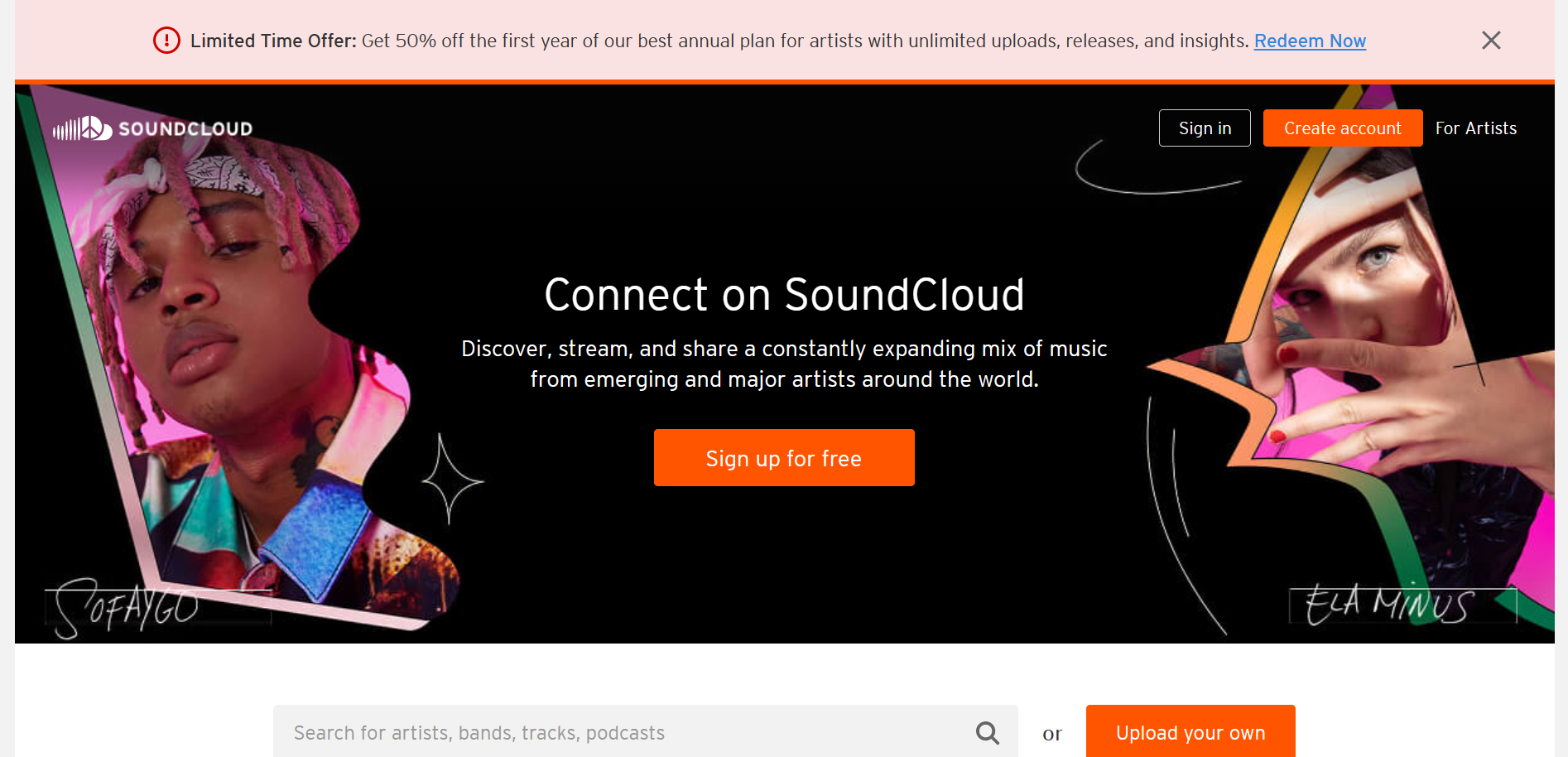 SoundCloud is one of the most popular music and podcast-hosting platforms in the world. It is a popular platform in the online music community where you can explore originals as well as several cover tracks of popular songs uploaded by artists from all over the globe. Essentially, it is a social media for musicians. It is also a popular podcast hosting platform.
The good news is that by inserting the URL anywhere in your WordPress posts and pages, you may embed any audio episode from SoundCloud. For up to 3 hours of uploads, SoundCloud is free. For newbies, their free plan is an excellent place to start. More storage, bandwidth, sophisticated statistics, monetization, and distribution possibilities are included in their pricier services.
Although it is simple to use, this podcast hosting plan is not the most adaptable or adjustable.
4) Buzzsprout 
The goal of Buzzsprout was to make podcasting simple but not constrained. They offer one of the greatest dashboard designs, allowing you to spend more time producing content than than fiddling with uploads.
A mobile-friendly podcast website and outstanding statistics are also provided by BuzzSprout. Moreover, a free WordPress plugin is accessible. If you don't already have a website, the hosting service can build one for you so that you can use your own domain name and quickly change the way it looks.
5) Podcastics
Podcastics is a new and promising podcast hosting platform in the market. Nonetheless, because to its enticing features and user-friendly layout, it is growing in popularity. It offers an approachable dashboard similar to PodBean's. To begin, just add the details for your podcast with a few clicks and set user permissions.
If you already have a podcast, you may also import it directly into Podcasts through RSS feeds or Apple podcasts. Additionally, they let you set up teams in the dashboard and manage all of your podcasts properly.
6) PodBean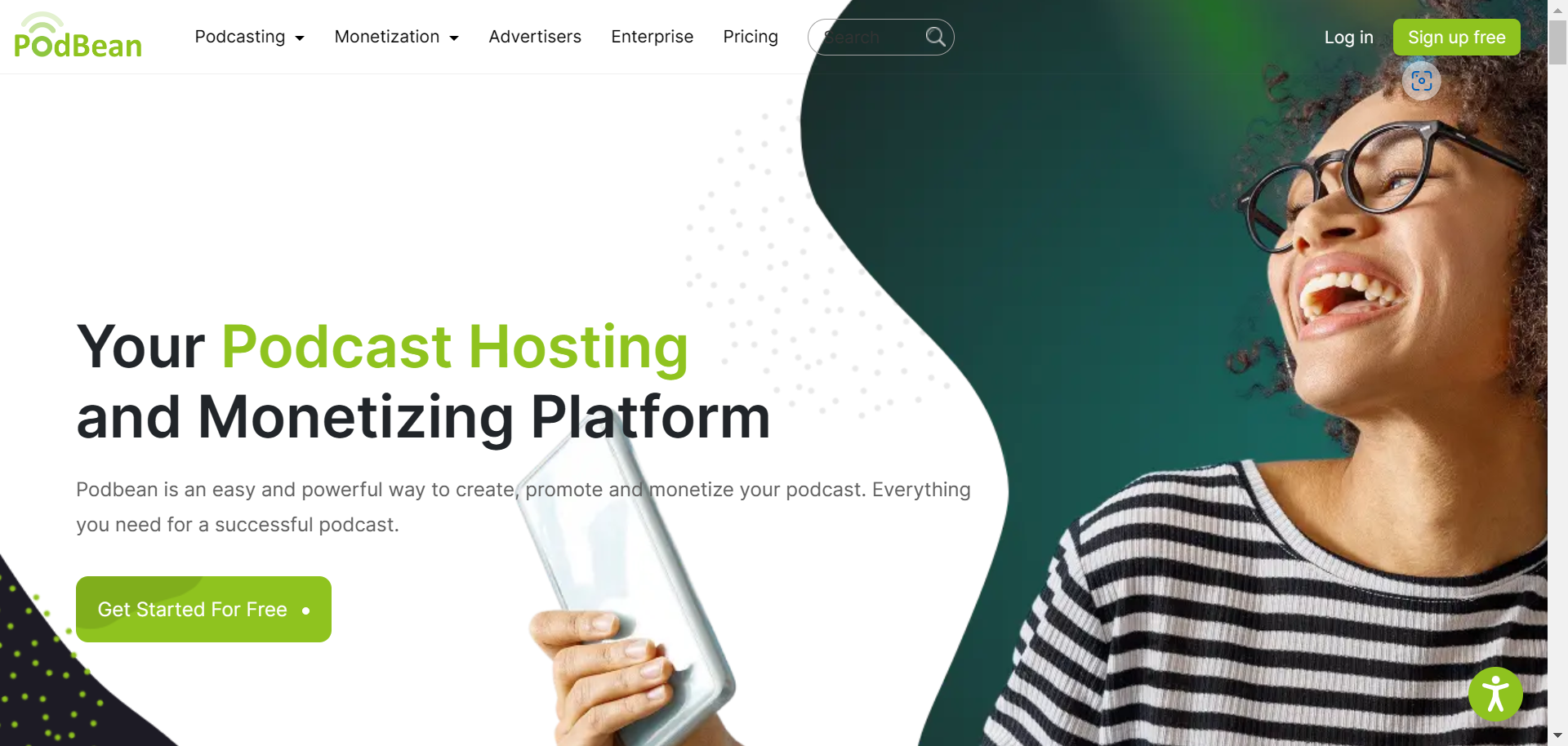 PodBean, one of the most reliable podcast hosting companies, provides all the resources required to create a podcast that is effective for your audience. One of their biggest qualities is that their services make it easier for both professionals and amateurs to get started.
In contrast to the other hosting services on the list, PodBean provides a cost-effective package with unlimited bandwidth.
Making a podcast with Podbean is extremely simple and uncomplicated. For beginner podcasters, Podbean offers amazing pricing and programs. A free, 5-hour upload limit plan with minimal statistics is available. On this tier, however, you won't be able to utilize your own domain name.
7) Transistor 
A fantastic team is behind Transistor, one of the more recent services for hosting and analyzing podcasts. They concentrate on brands and individuals who take podcasting seriously (Cards Against Humanity was one of their early customers). This podcast subscription service is user-friendly and has useful features.
Although being a relatively new service, it has helped customers offer a podcast that is more engaging and expand their online following. The strong analytical feature of Transistor is one of the main reasons it made our list.
8) RedCircle
RedCircle is made for new podcasters who want to grow their listenership, build their audiences, and make money doing it. RedCircle allows you to host podcasts with podcasters from many platforms and to advertise and fundraise for your show.
You may also choose which platforms you want to publish your content on, and you can develop and release it anytime you choose. RedCircle does not place a cap on the number of podcasts you can produce. The best feature of this platform is that it offers an unlimited free plan with advertisements to support account maintenance.
9) Spreaker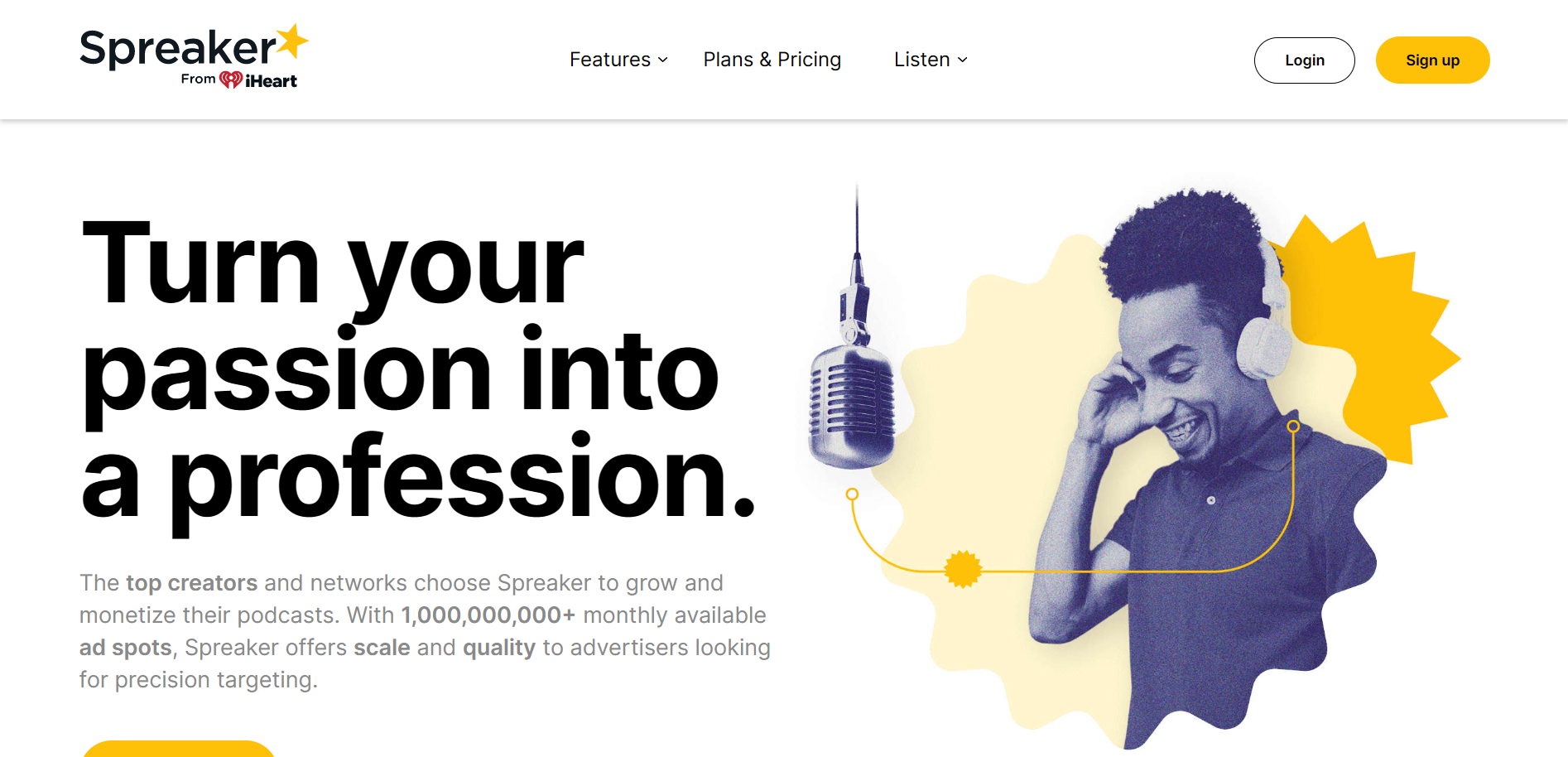 Spreaker is a one-stop shop that was especially developed to fulfil the needs of all podcasters. With this platform for podcast hosting, you can easily create, broadcast, and monetise your podcasts. The built-in online and mobile capabilities make it simple to create and share your podcasts from any location at any time.
The fact that they offer live podcasting is one distinguishing characteristic. The built-in chatbox and other integration options let you to engage with listeners. For recording, live streaming, viewing statistics, and other functions, they offer both a desktop client (for Windows and Mac) and a mobile app (for iPhone and Android).
10) Blubrry 
For both beginning and seasoned podcasters, Blubrry offers customizable podcast hosting services. They provide a well-liked WordPress podcasting plugin called PowerPress that makes managing a podcast from your WordPress website quite simple.
Directly uploading your podcast episodes to your podcast hosting service is simple when Blubrry and PowerPress are used together. Also, it enables you to submit your podcast with ease to Google Podcasts and Apple Podcasts.
Quick Links:
Conclusion: Top 10 Best Podcast Hosting 2023
Another difficulty is deciding which podcast hosting service to use from the many alternatives. Your effort and money will be wasted if you choose an unreliable podcast hosting service.
If you're just starting out or are a newbie, you might pick a platform that provides you with unlimited bandwidth and guaranteed listeners.
If money is a little tight, you might alternatively try a free podcast host that provides comparable services but with less access to advanced features.
Professional podcasters can consider paying hosting companies if they want to monetize their content.
However, podcasters need to figure out a few aspects before choosing a podcast hosting platform and starting their podcast series. We hope this article was useful for you and you would be able to choose a suitable podcasting site for yourself!