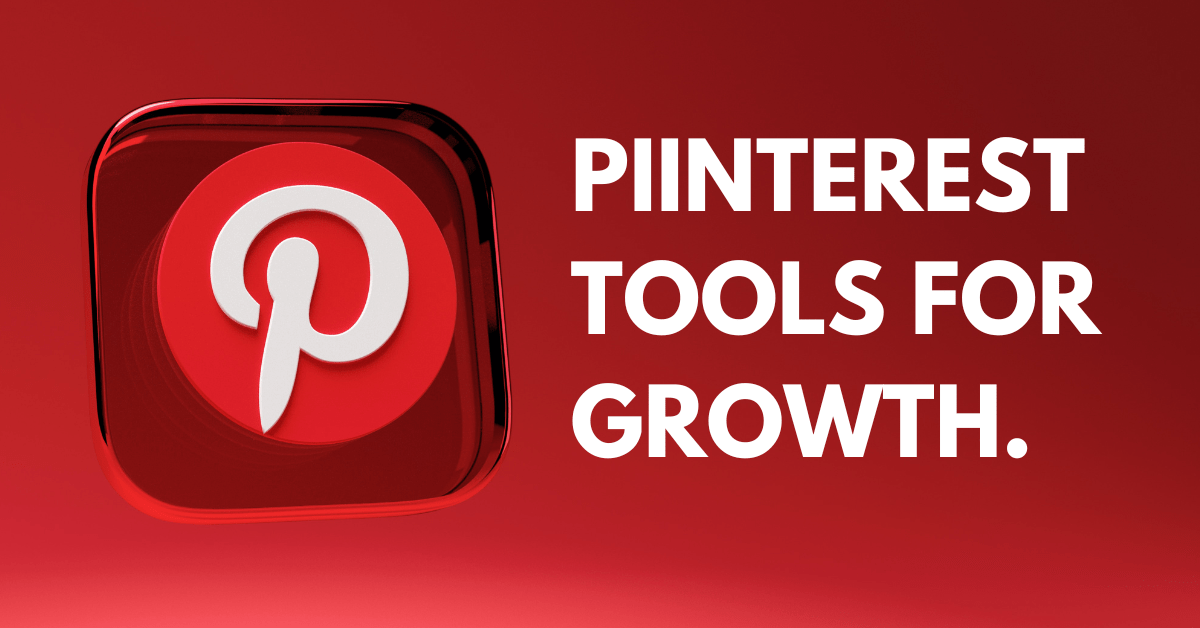 What are the best tools you can find online to help your brand grow on Pinterest? This post talks about the best tools for Pinterest in 2023.
Compared to other social media platforms, such as Facebook & Instagram, the social media service Pinterest does not receive the attention it deserves.
Among the world's most "active" social media networks, Pinterest ranked 14th with 463 million monthly active users because of its capacity to increase audience size while simultaneously promoting items; those who hold significant authority in the corporate sector are moving swiftly to adopt it.
In this article, we'll look at some of the best Pinterest tools you can use to market your business on social media.
Top 10 Best Pinterest Tools 2023
With the assistance of these Pinterest tools, it is possible to design aesthetically pleasing pins, efficiently schedule them, monitor and optimize the effectiveness of your campaigns, and much more.
We shouldn't waste any more time, so let's get started on the list immediately; you can get your work done by utilizing the scheduling options that Pinterest provides. Submitting pins to Pinterest according to a predetermined schedule would be fantastic.
After that, connect your account on Pinterest to one of these other services. After that, all that is left is to prepare the pins and schedule when they will be used. Easy.
1. Tailwind
Tailwind is a social media management platform that can assist you in automating aspects of your marketing efforts and creating and delivering content for social networks.
Tailwind can also help you manage your social media profiles. Compared to other automation systems for Pinterest, this one offers a more significant number of capabilities and is more than capable of significantly impacting the marketing efforts you are putting forward.
Tailwind makes it simple to generate fresh content for your social media networks by enabling you to design posts and pins and automatically add features of your brand to photographs. This lets you quickly and easily generate new material for your social media networks.
Additional automation features may be used, such as automatically posting updates and using the Personalized Smart Schedule, which publishes updates when your audience is the most interested. You can capitalize on this chance.
Tailwind provides its users with a wide array of one-of-a-kind community tools that can facilitate the development of connections with other content providers and expand their existing audiences.
Using the Communities feature, you may quickly obtain data and information about different artists working in your industry. This can be beneficial to you in a variety of ways, including the creation of content and the establishment of cooperative relationships.
Since Tailwind was developed primarily for producing and disseminating visual material, it may be used to organize and manage marketing campaigns on Instagram.
Tailwind Pricing:
There are only a certain number of accessible slots for the Free Forever plans on Tailwind. The starting price for paid plans' monthly costs is USD 9.99.
2. SocialBee
You may use SocialBee, one of the best solutions for scheduling content, to keep on track with your Pinterest scheduling and produce leads and money from social media marketing. SocialBee is one of the best scheduling options currently available.
Create new pins, schedule them, or even recycle existing ones to post to your Pinterest boards using SocialBee, which allows you to do all these things.
You may further ensure that the material you post on Pinterest is optimized and consistent by maintaining collections of hashtags and developing publication schedules.
One of the most intriguing options is SocialBee's Content Categories function, which stands out. If you do so, you can design a strategy to help you use Pinterest better.
After that, the Content Categories tool will ensure that your subsequent pins come from various categories. This prevents the pins from being recycled while keeping them current and entertaining for the audience they are being sent.
Users of Pinterest will find that SocialBee is an excellent option. Still, it can also be used to manage social media accounts on various other platforms (Facebook, Twitter, Instagram, TikTok, etc.). It is a beneficial tool for scheduling content when it comes to the coordination of large-scale social media campaigns.
SocialBee Pricing:
Connecting to up to five distinct social networking platforms is included in the service's standard monthly fee of $19.
3. Pallyy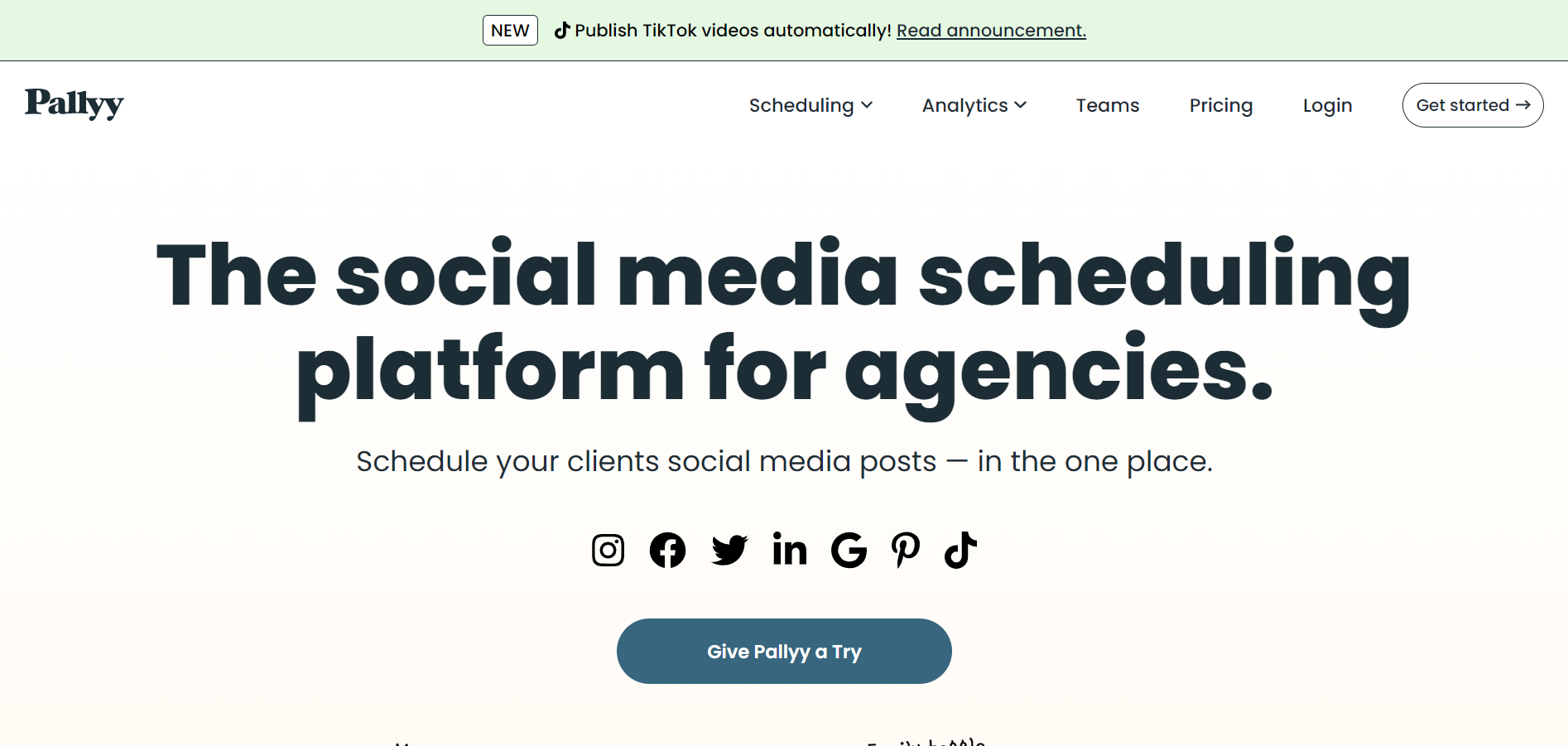 Pallyy is a beneficial piece of software to have on hand when scheduling posts for visual social media networks like Pinterest and Instagram.
After you have connected your Pinterest account, you will be able to make use of the visual calendar to organize and prepare your future pins. This allows you to examine a preview of your forthcoming pins and simplifies the process of making tweaks and alterations to them.
The capability of Pallyy users to preserve their own hashtag lists for usage at a later time is one of the app's most helpful features.
Thanks to this feature's convenience, your Pinterest hashtag strategy can be easily organized in seconds. Pallyy is simple, allowing you to plan your pins on various platforms, including desktop computers and mobile phones.
Additionally, it integrates with Canva, enabling users to design pins without navigating away from the Pallyy website. It also allows you to schedule posts for other social media networks like Instagram, TikTok, etc.
In general, it's a handy scheduling tool for Pinterest users to have at their disposal.
Pallyy Pricing:
Pallyy provides users interested in testing the platform with a free subscription that includes one social set and up to 15 monthly posts. You can acquire the paid plan for $15 per social set monthly.
4. PromoRepublic
PromoRepublic is one of the most well-known social media marketing tools now available, and it is a perfect choice for businesses and agencies of any size. It is also one of the tools that is currently available.
Using this Pinterest service, pins can be scheduled and published to various boards and accounts, and the entire process can be managed from a centralized dashboard.
You can make use of the AI-powered innovative posting tool that PromoRepublic provides. This tool will advise you on the most optimal time to publish your pins by analyzing the behavior of other users.
If you are seeking a fast and straightforward method to make pins, Promorepublic provides fantastic content production solutions to assist you in this task. You may find these options under the section of the menu that is labeled "Content Creation."
PromoRepublic has sophisticated collaboration features that enable teams and clients to develop social media strategies to comprehend and implement. PromoRepublic can be utilized in managing Pinterest, which is currently one of the most prominent social networking sites.
PromoRepublic Pricing:
The entry-level subscription costs $49 monthly and supports as many as ten social network identities.
5. Sprout Social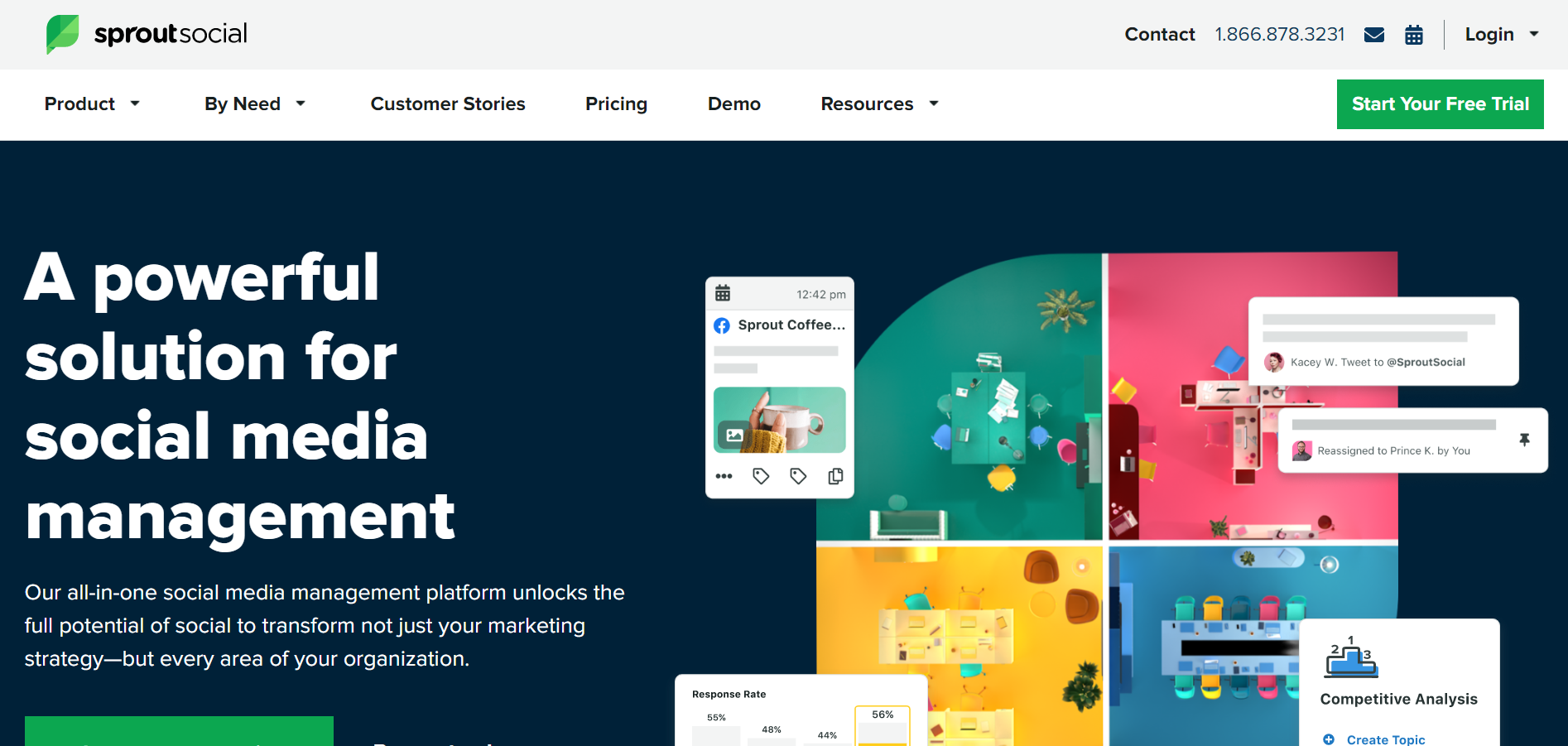 It's possible that the all-in-one tool known as Sprout Social can assist you in managing your Pinterest campaigns and your other social media accounts.
Thanks to Sprout Social's intuitive interface, organizing, scheduling, and publishing your pins in advance is now a breeze. In addition to this, you will have access to some powerful Pinterest analytics features that you can use to monitor and improve the effectiveness of your social media marketing efforts.
One of the additional features is a social media listening tool, which can assist you in monitoring customer sentiment toward your brand by allowing you to keep track of what individuals are saying about your company on social media.
It is one of the most comprehensive tools for managing social media, and it works well on Pinterest and other websites. The program is designed to be utilized primarily by businesses of a significant scale because of its prohibitively expensive price tag.
Sprout Social Pricing:
When paid yearly, the monthly payments start at $89.
6. Gleam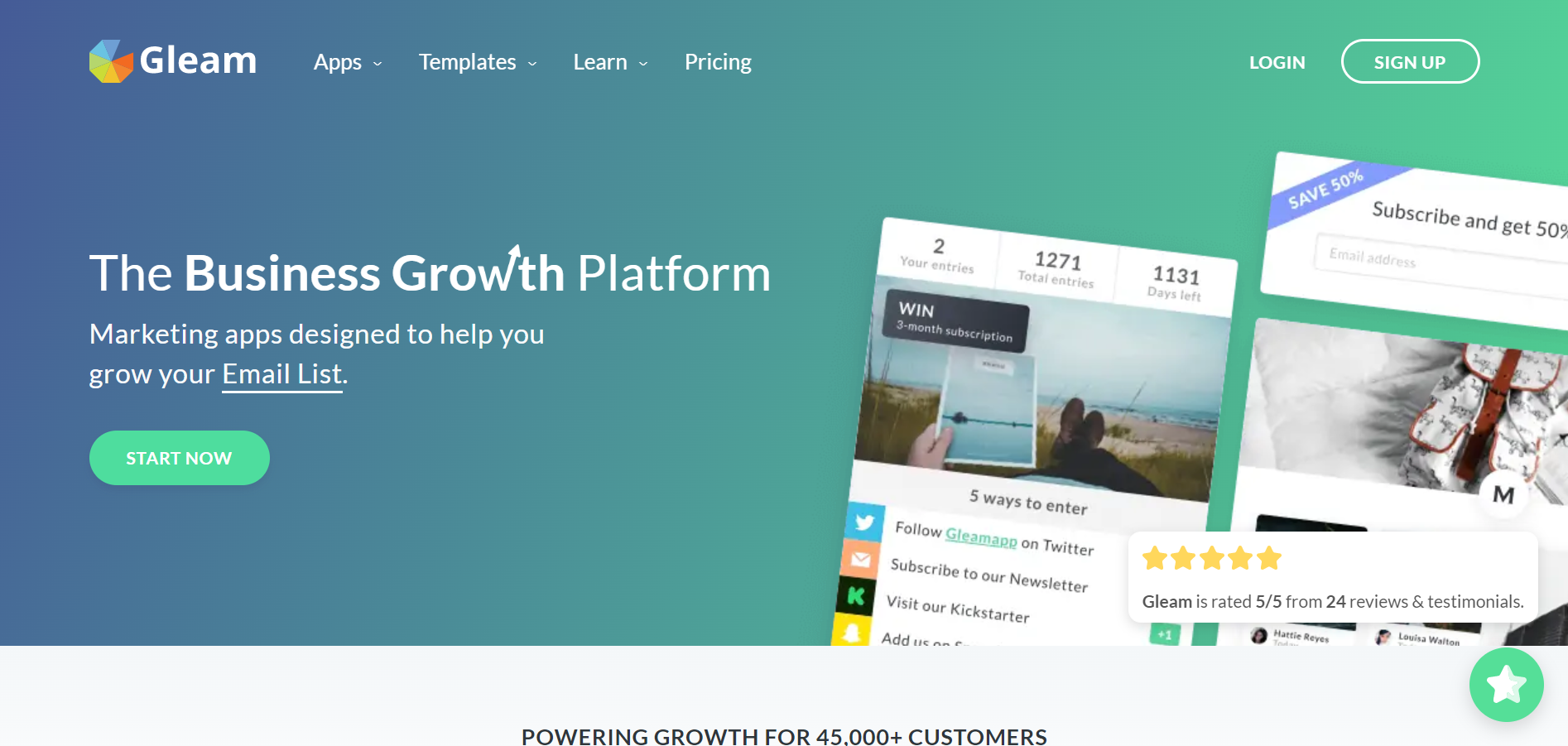 Through contests and prizes, the Gleam platform, which aids in expanding businesses, could assist you in growing your audience on Pinterest.
You have complete control over the appearance and functionality of every facet of a promotion driven by Gleam, from the entry process to the validated actions and beyond.
One of the more advanced aspects of Gleam is called fraud prevention, and it prohibits users from entering your contests more than once or from creating fake email addresses or Pinterest profiles.
Many other Gleam apps, such as those that may help you build immediate reward programs, galleries, and similar features. Still, the Gleam competition app is the most useful for Pinterest.
Gleam Pricing:
Our Free Plan enables restricted functionality and user data when you sign up.
Full Package: $97/mo for all Gleam Apps
Or Purchase Each App Individually
Competitions: Easily run giveaways, contests, and sweepstakes that engage users for $10/mo
Rewards – Create unlocked rewards in minutes with millions of action combinations – $29/mo
Galleries – Collect, select, and present business-relevant content – $29/mo
Captures – $29/mo, target stunning messages or opt-in forms to the appropriate users at the right moment to develop your email list and business.
*Pay as you go, no contracts, downgrade anytime.
7. Canva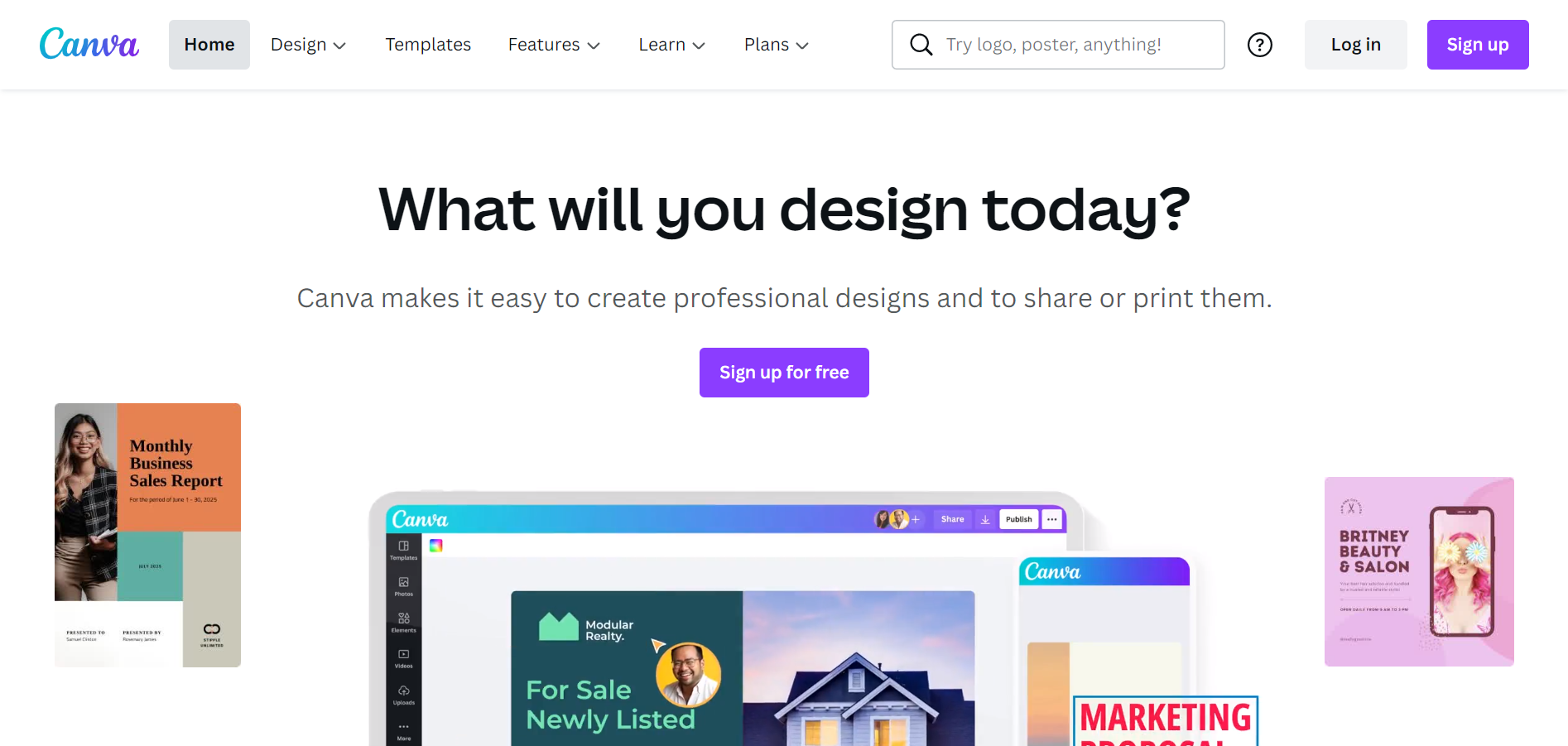 Canva is undoubtedly the most widely used graphic design software currently available. It is a tool in the cloud and enables you to generate graphics compatible with Pinterest quickly and straightforwardly.
Regarding graphic design, there are ready-made designs available for various graphic types, including graphics for blog banners, Pinterest pins, Facebook cover photos, and much more. Personalizing a design is as easy as dragging and dropping your images, photos, movies, and backdrops into the appropriate slots.
Canva's free edition is an excellent place to get started, but upgrading to the paid version unlocks even more features and capabilities. If you purchase the pro edition of the software, you will have access to more than 100 million high-quality photos, movies, and typefaces for your projects.
A background remover, a content planner, animations, and a magic resize tool are included in the premium features of this product (which makes it easy to reformat your graphics for usage on multiple social media). The additional premium features include animations as one of the available options.
Canva is an excellent choice for businesses and other collaborative endeavors due to the breadth and depth of its collaborative features. Thanks to this feature, your team can collaborate more effectively on managing your social media updates. You can perform various actions, including providing comments, requesting access, and doing additional actions.
Canva Pricing:
No fee is required to begin using Canva; you can get started immediately without spending a dime. The beginning price for a paid subscription is $12.99 per month.
Pinterest provides users with features that can be used for reporting and analytics.
Utilizing a Pinterest planner will only help with a portion of the issue. Not only this, but you'll also need analytics to assist you in gaining a deeper comprehension of the outcomes of your pinning efforts.
Let's look at some of the reporting and analytics tools that Pinterest offers because there are many fascinating ones.
Tools for Analyzing Content on Pinterest
9. Pinterest Analytics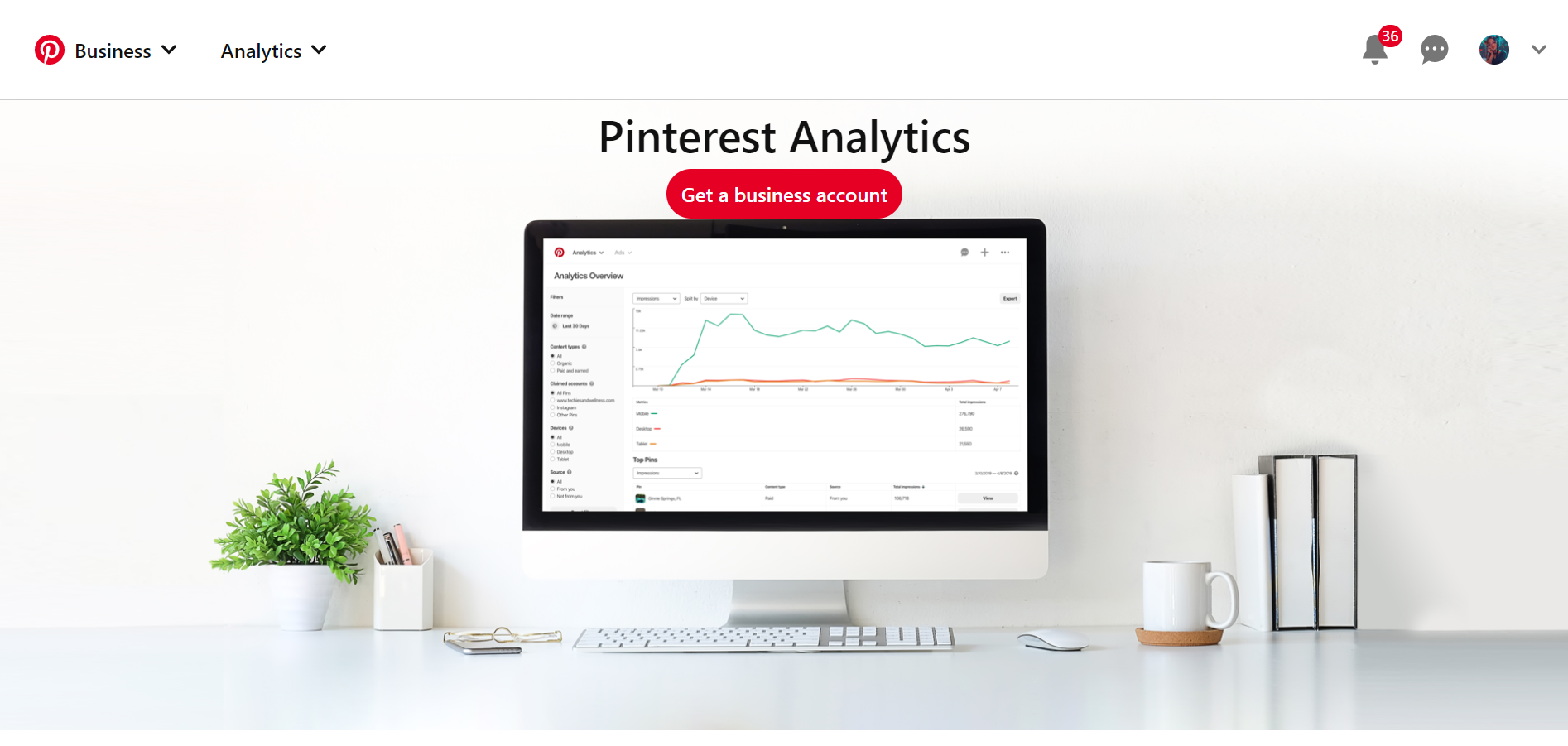 The reporting and analytics tool that Pinterest developed is known as Pinterest Analytics, and it is an integral aspect of the social media network that Pinterest operates.
To access the Pinterest Insights option, all you need to do is log in to your Pinterest account. By using this method, you will be able to view data on the effectiveness of your pins as well as the demographics of your audience.
Consequently, you will be able to keep track of significant metrics that can assist you in enhancing your Pinterest marketing approach and maybe bring in more customers, conversions, and leads for your business or brand.
Pinterest Analytics Pricing: Free
The research tools offered by Pinterest
Doing some research is the first thing you must do to develop a presence on Pinterest. Finding and participating in established online discussion forums is the first step in utilizing online research tools.
10. PinGroupie
If you're having trouble finding the appropriate Pinterest boards for your pins, PinGroupie will significantly assist you. You can quickly and easily locate Pinterest group boards pertinent to your area of specialization if you use this tool.
Using the dashboard, you can rapidly ascertain the number of individuals following the various boards and contributing to them and the number of people who have contributed in the past. Other possibilities are accessible, such as searching on Pinterest for significant influencers and keywords.
This helpful tool for organizing your data before posting is an excellent approach to ensure that your Pinterest pins go where you want them to go (and function properly).
PinGroupie Pricing: completely free. No cost is associated with using PinGroupie.
Also, Read:
Conclusion: Top 10 Best Pinterest Tools 2023
One of the social media networks with the most negligible value is Pinterest.
You can boost your success on the Pinterest platform by using marketing solutions, and now is an excellent moment to get these solutions.
The most effective strategy is to use a platform that satisfies several needs at once and provides assistance in producing high-quality content, managing and scheduling articles, and promoting your Pinterest brand.
We would recommend the following:
Pallyy is the most incredible tool for managing your social media calendar and scheduling posts on Pinterest. It also allows you to schedule pins. In addition to that, the app is compatible with TikTok and Google My Business. There is additionally the possibility of making use of a totally free plan.
SocialBee is the most effective tool on Pinterest for organizing evergreen content scheduling. Other well-known social media platforms, including Instagram and TikTok, are also enabled.
Tailwind, a popular Pinterest scheduler, has another function called "Communities" that can assist in promoting your pins.