Are you looking for an Unbiased list of the Best Pinterest Chrome Extention, Don't worry, I got you covered.
When you're perusing the web and come across something that's worth sharing or saving for later, using an app like Pinterest isn't always the most convenient option.
If you use Google Chrome, the Chrome Web Store has a wide variety of Pinterest plugins (sometimes referred to as browser extensions). If you don't use Chrome, you may also find many of these extensions in the Mozilla Firefox, Microsoft Edge, and Apple Safari extension shops.
How to Install Chrome Extensions? 
The Chrome Web Store is where you can find each of the Pinterest Chrome extensions we're presenting below. You may either search for each extension from the marketplace or use the direct link we've supplied.
To add an extension to your browser, you must be signed into your Google account on both the browser and the web store. The extension will be added to your browser when you click the Add to Chrome button.
Since not every extension is turned on by default, you might need to go to Settings > Extensions to enable it.
10 Best Pinterest Chrome Extensions for 2023
There are many other Pinterest Chrome extensions available. But are they all worthwhile endeavors? To give you the very best options available, we've put together this list. These are the extensions that we discovered to have the most adaptable, practical, and actually useful features.
1) Image Downloader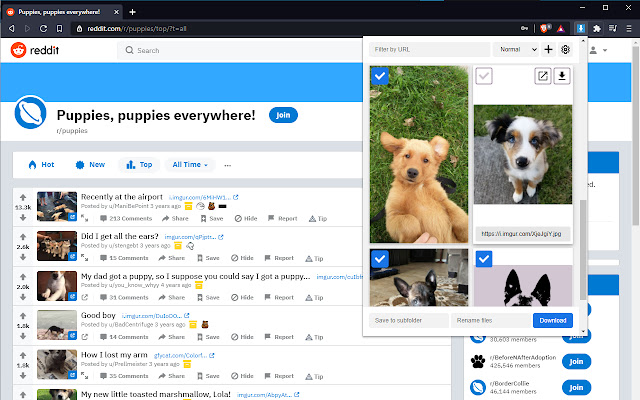 Pinterest is a popular website where users may find and save interesting photographs that have been collected by other users; however, downloading these images or obtaining the highest quality version they are hosted in is not a simple process.
Instagram, Facebook, Twitter, and Pinterest are just some of the sites that can benefit from the Image Downloader plugin. This add-on will reveal thumbnails for all images on the website, including those that are hidden. Choose which photographs to save or save them all at once in a group. It's a lot quicker than right-clicking on each image to save it.
The pricing is free of charge, yes, you heard it right, the Pinterest Chrome extension and image downloader come with no cost.