Configuring proxies through system settings can be daunting, especially when you need to switch between them frequently or apply specific proxies for particular domains.
In this article, we'll show you how to set up proxies on Firefox and Chrome effortlessly using the SwitchyOmega extension. Say goodbye to the hassle of manual proxy configuration.
What is SwitchyOmega?
SwitchyOmega is a browser extension designed to simplify proxy management. With this tool, you can switch between proxies in your browser without delving into system proxy settings. Once installed, SwitchyOmega allows you to change Proxies through its user-friendly interface, independently of your system's proxy settings.
SwitchyOmega is an open-source and free tool known for its reliability, making it an excellent choice for daily use. It offers support for Firefox and Chrome browsers, making it versatile and powerful. It's often regarded as a replacement for outdated proxy management tools like Proxy Switchy, SwitchyPlusSwitchySharp, and FoxyProxy.
After installing SwitchyOmega, your existing proxy settings and profiles will seamlessly integrate with the extension. Moreover, you can even bind specific proxies to particular websites, granting you fine-grained control over your browsing experience.
How to Use SwitchyOmega
Using SwitchyOmega is straightforward and convenient. Let's explore how to set up SwitchyOmega on two of the most popular browsers today.
SwitchyOmega for Chrome
As Google Chrome enjoys immense popularity worldwide, configuring SwitchyOmega for Chrome is a practical choice. Follow these steps:
Install the Extension

: Head to the Chrome Web Store and search "SwitchyOmega." You can also

click here

 to access the results directly. Download and install the extension.

Access Options

: Look for the newly added blue O-shaped icon in your Chrome's list of plugins. Click on the icon to open a pop-up menu.

Configure Proxies

: In the pop-up menu, find the "Options" button and click on it. Here, you can set up your proxies.

Add Profiles

: You should see a profile labeled as 'Proxy.' Enter your proxy details, including username and password, by clicking the padlock icon next to the port. A new interface will appear for you to add authentication details.

Create New Profiles

: Click on the "New Profile" icon to add more profiles. Provide a name for the Profile and select the proxy details. You can even set up auto-switching based on domains.

Apply Changes

: Make necessary changes, such as choosing a proxy profile, entering domain wildcards, and specifying conditions. Click "Apply Changes" to save your settings.

Switch Proxies

: To use a specific profile, simply click on the SwitchyOmega icon in your browser, select the appropriate Profile, and you're ready to browse.

SwitchyOmega for Firefox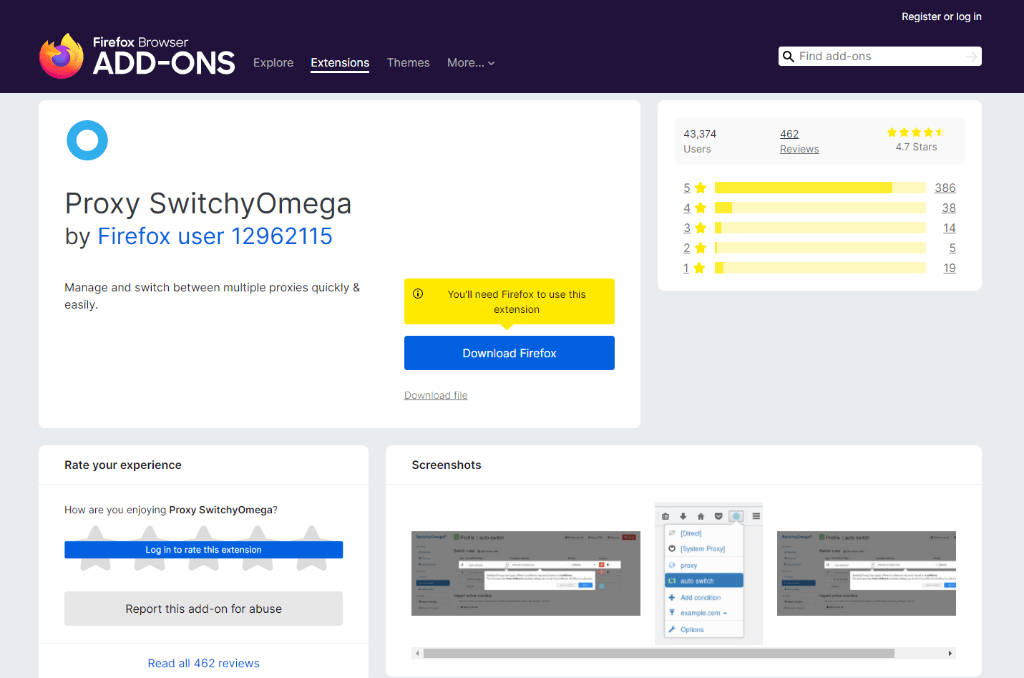 Configuring SwitchyOmega for Firefox follows the same steps as Chrome. Here's a quick guide:
Download SwitchyOmega

 for your Firefox browser.

Install the extension.

Access the options to configure your proxies, add profiles, and set up auto-switching as needed.
Also, Read:
Conclusion
SwitchyOmega is a top-tier proxy switcher that simplifies proxy management for both Firefox and Chrome users. While setting up a proxy switcher might seem daunting initially, following the steps outlined in this article will help you install and use it effectively.
Remember, SwitchyOmega doesn't provide proxies themselves. For a seamless browsing or web scraping experience, consider pairing SwitchyOmega with reliable data-center proxies to avoid browsing interruptions.
Don't hesitate to try SwitchyOmega – one of the best proxy managers available. Take control of your proxy configurations and enjoy a smoother browsing experience today.