In today's digital age, smartphones have become an integral part of our lives, serving as communication tools and sources of entertainment. However, excessive screen time can negatively impact our well-being and productivity.
To help you take control of your screen time and make the most of your device, we'll explore how to check screen time on Android using the Digital Wellbeing feature.
Digital Wellbeing is a built-in tool on Android devices that empowers users to monitor and manage their screen time effectively.
By setting goals, creating timers, and exploring usage patterns, you can regain control over your device usage and strike a healthier balance between online and offline activities.
How to check screen time on Android
Follow these simple steps to check your screen time using Digital Wellbeing:
1) Open the Settings app on your Android device.
2) Scroll down and select Digital Wellbeing & Parental Controls.
3) Tap Dashboard to access an overview of your screen time activities.
4) Observe the time displayed under the Screen time section, providing insight into your daily device usage.
RELATED – How to Print and Save Web Page as PDF on Chrome Android?
Harnessing Digital Wellbeing Features
App Timers:
If certain apps consume too much of your time, setting app timers can help you limit usage. Here's how to configure app timers:
Open the 

Settings

 app.

Choose 

Digital Wellbeing

.

Look for App Timers.

Pick an app and tap the hourglass icon next to it.

Set a daily usage limit for the app.

Confirm your choice by pressing DONE

.
RELATED – Best Apps to Trim Video for Android
Bedtime Mode: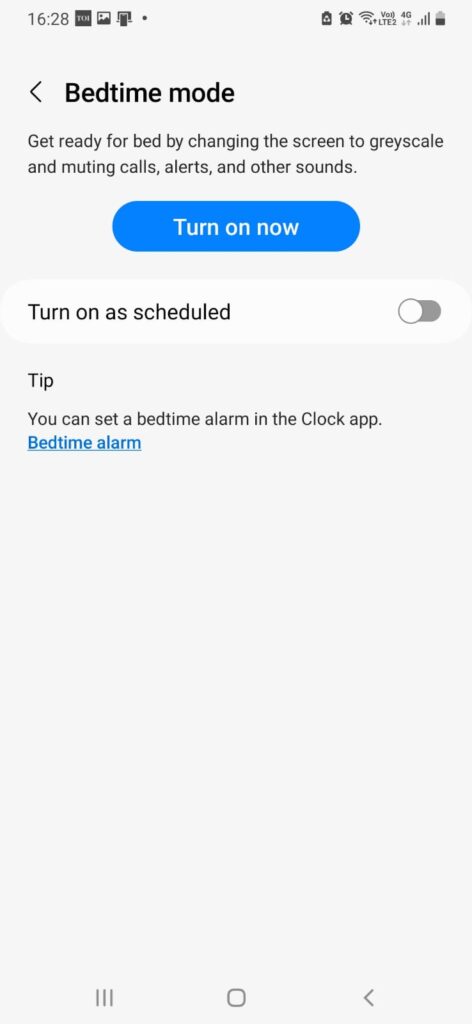 Bedtime Mode is designed to minimize nighttime screen exposure and improve sleep quality. Configure Bedtime Mode as follows:
Access the 

Settings

 app.

Navigate to 

Digital Wellbeing & parental controls

.

Tap 

Bedtime mode

 to access customization options.

Choose preferences like 

Do Not Disturb mode

, grayscale, and dark screen.

Specify the times and days you want Bedtime Mode to activate.

Opt for activation only while the phone is charging if desired.

Confirm settings by pressing 

Done

.
RELATED – How to Block or Enable JavaScript on Chrome for Android
Focus Mode: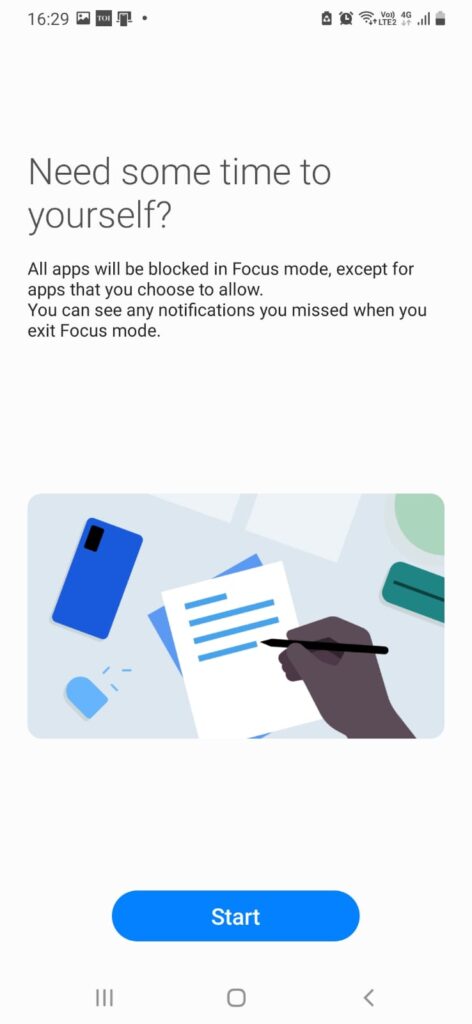 Focus Mode is ideal for boosting productivity by limiting access to distracting apps. Follow these steps to enable Focus Mode:
Open the 

Settings

 app.

Select 

Digital Wellbeing and parental controls

.

Tap 

Focus mode

 and choose 

Show all apps

.

Pick apps you find distracting and tap 

Turn on now

.

Optionally, set a schedule for automatic Focus Mode activation.
Parental Controls:
Digital Wellbeing offers parental controls through the Family Link app, allowing you to manage your child's screen time. To set up parental controls:
Download the 

Family Link

 app from the Google Play Store.

Configure settings on your device and your child's device.

Monitor screen time, set time limits, and manage app access.
RELATED – Best Streaming Apps for Android TV
Benefits of Managing Screen Time
Excessive screen time can lead to various health issues, hinder productivity, and disrupt sleep patterns. Limiting screen time allows you to enjoy more meaningful family interactions, enhance physical activity, and maintain a healthier work-life balance.
Additional Tips to Reduce Screen Time Effects
To mitigate the adverse effects of screen time, consider implementing these strategies:
Adaptive Brightness

: Enable adaptive brightness in 

Settings > Display

 to automatically adjust screen brightness based on lighting conditions.

Dark Mode and Night Light

: Reduce eye strain by using Dark Mode and Night Light, available in the same display settings menu.
RELATED – Best Free Offline Music Apps Work Without Wifi
To Sum Up
Digital Wellbeing on Android provides comprehensive tools to manage and optimize screen time usage.
By leveraging these features, you can create healthier habits, enhance productivity, and better balance your digital and offline worlds. Managing your screen time is a step towards a more mindful and fulfilling lifestyle.