A Tutorial on Setting Up Automatic Replies on Facebook Messenger.
The use of auto reply messages via Facebook Messenger is an efficient technique to improve your company's relationship with your customers. In this piece, we will discuss the various ways that you may set up automated responses on Facebook, as well as the many benefits that come along with doing so.
The Fundamentals of the Auto-Reply Function in Facebook Messenger.
The term "auto reply messages" on Facebook Messenger refers to the pre-written responses that are sent in response to incoming chats. Welcome Messages and Away Messages are two examples of the most common kinds of auto reply messages.
There are a lot of reasons why auto reply messages sent through Facebook Messenger are important. To begin, if you want to make a positive first impression on new consumers, it is important to acknowledge them by sending them a Welcome Message.
When you can't answer to Messenger connections right away, Away Messages let your contacts understand what kind of response time to expect from you in the future. In addition, companies can use Welcome and Away messages to their advantage by first greeting clients and then requesting information about them at the same time.
Now that you are familiar with the fundamentals of automated responses on Facebook, let's move on to the process of setting them up.
How to Set Up an Automatic Reply on Facebook Messenger
There are two ways to set up auto reply messages for Facebook Messenger: one is through the Facebook Page Inbox, and the other is using different tools, and in this article, we will cover How to Set Up an Auto Reply on Facebook Messenger using Facebook Page Inbox.
The former is designed for smaller businesses who make exclusive use of Messenger, and the latter is best suited for larger organizations that also make messaging-related use of other Meta products like WhatsApp and Instagram.
How to Configure Automatic Replies on Facebook for Your Page's Messages in the Inbox
You need to have administrative, editing, or moderator privileges on a Page in order to generate automated responses for Facebook Messenger. To get started, head on over to your own Facebook page.
1. Navigate to the inbox.
2. Navigate to the Automations tab.
3. Go to Instant Reply and activate the option to make it visible.
4. By clicking the option, indicate that you want to use Messenger as your primary platform.
5. Write down the message that will appear as your auto reply on Facebook Messenger.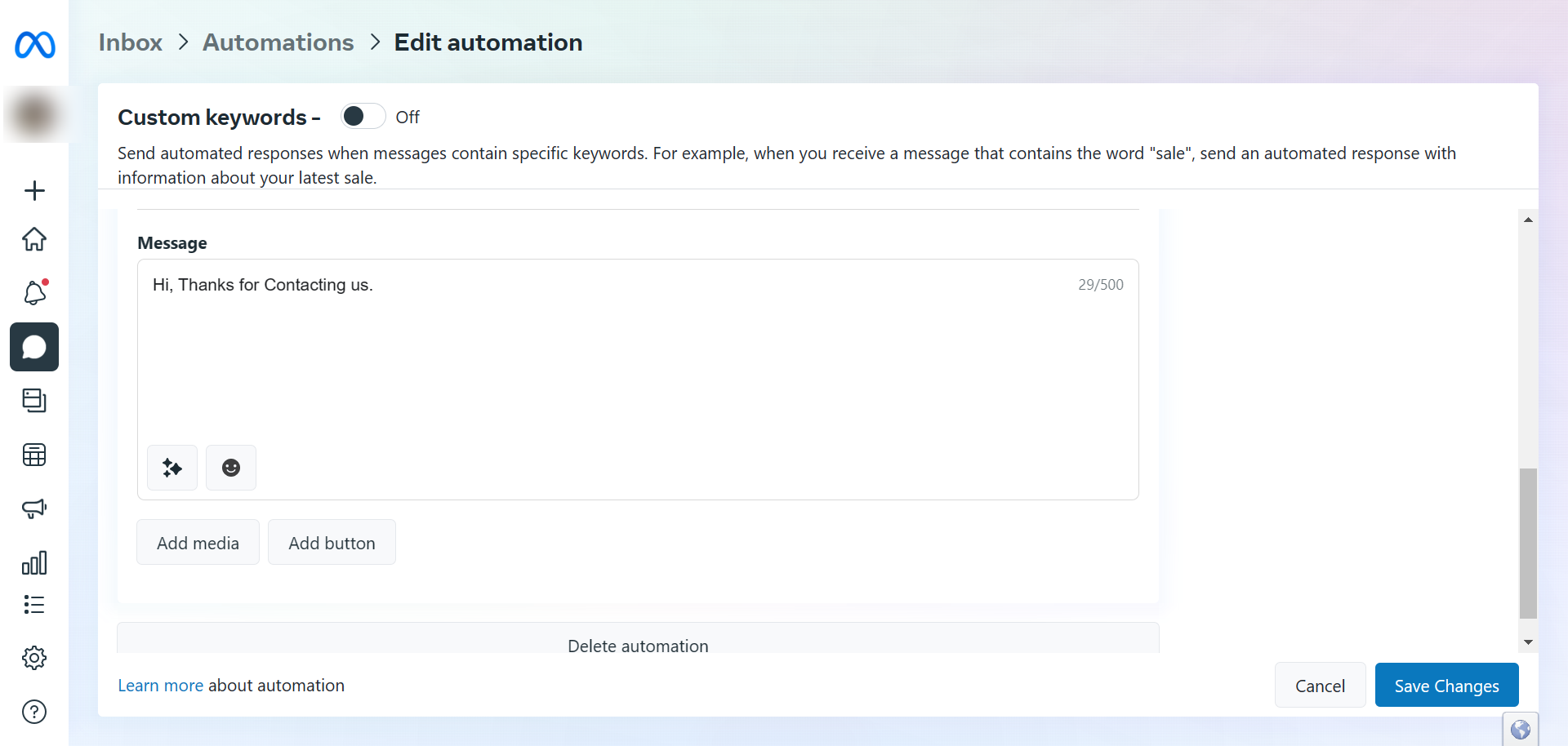 In this section, you will have the opportunity to customize the auto reply by adding the recipient's name. Sending the message to your mobile device is another option for testing the auto-reply feature of Facebook Messenger. To complete the process, select the Facebook Messenger auto reply message and then select the Save Changes button.