One approach to continuously interact with others and increase your chances of growing a following is scheduling your tweets. Since most engagement happens during specified times, you might not be available to manually submit your tweet at those times.
There is an alternative to schedule in the official Twitter app for iOS and Android.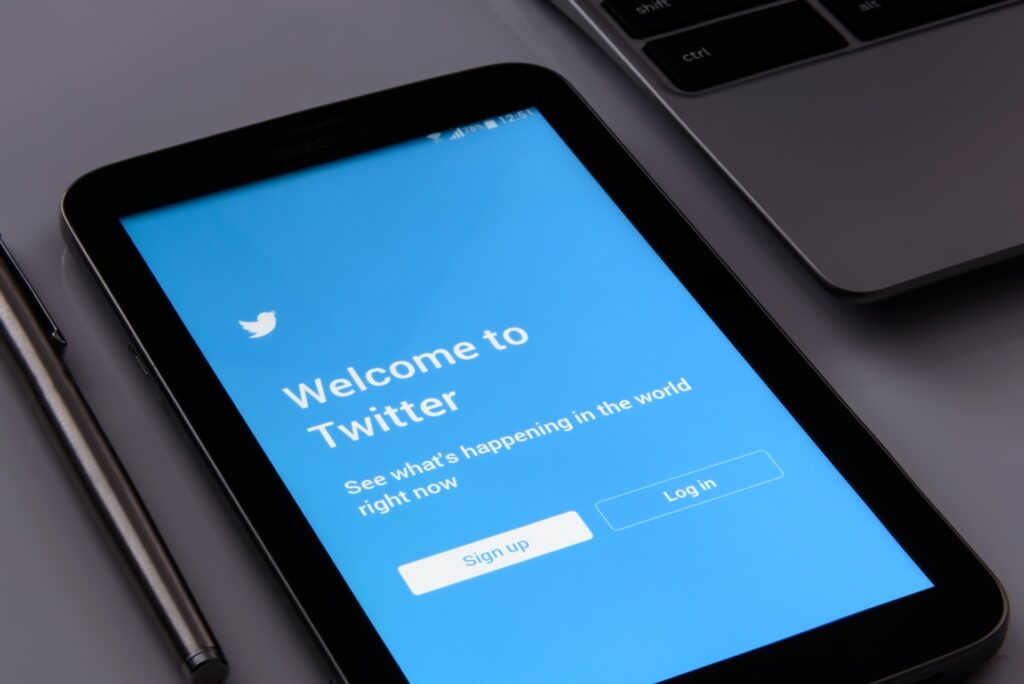 This would necessitate the usage of a social media management platform that would enable you to schedule your upcoming posts and publish them at the appropriate time and day, perhaps increasing interaction.
Several such applications can assist you with this task, whether using an iOS or Android smartphone. However, there is no longer a need to do that as Twitter's native app and website now offer the ability to schedule tweets.
So, if you wish to efficiently schedule your Twitter posts at your convenience without downloading a third-party app or giving up your Twitter credentials, keep reading on!
How to schedule a tweet on mobile?
The best and most effortless Twitter experience can come to you through scheduled Tweets. Although the scheduling feature isn't officially available on the native Twitter apps for iPhone or Android, you can still do it using third-party apps or other online tools without downloading anything.
Schedule using the Twitter Portal
Earlier, there used to be an application called TweetDeck, until 2011, when Twitter purchased it. This acquisition brought multiple valuable features into the platform, including timelines, tweet collections, and scheduled tweets.
How to schedule a tweet on mobile?
Visit the Twitter Official Website

through Chrome, Safari, or any other mobile browser, and log in to your Twitter account to view the Twitter interface.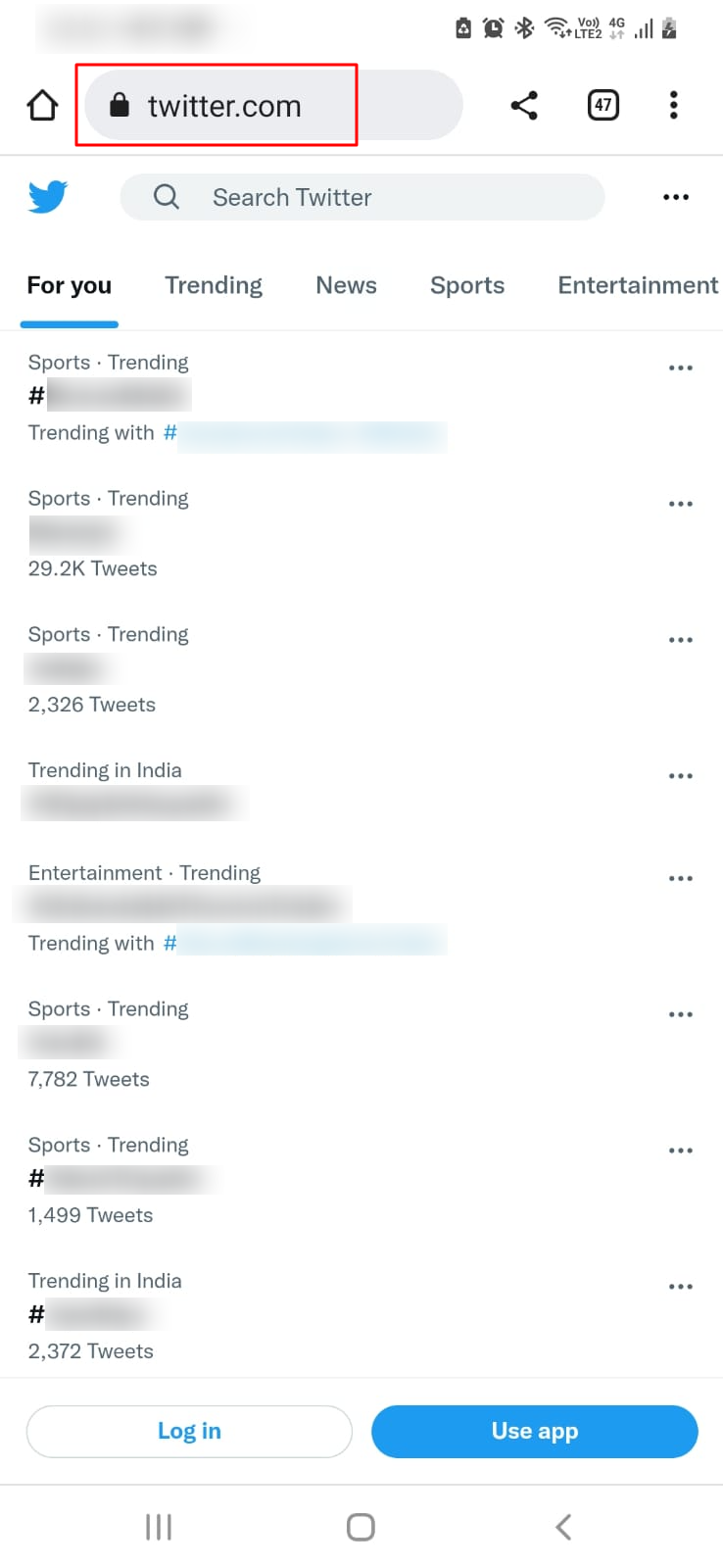 Tap the "New Tweet" icon at the bottom right corner to compose a Tweet. You can write your tweet just like you would on the Twitter app.
You can add a photo, video, or GIF to your Tweet. If you are replying to someone else's tweet, you must tap the expand button to see the "Add images or video" button.
Once you have drafted and finalized your tweet, tap on the small "Calendar" icon underneath your draft. A scheduling calendar will pop up, showing options to select the day, month, and year.
Choose your desired date and time when you wish to schedule the tweet. You are free to choose your date and time.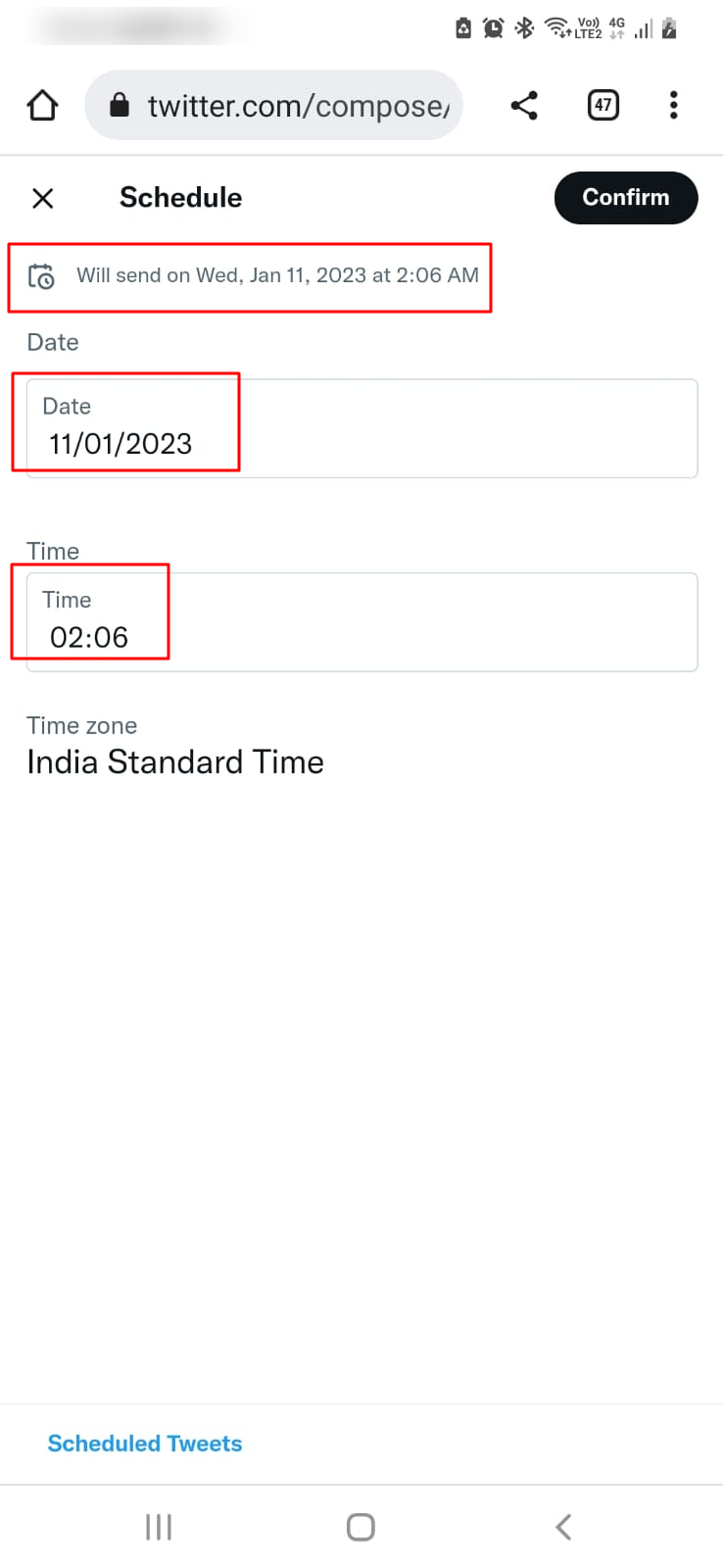 Once you have chosen your date and time, tap "Tweet at [your chosen time]" to schedule the tweet. Now, your tweet is successfully Scheduled.
How to manage your Scheduled Tweets?
Now that you have scheduled your Tweet, you must also manage your scheduled post. The scheduled tweets panel provides access to all of your pre-planned tweets.
In addition to being sent there immediately after scheduling a tweet, you can access it by hitting the clock symbol in the sidebar menu or swiping left from the home page until you get there.
You can delete a tweet from the scheduled panel by tapping the trash can icon next to it, or you can edit it by tapping the pencil icon.
You will be returned to the expanded draft view when editing so that you can change the tweet, alter the time and date, or insert media. There are no other details to add.
Should you Schedule a Tweet using a third-party app?
Yes, you can definitely do so. If you use an iOS device or an Android smartphone, several such applications can help you with this task. The most popular and trusted apps that are used for scheduling tweets for the future are Hootsuite, Buffer, and Later.
Even though these apps are very reliable and never leak out your login credentials, if you are concerned about the privacy of your Twitter account and don't wish to provide the credentials to third-party sources, then it's recommended you schedule your tweets using the official Twitter app. Your Twitter credentials stay with Twitter only, AND the feature is entirely free and unlimited.
However, the most significant advantage of using the apps above is that:
1) You can schedule posts for multiple social media platforms like Twitter, Instagram, and Facebook.
2) There are several other features that you can use other than just scheduling posts. Though these features might be limited in the free version, if you are a full-time social media influencer or own an online business, going for the premium version can be a great option.
So, it all depends on your priority. If data security is your prime concern, you should stick to scheduling posts through the Twitter portal. If you wish to schedule posts to multiple social media platforms and do more than that, then you should go for a third-party application.
Why Should You Schedule a Tweet?
You may more easily control your Twitter experience by scheduling tweets. The ability to schedule many Tweets throughout the day can be helpful for advertisers. You can schedule Tweets days or weeks in advance, which can help you develop a solid social media content strategy.
Scheduling Tweets can change the game for your brand if you are a social media influencer or the owner of an online company or corporation. This is so you can consistently provide your followers with interesting content by scheduling Tweets.
Also, Read:
Conclusion
Scheduling your Twitter posts in advance can save you time and make your posting strategy more consistent, whether you're a social media manager, creator, or Twitter enthusiast.
Schedule posts natively if your brand is only present on one or two social media platforms and you don't use a social media management tool. Scheduling Tweets directly on Twitter is simple and cost-free.