CopyMate is a brand-new artificial intelligence-driven application that can generate content for various uses, such as blog entries, articles, product descriptions, social media postings, and more; GPT -4, one of the most cutting-edge AI language models, is its engine.
In this review of CopyMate, I'll look at this effective AI tool and demonstrate how it may assist you in achieving your content creation goals while saving you time.
What is CopyMate?
Copymate provides premium and personalized content for individual purposes using cutting-edge AI. The cutting-edge system ensures updated, relevant, and engaging content that differentiates organizations and boosts site traffic.
Fully compatible with the popular CMS WordPress allows easy uploading of fresh material. This streamlined strategy keeps content current and accessible to readers without extra work.
Copymate prioritizes high-quality, relevant, and exciting content for organic traffic. Copymate has been beneficial to me. Technology has changed media production; I can generate content in 33 languages by typing a phrase and clicking a few buttons. Its output quality surpasses ChatGPT, another AI system.
I can now write articles faster and easier with Copymate.
CopyMate Features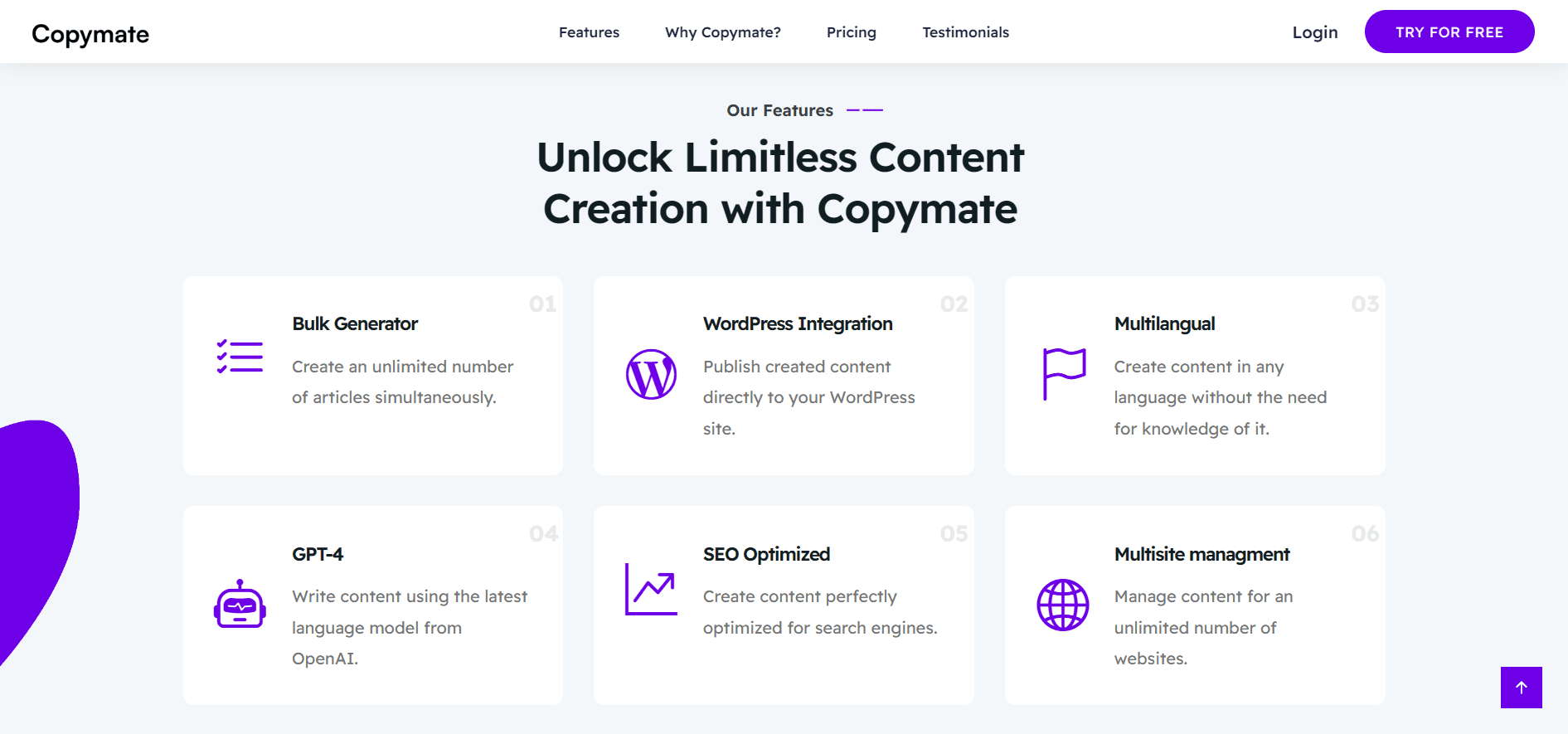 1) WordPress Integration
This integration makes it easy to upload new posts to your WordPress blog with a single click. The whole process of publishing is streamlined and simplified as a result.
With this integration in place, updating your website with fresh material is as simple as clicking a button.
2) GPT-4
Copymate's content generation is powered by OpenAI's most recent language model, GPT-4. The result will be high-quality, engaging, and relevant content.
3) Multisite Management
This function is revolutionary for content managers who administer multiple websites. This provides consistency across all of your online businesses while streamlining content administration for an unlimited number of websites.
4) Bulk Generator
With this function, you can rapidly produce as many articles as you like. You can save time and work by using it when you rapidly require a lot of stuff.
5) Multilingual
You can generate content in any language without prior expertise with this function. It helps reach varied audiences and globalize content.
You can save time and energy by clicking a few buttons to translate text from one language to another. More than that, it guarantees that your information will be translated accurately and consistently.
6) SEO Optimized
It's crucial to produce search-engine-optimized content for your website. Your search engine rankings will improve using Copymate to create SEO-friendly content.
How to use Copymate?
Copymate is easy to use. Select a plan by clicking on the price. You risk running out of free credits too soon if you use the free plan. To register, kindly provide your email address.
1) To activate your account, click "Register," and Copymate will email you.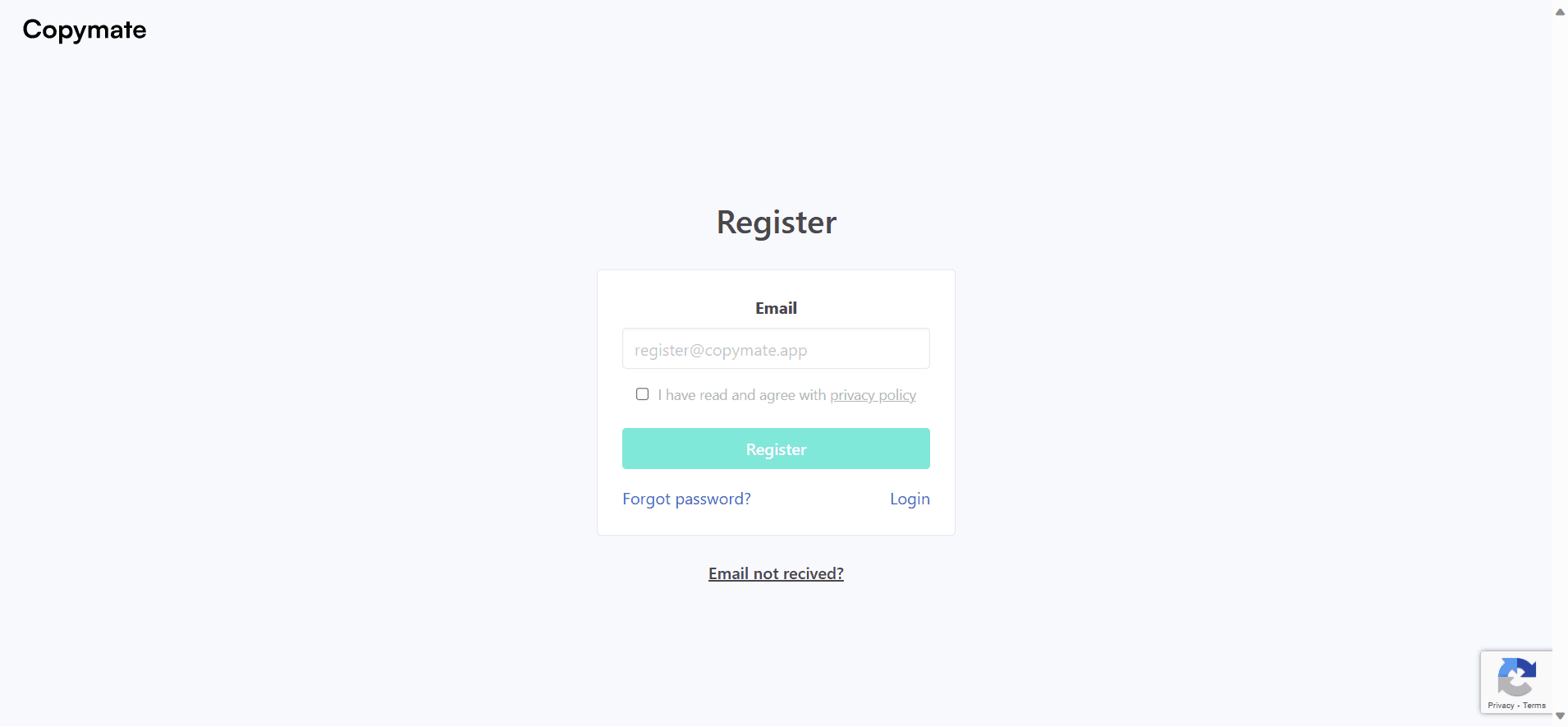 2) Your account automatically activates after you click "Activate Account" in your email.
3) Give your first project a name.
4) On the dashboard, you can see all the content and its status. You can also see your tokens
5) After clicking "Create Content," you have three options. Select your preferred choice.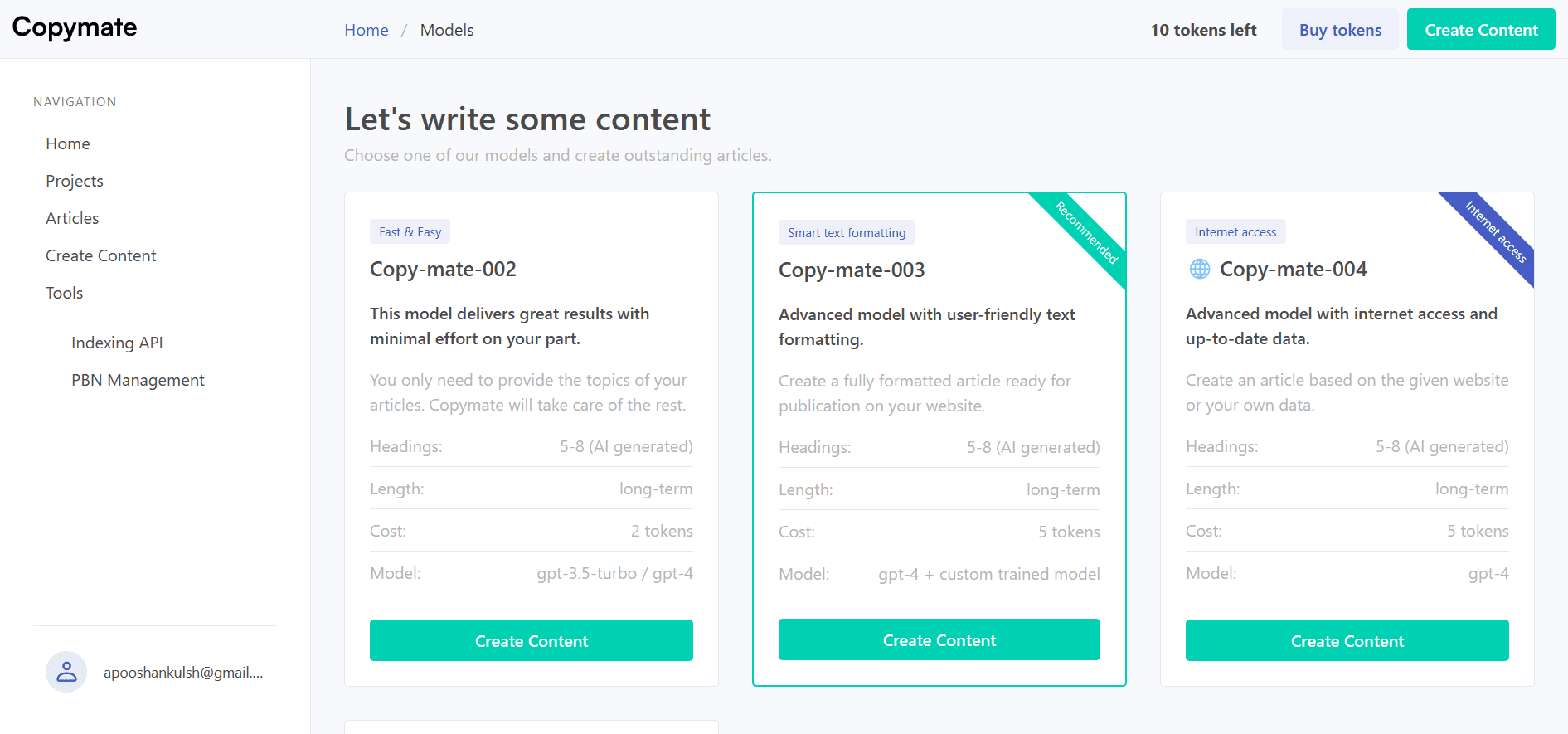 6) After that, choose the project from the drop-down.
7) Choose the language for the writing. Many languages are available.
8) Insert any subheadings for the content here. Copymate's AI may be instructed to generate high-quality keywords while writing SEO-friendly text.
9) After you click Next, your content will be created. Easy enough, right?
The auto-generated piece will be displayed on your dashboard.
Who should use Copymate?
1) Copywriters
As a copywriter for a digital marketing company, you'll create content for the company's clients. Copymate can be a helpful tool if you need to swiftly produce many articles.
2) SEO Professionals
Consider overseeing the SEO tactics of a travel firm. You need brand-new, appealing travel guides for each trip to increase organic traffic.
Quickly producing manuals that are optimized for SEO is possible using Copymate. Organic traffic to your website grows as it moves up search engine results for travel-related queries.
3) Content Creators
The product descriptions on your international e-commerce website may need to be expanded.
Use Copymate to produce product descriptions in multiple languages without hiring expensive translators. As a result, content creation costs go down, and more niche content may be made.
My experience with Copymate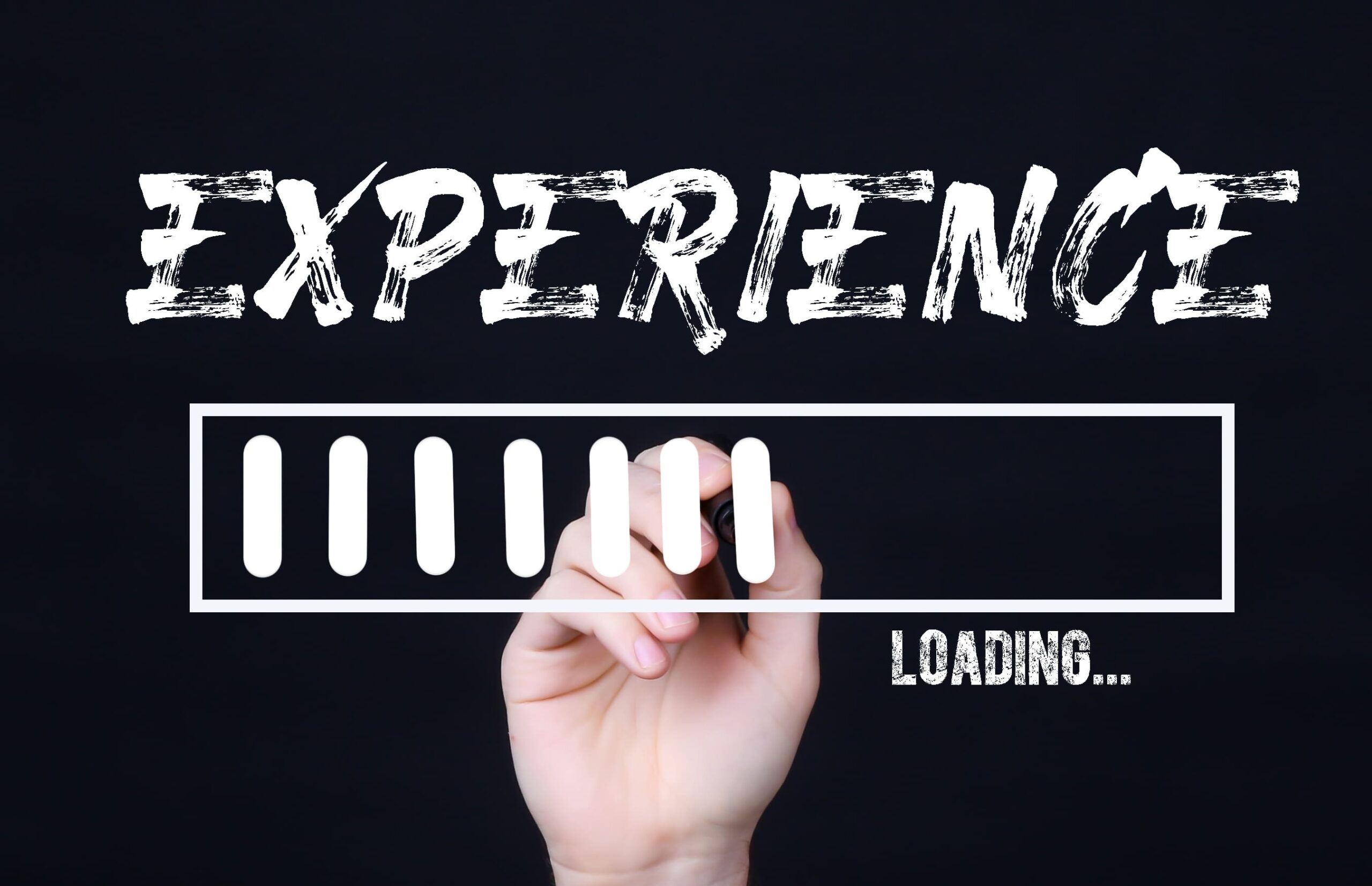 I'm delighted with how Copymate has worked for me. The platform has various tools that make social media management and scheduling easy. In particular, thanks to the intuitive layout, I like how simple it is to access all of the tool's features.
Copymate's UI is intuitive and straightforward, making it suitable for all experience levels. The capability to schedule and automate postings is also included, giving users a head start on content preparation. Users may quickly and easily organize, edit, and delete information with the help of Copymate's simple content management features.
Copymate Pricing
1. Free Plan: $0 per month
Content in many languages
GPT-3.5-turbo
WordPress Integration
Unlimited projects
16,000 words Approx
10 tokens
This plan is excellent for learning Copymate's features for free. A one-time token and word allocation is suited for modest applications or testing.
2. Basic Plan: $29 per month
Content in many languages
GPT-3.5-turbo
WordPress Integration
Unlimited projects
80,000 words monthly Approx
45 tokens monthly
The Basic Plan suits moderate content users and companies. A monthly token and word quota makes it suited for regular content development.
Additional Token Packages:
45 tokens at $29
100 tokens at $59
500 tokens at $250
Token packages can be added to your Basic Plan to support content production. This offers the flexibility and scalability you want.
Before selecting a bundle, consider your budget, content volume, and need for advanced features.
It's a great idea to start with the Basic Plan and upgrade or purchase tokens as content production advances. This enables you to modify your strategy in response to shifting requirements.
Also, Read:
Conclusion: CopyMate Review
Copymate is revolutionary for content creators, SEO gurus, copywriters, and anyone who wants to quickly and effortlessly produce high-quality content.
Copymate, powered by GPT-4's AI, is revolutionizing content creation with remarkable efficiency and cost savings.
Copymate can boost SEO, increase organic traffic, and simplify content creation. Because of its accessibility, WordPress compatibility, and multilingual support, many people can utilize it.