According to Oxford, spirituality is the "quality of being concerned with the human spirit or soul, as opposed to material physical things." But we insist that spirituality can mean different things to different people.
While one person may find spiritual fulfillment through pursuing personal goals, another may find it through serving others. Some people find their spirituality in their interactions with others, while others find it in their own well-being.
Spirituality is typically concerned with finding and pursuing personal fulfillment. It could have anything to do with religion or duties and responsibilities on a personal level. Still, it's the source of all fulfillment and the driving force behind every human want.
This article features a collection of inspirational Spiritual quotes to help you on your path to enlightenment. But before we go any further, let's explore how these quotations might affect a positive transformation in your life.
How can these Spiritual Quotes help?
You can use the quotes we present as a starting point in your search for meaning in life. They can help you figure out what it is that you really want out of life, and they can motivate you to pursue that.
If you have already discovered your life's purpose, these quotes can serve as inspiration to keep going. They may also help one better understand what it is to be spiritual, leading one to experience greater happiness and fulfillment.
Are you ready to have your worldview altered by these Spiritual Quotes? Let's start our quest for enlightenment by delving into them.
99 Spiritual Quotes to Inspire and Enlighten You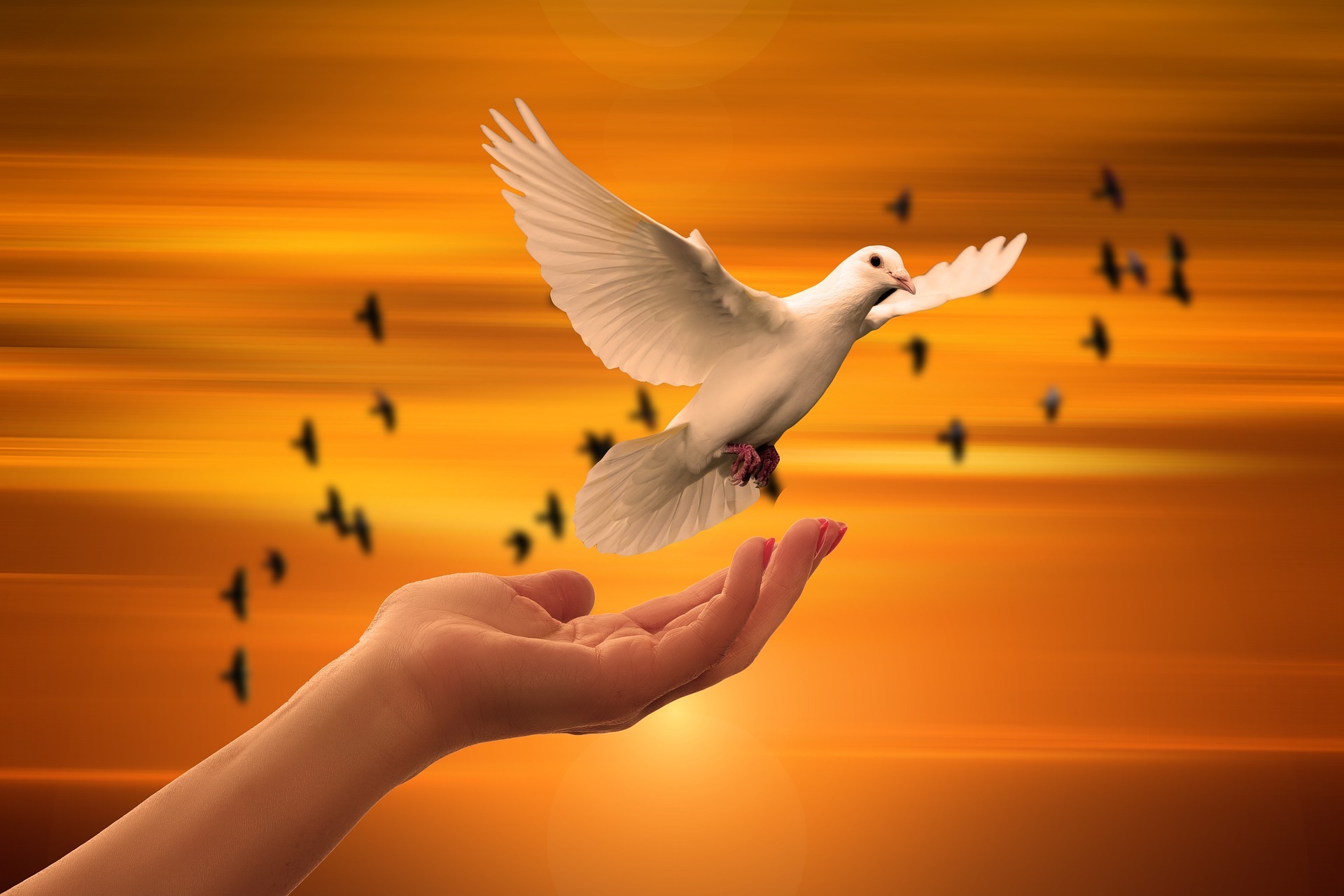 "The great thing to remember is that though our feelings come and go God's love for us does not." – C.S. Lewis
"The privilege of a lifetime is to become who you really are." – Carl Jung
"Forgive the past. It is over. Learn from it and let go. People are constantly changing and growing. Do not cling to a limited, disconnected, negative image of a person in the past. See that person now. Your relationship is always alive and changing." – Brian Weiss
"Be tolerant of those who are lost on their path. Ignorance, conceit, anger, jealousy, and greed stem from a lost soul. Pray that they will find guidance." – Elder Wisdom
"Believe in your infinite potential. Your only limitations are those you set upon yourself." – Roy T. Bennett
"I believe in God, but not as one thing, not as an old man in the sky. I believe that what people call God is something in all of us. I believe that what Jesus and Mohammed and Buddha and all the rest said was right. It's just that the translations have gone wrong." – John Lennon
"I understand once again that the greatness of God always reveals itself in the simple things." – Paulo Coelho
"Don't ever discount the wonder of your tears. They can be healing waters and a stream of joy. Sometimes they are the best words the heart can speak." – William Paul Young
"Awakening is not changing who you are, but discarding who you are not." – Deepak Chopra
"Your pain is the breaking of the shell that encloses your understanding." – Kahlil Gibran
"The first peace, which is the most important, is that which comes within the souls of people when they realize their relationship, their oneness with the universe and all its powers, and when they realize at the center of the universe dwells the Great Spirit and that its center is really everywhere, it is within each of us." – Black Elk
"More smiling, less worrying. More compassion, less judgment. More blessed, less stressed. More love, less hate." – Roy T. Bennett
"Let us be grateful to the people who make us happy; they are the charming gardeners who make our souls blossom." – Marcel Proust
"In three words, I can sum up everything I've learned about life: it goes on." – Robert Frost
"What lies behind us and what lies before us are tiny matters compared to what lies within us." – Ralph Waldo Emerson
"Believe in yourself and all that you are. Know that there is something inside you that is greater than any obstacle." – Christian D. Larson
"Be the change you wish to see in the world." – Mahatma Gandhi
"Let what comes come. Let what goes go. Find out what remains." – Ramana Maharshi
"Religion is for people who're afraid of going to hell. Spirituality is for those who've already been there." – Vine Deloria Jr.
"One of the most spiritual things you can do is embrace your humanity. Connect with those around you today. Say, "I love you", "I'm sorry", "I appreciate you", "I'm proud of you"…whatever you're feeling. Send random texts, write a cute note, embrace your truth, and share it…cause a smile today for someone else…and give plenty of hugs." – Steve Maraboli
"The greatest thing in the world is to know how to belong to oneself." – Michel de Montaigne
"A sacrifice to be real must cost, must hurt, and must empty ourselves. Give yourself fully to God. He will use you to accomplish great things on the condition that you believe much more in His love than in your weakness." – Mother Teresa
"What you are is God's gift to you, what you become is your gift to God." – Hans Urs von Balthasar
"Within each of us is a light, awake, encoded in the fibers of our existence. Divine ecstasy is the totality of this marvelous creation experienced in the hearts of humanity." – Tony Samara
"We are all connected; To each other, biologically. To the earth, chemically. To the rest of the universe atomically." – Neil DeGrasse Tyson
"It does not matter how long you are spending on the earth, how much money you have gathered or how much attention you have received. It is the amount of positive vibration you have radiated in life that matters." – Amit Ray
"We are not human beings having a spiritual experience. We are spiritual beings having a human experience." – Pierre Teilhard de Chardin
"You are never alone. You are eternally connected with everyone." – Amit Ray
"Age has no reality except in the physical world. The essence of a human being is resistant to the passage of time. Our inner lives are eternal, which is to say that our spirits remain as youthful and vigorous as when we were in full bloom. Think of love as a state of grace, not the means to anything, but the alpha and omega. An end in itself." – Gabriel García Márquez
"The present moment is the only time that exists." – Eckhart Tolle
"The only way to do great work is to love what you do." – Steve Jobs
"Your work is to discover your world and then with all your heart give yourself to it." – Buddha
"The future belongs to those who believe in the beauty of their dreams." – Eleanor Roosevelt
"The only true wisdom is in knowing you know nothing." – Socrates
"Happiness cannot be traveled to, owned, earned, worn, or consumed. Happiness is the spiritual experience of living every minute with love, grace, and gratitude." – Denis Waitley
"But no matter how much evil I see, I think it's important for everyone to understand that there is much more light than darkness." – Robert Uttaro
"At any moment, you have a choice, that either leads you closer to your spirit or further away from it." – Thich Nhat Hanh
"You do not need to work to become spiritual. You are spiritual; you need only to remember that fact. Spirit is within you. God is within you." – Julia Cameron
"Spirituality is not about being fixed; it is about God being present in the mess of our unfixedness." – Michael Yaconelli
"When you arise in the morning think of what a privilege it is to be alive, to think, to enjoy, to love." – Marcus Aurelius
"Spirituality does two things for you. One, you are forced to become more selfless, two, you trust to providence. The opposite of a spiritual man is a materialist. If I was a materialist I would be making lots of money doing endorsements, doing cricket commentary. I have no interest in that." – Imran Khan
"Your sacred space is where you can find yourself over and over again." – Joseph Campbell
"Walk with the dreamers, the believers, the courageous, the cheerful, the planners, the doers, the successful people with their heads in the clouds and their feet on the ground. Let their spirit ignite a fire within you to leave this world better than when you found it." – Wilfred Peterson
"What each of us believes in is up to us, but life is impossible without believing in something." – Kentetsu Takamori
"There are hundreds of paths up the mountain, all leading to the same place, so it doesn't matter which path you take. The only person wasting time is the one who runs around the mountain, telling everyone that his or her path is wrong." – Hindu Proverb
"Faith does not need to push the river because faith is able to trust that there is a river. The river is flowing. We are in it." – Richard Rohr
"Spirituality is recognizing and celebrating that we are all inextricably connected to each other by a power greater than all of us and that our connection to that power and to one another is grounded in love and compassion. Practicing spirituality brings a sense of perspective, meaning and purpose to our lives." – Brené Brown
"Sometimes I think there are only two instructions we need to follow to develop and deepen our spiritual life: slow down and let go." – Oriah Mountain Dreamer
"It is not in the stars to hold our destiny but in ourselves." – William Shakespeare
"The reality of loving God is loving him like he's a Superhero who actually saved you from stuff rather than a Santa Claus who merely gave you some stuff." – Criss Jami
The greatest glory in living lies not in never falling, but in rising every time we fall." – Nelson Mandela
Letting go gives us freedom, and freedom is the only condition for happiness." – Thich Nhat Hanh
"The quieter you become, the more you can hear." – Baba Ram Dass
"The mind is everything. What you think you become." – Buddha
"The best way to find yourself is to lose yourself in the service of others." – Mahatma Gandhi
"If you want to change the world, change yourself." – Paramahansa Yogananda
"The soul is here for its own joy." – Rumi
"Your task is not to seek for love, but merely to seek and find all the barriers within yourself that you have built against it." – Rumi
"Since love grows within you, so beauty grows. For love is the beauty of the soul." – Augustine
"Science is not only compatible with spirituality; it is a profound source of spirituality." – Carl Sagan
"To speak gratitude is courteous and pleasant, but to live gratitude is to touch heaven." – Johannes A. Gaertner
"Just as a candle cannot burn without fire, man cannot live without a spiritual life." – Buddha
"The world is full of magic things, patiently waiting for our senses to grow sharper." – W.B. Yeats
"Before your awake, all you do is see, When your awake, all you do is feel." ― Nikki Rowe
Our actions are like ships which we may watch set out to sea, and not know when or with what cargo they will return to port." ― Iris Murdoch, The Bell
"Enlightenment means taking full responsibility for your life." – William Blake
"Peaceful is the one who's not concerned with having more or less. Unbound by name and fame, he is free from sorrow from the world and mostly from himself." – Rumi
"Do anything, but let it produce joy." – Walt Whitman
"Realize deeply that the present moment is all you have. Make the now the primary focus of your life." – Eckhart Tolle
"You will face many defeats in life, but never let yourself be defeated." – Maya Angelou
"I see poetry as spiritual medicine." – Mahmoud Darwish
"The especial genius of women I believe to be electrical in movement, intuitive in function, spiritual in tendency." – Margaret Fuller
"When you consider things like the stars, our affairs don't seem to matter very much, do they?" – Virginia Woolf
"Let the breath lead the way." – Sharon Salzberg
"We do not need more intellectual power, we need more spiritual power. We do not need more of the things that are seen, we need more of the things that are unseen." – Calvin Coolidge
"The soul is placed in the body like a rough diamond and must be polished, or the luster of it will never appear." – Daniel Defoe
"The soul always knows what to do to heal itself. The challenge is to silence the mind." – Caroline Myss
"Sometimes religion gets in the way of God." – Bono
"The more you know yourself, the more clarity there is. Self-knowledge has no end." – Jiddu Krishnamurti
"If you love a flower, don't pick it up. Because if you pick it up it dies and it ceases to be what you love. So if you love a flower, let it be. Love is not about possession. Love is about appreciation." – Osho
"Energy can't be created or destroyed, and energy flows. It must be in a direction, with some kind of internal, emotive, spiritual direction. It must have some effect somewhere." – Keanu Reeves
"You have to expect spiritual warfare whenever you stand up for righteousness or call attention to basic values. It's just a matter of light battling the darkness. But the light wins every time. You can't throw enough darkness on light to put it out." – Thomas Kinkade
"Prayer is not asking. It is a longing of the soul. It is daily admission of one's weakness. It is better in prayer to have a heart without words than words without a heart." – Mahatma Gandhi
"Learn to get in touch with the silence within yourself and know that everything in this life has a purpose. There are no mistakes, no coincidences. All events are blessings given to us to learn from." – Elizabeth Kübler – Ross
"Realization is not the acquisition of anything new nor is it a new faculty. It is only removal of all camouflage." – Ramana Maharshi
"There is a deep need in the world just now for guidance – almost any sort of spiritual guidance." – Carl Jung
"I think there comes a time when you realize that you need God in your life, God's Word, and the spiritual guidance that only He can give." – Sylvester Stallone
"When you have God come amongst you to support and sustain you, why grovel through crude vulgar entities? Avoid places where they bargain in terms of gifts, donations, for Spiritual guidance and Transmission." – Sathya Sai Baba
"The spiritual life does not remove us from the world but leads us deeper into it." – Henri J.M. Nouwen
"Life as we knew it is passing away, and something new is emerging to take its place, The Gift of Change: Spiritual Guidance for a Radically New Life." – Marianne Williamson
"To walk safely through the maze of human life, one needs the light of wisdom and the guidance of virtue." – Gautama Buddha
"Never doubt God in the darkness what he has given us in the light."― Francine Rivers
"Big-heartedness is the most essential virtue on the spiritual journey." – Matthew Fox
"Re-examine all you have been told. Dismiss what insults your soul." – Walt Whitman
"The spiritual life is not a life before, after, or beyond our everyday existence. No, the spiritual life can only be real when it is lived in the midst of the pains and joys of the here and now." – Henri Nouwen
"Only if we understand, will we care. Only if we care, will we help. Only if we help shall all be saved." –Jane Goodall
"The spiritual journey is the unlearning of fear and the acceptance of love." – Marianne Williamson
"Be not afraid of anything. You will do marvelous work. It is fearlessness that brings Heaven even in a moment." – Swami Vivekananda
"People know they are lacking something, they are constantly wanting some kind of spiritual guidance." – Douglas Hurd
Wrapping up: Spiritual Quotes to Inspire and Enlighten You
Finding your true calling is no simple task, and neither is maintaining your convictions and maintaining your resolve in the face of adversity. We wish for you the perseverance to pursue your calling once you've identified it and the wisdom to surround yourself with positive influences.
We also pray that reading these inspirational sayings helped you gain some perspective and mental space. We hope that by using them, your life will become more fulfilling and meaningful.
Are you in search of spiritual quotes that might help you think more clearly and live more fully? Examine our tips and move forward toward the fulfillment you deserve.
And here are some more blog pieces to read if you're looking for more life-changing quotes: